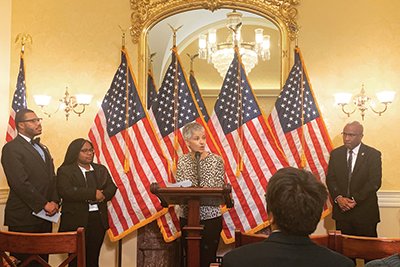 Over the last 30 years, college enrollment for Hispanic and Latinx students has skyrocketed. In 1995, when the federal government first appropriated special funding for Hispanic-Serving Institutions (HSIs) — or those with at least 25 percent Latinx enrollment — an estimated 1 million Hispanic and Latinx students attended American colleges and universities.
By 2016, that number had more than tripled to 3.2 million, according to Excelencia in Education, a nonprofit organization that advocates for Hispanic and Latinx student success.
Naturally, as enrollment has grown, so have the number of colleges and universities qualifying as HSIs. According to the most recent government figures, there were 523 HSIs in 2017, with 328 schools qualifying as emerging HSIs — or those with 15 to 24.9 percent Hispanic and Latinx enrollment.
Financial support for these institutions, however, has not kept pace with their significant growth in numbers. "Persistent underfunding relative to other degree-granting institutions" is one of the main challenges for HSIs, which receive an average of 68 cents for every federal dollar allotted to all other colleges and universities annually, according to the Hispanic Association of Colleges and Universities (HACU).
In 2010, there were 311 HSIs in the United States receiving an average of $821,000 each in federal funding, according to HACU. In 2016, the number of HSIs in existence had increased to 492, but the average amount of funding per school had dropped to $447,000.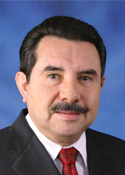 HACU advocates "to make sure that Congress and the federal government, as well as the states, recognize how far behind we are when it comes to investing in HSIs and Hispanic higher education as a whole," says Antonio R. Flores, PhD, the organization's president and CEO. "It's so detrimental for the nation not to invest sufficiently and equitably in these institutions because obviously they are becoming the backbone of America's labor force in terms of training and educating the next generation."
Currently, Congress is at a stalemate over STEM funding for Minority-Serving Institutions (MSIs) after failing to pass the Fostering Undergraduate Talent by Unlocking Resources for Education (FUTURE) Act before its expiration on September 30. Political bargaining over the act has drawn national attention to the issue of how the U.S. allocates money to MSIs and which schools get a bigger share. HSIs receive less funding per school than historically Black colleges and universities (HBCUs), for instance, because there are simply more institutions that have to share a finite amount of money designated by lawmakers.
Yet allocating funds for HSIs is not about competing with other underrepresented student groups, says Flores. Rather, lobbying for HSIs — which tend to be ethnically and racially diverse institutions — means encouraging the government to recognize the urgency of supporting all traditionally marginalized student groups. As the U.S. heads toward becoming a minority-majority nation, federal support for these underserved students will have great impact on the nation's overall education system and economy, he says.
Like HACU, Excelencia raises awareness of the importance of government investment in HSIs. A 2016 Excelencia report showed that federal grants "represent a small but significant part of an HSI's budget" and are important for providing "needed resources to innovate and pilot activities to serve students."
As the number of HSIs grow, their supporters point to the fact that distinguishing between those HSIs that actually serve Hispanic and Latinx students, as opposed to simply enrolling them, is important.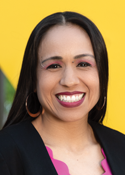 Gina A. Garcia, PhD, is an associate professor of administrative and policy studies at the University of Pittsburgh whose work focuses on transforming colleges and universities to better support Hispanic and Latinx students. The term HSI as a federal label "doesn't mean anything to me," she says, because the government provides no guidelines for helping these students succeed.
Garcia and her colleagues are developing a multidimensional model for colleges and universities to go beyond "Hispanic-enrolling institutions" to truly serving these students, she says. The model looks at far more than graduation rates as an indicator of success, including assessing student experiences and the development of racial identity.
Transforming a traditional higher education institution to become an HSI, in Garcia's sense of the term, requires what she calls "decolonizing the institution." Rather than providing Hispanic and Latinx students with "the same White colonial education that they've had throughout their entire [schooling]," colleges and universities can help faculty and curriculum become more culturally relevant, she says.
Leadership should also educate themselves about the historic marginalization of Hispanic and Latinx people and the barriers that these students face, says Garcia.
"There are really great examples of Latino support, like Latino student centers or Latino Greek organizations, that have been doing this work for 40 or 50 years. But colleges have always relied on these types of co-curricular structures to do the work of supporting [these students] when it's really up to everyone," she says.
Garcia offers multiple levels of training for institutions that want to take on this transformative process, but she believes far too many schools that are designated as HSIs by federal standards do not recognize how they need to change. "I get a lot of requests and I'm working with 10 different institutions right now, but then you realize that's out of 523 HSIs," Garcia says. "Regardless, the ones I do interact with give me hope."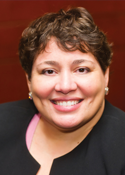 Deborah Santiago, CEO of Excelencia in Education, agrees that more colleges and universities are starting to recognize that serving Hispanic and Latinx students goes beyond enrollment. "While there isn't a requirement in the federal definition for an HSI to be intentional in serving students, I think the community and the field is ready to do more and to discern that this is not just an issue of enrolling students, but of serving them," she says.
In 2018, the organization created the Seal of Excelencia to distinguish an HSI that has "developed a comprehensive and systemic approach to accelerating Latino student success and seeks to raise the bar by which institutions are evaluated with regard to serving Latino students," according to Excelencia's website. Applicants are evaluated in three categories, based on the organization's evidence-based framework for supporting Hispanic and Latinx students: data collection, practices and policies, and leadership.
Nine of the 33 institutions that applied for the seal in its inaugural year received it. Santiago says she expects this number to go up as interest and investment in HSIs increase. "We're seeing a lot of institutions that want to become HSIs," Santiago says, "and I think that is the harbinger of a positive focus for these institutions and for investing in their success."
Mariah Bohanon is the senior editor of INSIGHT Into Diversity. The Hispanic Association of Colleges and Association is a partner of INSIGHT Into Diversity. This article ran in the December 2019 issue.