Through the Veterans Legal Clinic (VLC), students at the University of Michigan (U-M) Law School provide critical services for local veterans and at the same time gain valuable, real-world experience in the civil court system. 
Established in 2015, the VLC serves a 10-county area in southeast Michigan, encompassing about half of the state's veteran population. With a focus on providing general civil legal services for those with low or limited incomes, the clinic takes on cases that address housing, family, consumer matters, financial exploitation, and employment issues related to veterans and their families. Each year, the VLC accepts approximately 50 cases.
"[Veterans] are often not eligible for legal aid services because many of them have some benefits that take them above the very low threshold for legal aid, but they still can't afford to pay for an attorney," says Matthew Andres, JD, VLC director and clinical assistant professor of law. "We really take on any kind of civil legal case for a veteran, especially one that might go to court."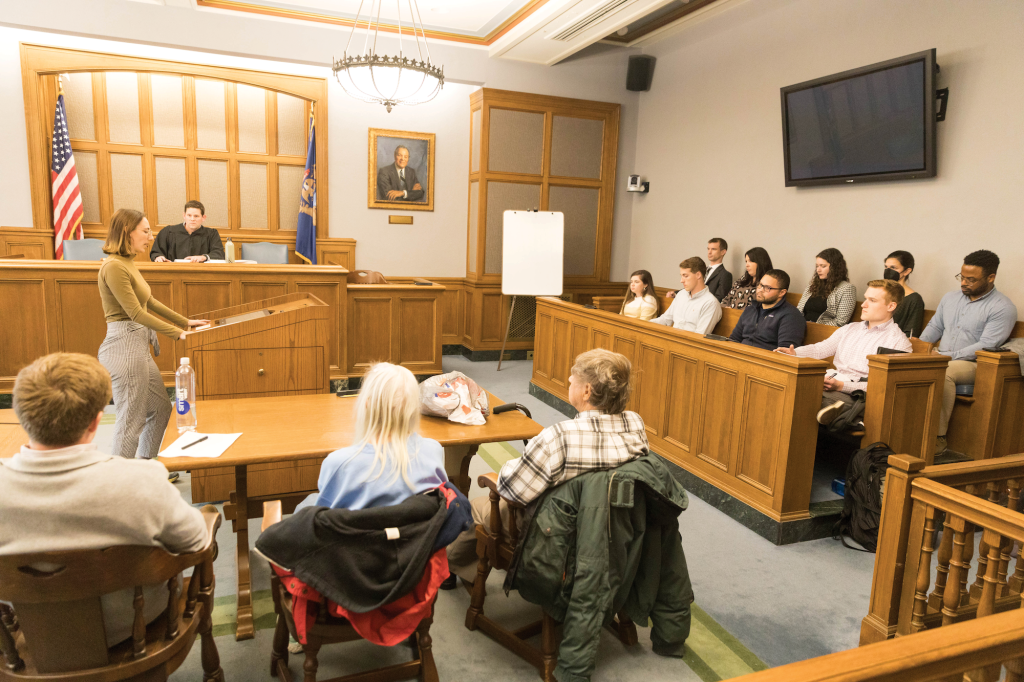 Each semester, up to 16 second- and third-year U-M law students participate in the clinic, with rising second-year students also hired as interns during the summer. Most are dedicated to the cause even before they begin clinic work, says Andres. 
Clinic cohorts typically include several student-veterans or those who are interested in joining the Judge Advocate General's (JAG) Corps — a legal branch of the military that provides services and advice to military personnel, their families, and the military as a whole — after law school. Many have military connections through family or friends, and others have no military affiliation but want to give back to veterans in the community, says Andres. 
A large percentage of those who participate in the clinic go on to work in service-focused law, such as public defense, the JAG Corps, or legal aid nonprofits. Even those who plan to work in major law firms perform clinic work, especially taking on pro bono cases, to gain valuable courtroom experience, says Andres.
"Our students work incredibly hard for our clients," he says. "They don't have much legal expertise or experience, but what they have more than anything is a desire to work hard and a willingness to really dive into the legal issues and solve whatever problem the client needs solving. 
In at least one instance, the clinic's work has led to more equitable legislation being passed in the state. The clinic represented a client who was denied food assistance due to felony drug convictions on his record. After the clinic filed a federal lawsuit against the state, Michigan legislators capitulated and passed a law that prevented such exclusion in food assistance programs.
Though a wide range of civil cases are handled through the clinic, much of the work centers on housing, both in fighting to prevent or delay client evictions and filing suits regarding poor living conditions. 
In 2022, for example, two VLC students, one of whom is a veteran, successfully helped a client facing eviction from her home in Ann Arbor. The client, a U.S. Army veteran, received an eviction notice from the new management of her mobile home park, despite having lived there for eight years and being a responsible tenant. The team filed a declaration under the Centers for Disease Control and Prevention's COVID eviction moratorium and sought protection for the family. They argued that a state law protecting owners of mobile homes from eviction should also apply to renters.
During the court proceedings, it became evident that the judge did not agree with the students' interpretation of the law. However, due to the strong legal groundwork laid by the students, the team signaled their intention to appeal the decision if it did not favor them, says Carrie Floyd, JD, a VLC clinical teaching fellow and the supervising attorney for the case. This led to a favorable settlement agreement between the mobile home park management and the family, allowing them to remain in their home rent-free for almost four months while they secured funding and looked for new housing.
"[Students] also learn about the power that they have to really impact people's lives and the good they can do for individuals with the legal knowledge and skills they've acquired in the clinic. It is very empowering, and it inspires them
to go out and do good things."

Matthew Andres
"Because [the students] had done a really good job setting up the legal issue, we were able to signal that we would appeal the decision if the court didn't rule in our favor," says Floyd. "They went toe to toe with the judge who didn't agree with them and knew when they'd said enough to preserve the issue." 
The outcome prevented the family from having an eviction on their record, which would have negatively impacted their chances of finding future housing. Floyd had accepted the case knowing it could potentially lead to an appeal and a change in the law.
In working with student-veterans and client-veterans, non-veterans in the clinic interact with people who have had vastly different life experiences. Students also engage with peers and clients who hold a wide range of worldviews and political perspectives, says Andres.
"They get to see the diversity of veteran experiences and how the military can be a real benefit to some people while presenting challenges to others," he says. "We've also come to find that our clients have very different viewpoints on the world amongst themselves and that there is really not a profile of a typical veteran. Our clients are as diverse as the general population."
Recognizing that veterans often face multifaceted challenges, the clinic collaborates with the social work and psychology programs at U-M. 
For example, a graduate student in social work gains field experience with the clinic by providing holistic support to clients and connecting them with various health and benefits resources on campus and in the surrounding community.
"Our clients really do appreciate the assistance," Andres says. "We have found that many veterans will not seek out help unless they know it is designated for veterans. They feel like they shouldn't be taking up resources that other people might need."
The VLC offers students the invaluable experience of assuming responsibility for a client and tackling the complexities of real-world legal problems, says Andres. And unlike much of law school, which involves examining established legal cases on appeal, clinic students tackle actual problems rather than predefined legal issues. They gather facts from clients and other sources, identify the legal matters at hand, explore potential solutions, and take decisive steps to solve the problem — a multipronged approach that sets the clinic apart from other learning opportunities in law school, he says.
"Students are able to learn a lot of great legal skills, and really understand what it is to be an attorney and feel the weight of responsibility that handling real legal cases places on an attorney," Andres says. "They also learn about the power that they have to really impact people's lives and the good they can do for individuals with the legal knowledge and skills they've acquired in the clinic. It is very empowering, and it inspires them to go out and do good things."●
This article was published in our July/August 2023 issue.