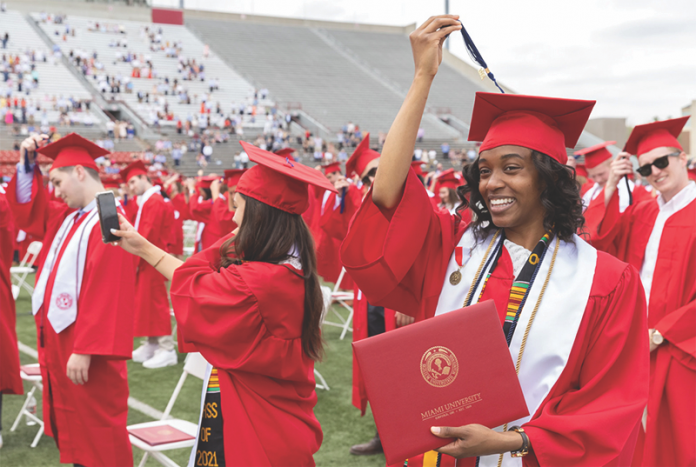 White students, particularly men, make up the majority of business school enrollment across the U.S., including at Miami University of Ohio's Farmer School of Business (FSB). As of 2020, 80 percent of undergraduate FSB students were White and nearly 65 percent were men.
Given these demographics, FSB leaders realized that their students have little opportunity to develop the crucial skill of cultural intelligence. Often referred to as CQ, cultural intelligence reflects "an outsider's seemingly natural ability to interpret someone's unfamiliar and ambiguous gestures the way that person's compatriots would," according to The Harvard Business Review. 
In response to this problem, the school developed a unique and rigorous program known as Beyond Ready CQ. Launched in fall 2020, it's designed to help students improve sociocultural awareness while examining their own inherent biases. The ultimate goal is to ensure that FSB graduates are able to effectively collaborate with and lead diverse teams once they enter the workplace, says Gillian Oakenfull, PhD, faculty director of diversity, equity, and inclusion (DEI) and an associate professor at FSB.
Beyond Ready CQ begins with an assessment taken at the outset of the first-year course "FSB Success Strategies," which is required for all business students. This test uses a variety of diversity-related questions to measure four prevailing components of CQ, including the following:
Action, or the ability to adapt when relating to and working in multicultural contexts
Drive, or the level of interest, persistence, and confidence during multicultural interactions
Knowledge, or the understanding of cultural differences and similarities

Strategy, or the awareness of and ability

to plan for multicultural interactions

 
Students initially scored lowest in the knowledge category and highest in drive, revealing that they had a strong desire to learn more about other cultures despite little previous exposure to other sociocultural groups. 
"Culture can be defined not necessarily as nationality or race, but really any way that you can be different from somebody else," Oakenfull explains. "It could be age, gender, work function, or sexuality, [but] you need to have perspective about others' cultural backgrounds."
The assessments, which are conducted online through the Cultural Intelligence Center, also map preferences and values, such as individualism versus collectivism and being cooperative versus competitive. Through these measures, faculty can quantify traditionally soft skills, Oakenfull says. 
The FSB Success Strategies course teaches students about such concepts as cognitive diversity and skills like collaborative thinking to develop their initial CQ scores. Participants then retake the assessment at the end of the semester to gauge progress. 
In the 2020-2021 academic year, FSB reports that first-year students improved in all four categories, with average changes as follows:
29 percent increase in action
7 percent increase in drive
20 percent increase in knowledge

 

15 percent increase in strategy
Following the initial class, Beyond Ready CQ participants develop their CQ over the duration of their degree program. FSB faculty use each student's assessment to develop a personalized CQ plan that includes specific classes, certifications, and co-curricular activities. Every student is also required to take another first-year course that covers DEI in business and bias in the workplace along with at least one other diversity-related course of their choosing.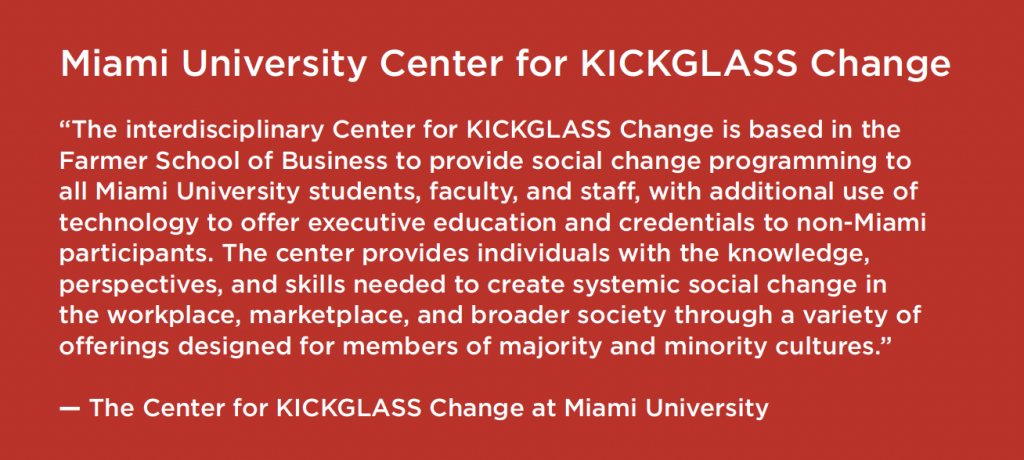 Business majors can also complete micro-credentials through the FSB Center for KICKGLASS Change as part of their individualized CQ plans. The center, which is directed by Oakenfull, is dedicated to enhancing DEI knowledge in students and working professionals. Available credentials include intra-group dialogues regarding gender and race or bias assessments using virtual reality scenarios. 
By the time students reach their senior capstone course, they take the CQ assessment again to track the effectiveness of their personalized plan. As the program is so new, nobody has yet completed this process, but those who took the assessment at the beginning and end of their capstone classes have already displayed significant improvement in scores, according to Oakenfull. 
FSB's plan is to continue expanding Beyond Ready CQ by offering more DEI-related courses for second- and third-year students. 
"We were already doing work on bias and why DEI is important in business," Oakenfull says. "What we're trying to do next year is move all that content together and give students a really cohesive curriculum around CQ."
Instilling the principles of DEI and increasing CQ among business students will ultimately drive innovation, improve decision-making, increase employee retention and productivity, and lead to higher profitability, she explains.
"The whole idea of cultural intelligence," Oakenfull says, "is making our students aware of difference — to appreciate it and to be ready to embrace it as it shows up in business, both in the workplace and the marketplace."●
Erik Cliburn is a senior staff writer for INSIGHT Into Diversity.
This article was published in our October 2021 issue.