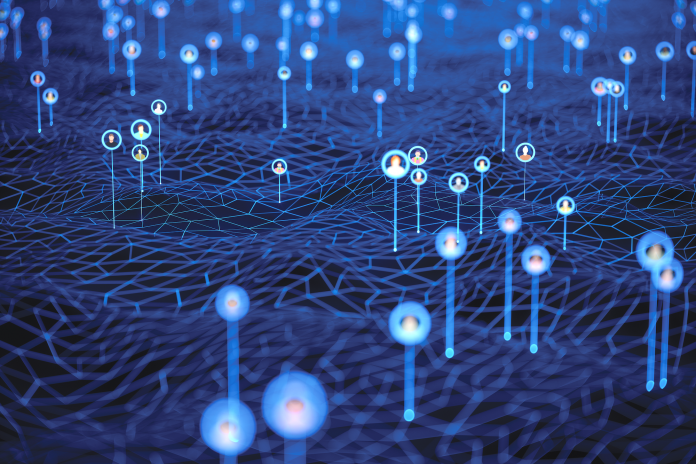 As the popularity of the metaverse continues to expand, it is no surprise that colleges and universities are beginning to explore the educational possibilities of virtual reality (VR) environments.
In April, 10 higher education institutions announced that they would participate in one of the most ambitious metaverse projects to date with the help of VictoryXR, a company that produces VR educational tools. With funding from Meta, the company formerly known as Facebook, VictoryXR is creating digital versions of each of these institutions so that students can attend class, socialize, and explore an exact replica of campus from the comfort of home using a VR headset. Many of the schools participating in the project say they will begin offering courses through their digital campuses starting this fall. 
Known as "metaversities," these 3D environments will present a broad range of opportunities for teaching and learning and are expected to become common across the higher education landscape in coming years. Yet some experts remain cautious about the potential drawbacks of making this technology mainstream and have unique concerns regarding the consequences for colleges and universities. 
How Metaversities Will Work
In 2021, VictoryXR created its first metaversity when it developed a digital replica of Morehouse College, a historically Black institution for men, with the intention of creating a more immersive and engaging online learning experience amid the COVID-19 pandemic. Promotional videos for the project show an exact replica of the Morehouse campus and classrooms, where students and professors roam about via their self-created avatars. They also highlight more imaginative digital environments, like a 19th-century battlefield where a digital professor delivers a lecture to his students' avatars as they stand among Napoleon's army. In an anatomy lab, students explore giant 3D replicas of human organs. 
The Morehouse project caught the attention of Meta, which agreed to fund further development, according to a report on EdSurge.com. The project is just one aspect of Meta's $150 million investment in immersive learning spaces "that build skills and create content related to virtual environments," the report states. Each participating school also receives a limited number of the company's VR headsets. The following institutions are participating: 
Alabama A&M University
California State University Dominguez Hills
Morehouse College
New Mexico State University
Northern Illinois University
South Dakota State University (SDSU)
Southwestern Oregon Community College (SWOCC)
University of Kansas School of Nursing
University of Maryland Global Campus
West Virginia University
SWOCC plans to offer VR classes in forestry, microeconomics, and more. SDSU said it will offer two science classes this fall through its metaversity. Students attending class remotely will receive loaner VR headsets in the mail. Some of the participating colleges will have headsets available for on-campus students to attend class in the metaverse, and all students can explore a 2D version of their digital campus using regular computers. 
Proponents of this technology say this innovative form of online learning offers more than simply a futuristic experience. Remote students can experience the unique architecture and culture of a physical campus while connecting with peers in a format that some say feels more personal than other online systems. In a recent Stanford University study, for instance, students enrolled in a VR class over a span of 10 weeks reported increased feelings of connection with their classmates and engagement with course material. Once students got used to attending class through a VR headset and became adept with the technology, they reported mostly positive experiences, according to the researchers. 
Some education technology experts say that metaversities will allow students to enjoy a more traditional college experience — attending virtual events on campus, socializing with peers between classes, and more — despite geographic barriers. Monica Arés, head of Immersive Learning at Meta, has said that these colleges will move from a hybrid model of education — with courses offered both online and on campus — to a "tri-brid" model, with classes taking place in person, in traditional online formats, and within the metaverse. 
Concerns about the Metaverse
Others have cautioned that that this new educational structure could lead to socioeconomic segregation, rather than expanded access. Nir Eisikovits, an associate professor of philosophy and founding director of the Applied Ethics Center at the University of Massachusetts Boston, recently wrote about this concern for ASBMB Today, asking, "Will these technologies offer a compelling educational experience for a lower cost, or will they just usher in a new digital divide — a two-tiered system consisting of elites who can pay for brick and mortar schooling and those who must make do with the virtual counterpart?"
Questions of accessibility are far from the only apprehensions regarding the advent of VR education. While Meta is providing funding and free headsets to help expand access to courses within the metaverse, critics of the company point out that its long history of problems with protecting user data and privacy should make colleges and students cautious about participating. Some, including Eisikovits, say that colleges and universities should also consider whether academic freedom and educator autonomy will be supported by the private companies operating metaverse education platforms.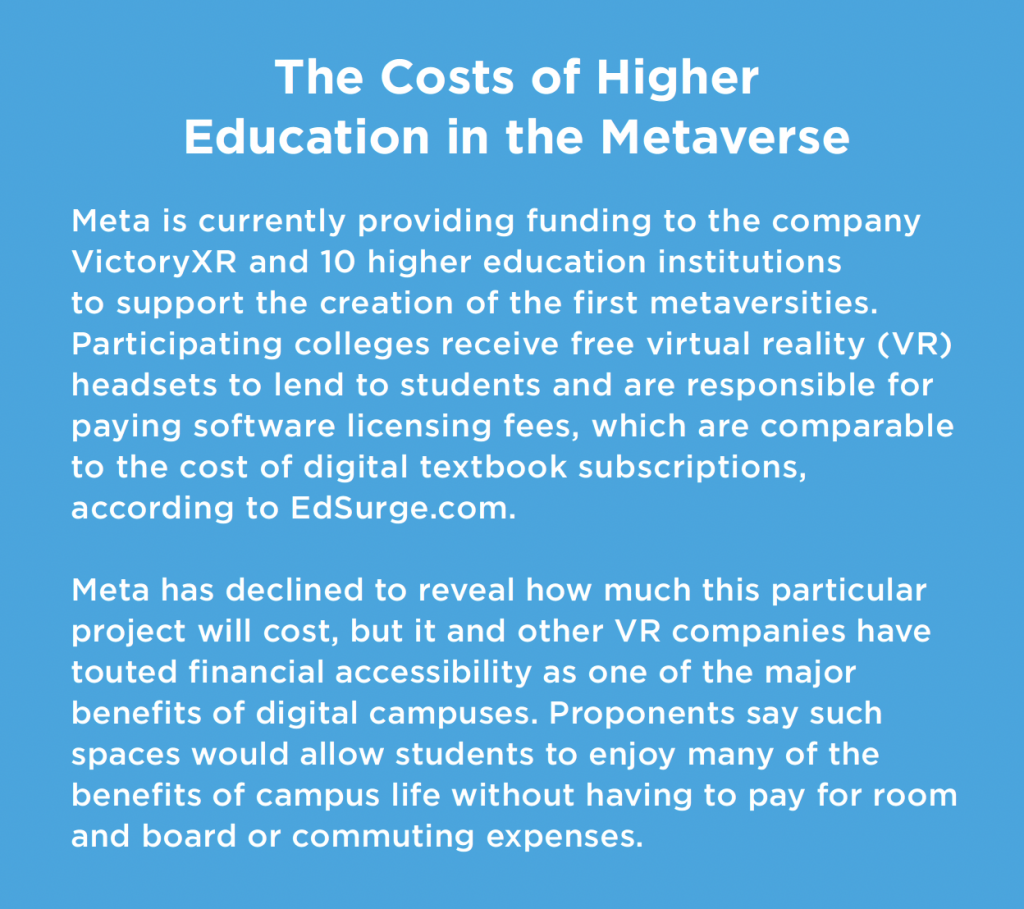 Furthermore, a growing number of scholars and advocates have raised alarms about diversity, equity, and inclusion (DEI) issues in the metaverse in recent months. Reports of anti-LGBTQ+ and racist hate speech, sexual harassment, and even sexual assault in various Meta platforms have proliferated in the media. VR experts and psychologists have noted that such incidents, while taking place in a virtual space where the user may be physically safe, can still cause extreme psychological distress. 
Breigha Adeyemo, a PhD candidate in communication at the University of Illinois Chicago, examined some of these issues in an article titled "I'm a Black Woman and the Metaverse Scares Me — Here's How to Make the Next Iteration of the Internet Inclusive," which was published by multiple websites in December. Just as the internet and social media have given rise to new forms of discrimination against marginalized people, so too does the metaverse present opportunities for new ways to spread hatred and inflict harm in an environment where safety settings and reporting measures have already proven to be flawed, Adeyemo writes. "Ensuring that the metaverse is inclusive and promotes democratic values rather than threatens democracy requires design justice and social media regulation," she states. "Design justice is putting people who do not hold power in society at the center of the design process to avoid perpetuating existing inequalities."
Multiple tech experts and DEI advocates have issued similar calls urging Meta and the organizations working to develop the metaverse to make diversity a priority. A VictoryXR representative told EdSurge.com that the company made an effort to include historically Black and Hispanic-Serving Institutions in conducting outreach for its metaversities project. The 10 selected schools include those with large numbers of low-income and underrepresented students.
"We want to make sure that not only are we preparing the future workforce to interact with these technologies," Arés has stated, "but also to build them."●
Mariah Bohanon is the managing editor of INSIGHT Into Diversity. 
This article was published in our September 2022 issue.