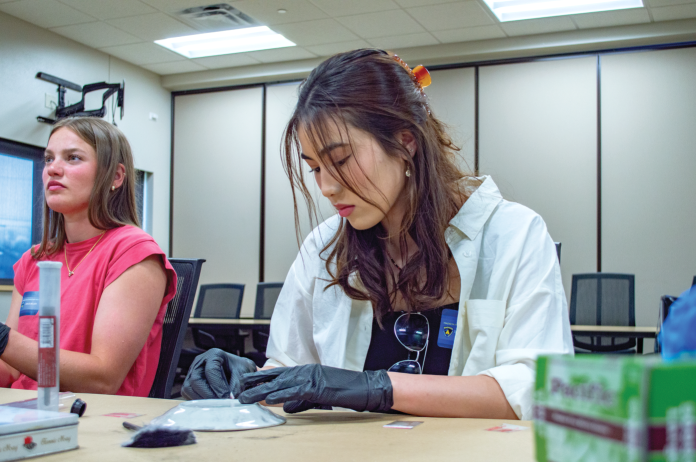 As a woman just entering the criminal justice field at the University of Wisconsin-Platteville (UW-Platteville), Jolene Las had questions about her future career but wasn't sure where to find answers. A new virtual mentoring program, however, helped her gain both focus and practical experience.
The University of Wisconsin Women in Criminal Justice Mentoring Program (UW-WICJ), launched in fall 2022, pairs students with mentors from a variety of agencies at local, state, and federal levels, including the University of Wisconsin-Madison (UW-Madison) Police Department, Dane County Sheriff's Office, U.S. Probation and Pretrial Services System, Wisconsin Division of Hearings and Appeals, and Federal Bureau of Prisons.
When Las signed up for the program, she was matched with a woman state patrol officer who offered to answer any questions she had about the job. Their professional relationship began over email and eventually led to an experience with a police ride-along. Las continues to communicate with her mentor via phone.
"Having that [early] guidance and support and that encouragement, especially from another [woman] in a mostly male-dominated field, was very, very helpful," Las says.
After graduating this year with a dual major in criminal justice and political science, along with a minor in forensic investigation, Las looks forward to building a career in federal law enforcement.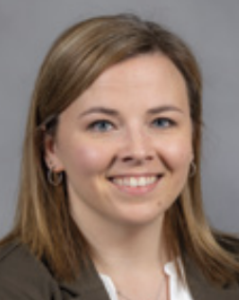 Guidance is essential in encouraging women to enter the field, says Beth Tremelling, academic advisor and coach in the Department of Criminal Justice and Social Sciences at UW-Platteville. Tremelling developed the idea for the program after too many women students came to her office with a lack of confidence.
The UW-WICJ was created through a partnership between Tremelling's department; UW-Madison's Center for Law, Society, and Justice; and the Wisconsin Department of Justice, Division of Criminal Investigation. A total of 54 mentees and 38 mentors from 26 agencies and divisions participated this year.
The program shares the same goal as the national 30×30 Initiative, which is a coalition of police leaders, researchers, and professional organizations dedicated to encouraging law enforcement agencies to partake in a series of no- or low-cost actions that can improve the representation and experiences of women in sworn positions. The organization finds that women currently make up 12 percent of sworn officers and 3 percent of police leadership in the country.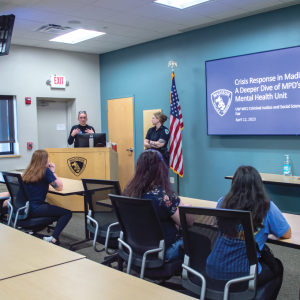 The 30×30 Initiative identifies many benefits to having women work in policing, pointing to research that shows they use less force, are named in fewer complaints and lawsuits, are seen by community members as more honest and compassionate, achieve better outcomes for crime victims, and make fewer discretionary arrests.
As a first step for the UW-WICJ, via virtual speed mentoring in the fall, students were introduced to mentors and later matched with one based on their interests. An in-person event took place in April, where they met face to face and participated in presentations focused on such topics as tactics, virtual reality training, fingerprinting, and mental health. 
"After the in-person event, [students] were all excitedly talking about what they got to do," Tremelling says. "Same with their mentoring relationship, some of the students have been really excitedly talking about the types of things that they've gotten to see, like sitting in on some of the court cases."
Tremelling plans to continue the program next year, with changes based on feedback from participating agencies and student surveys. She hopes that one day the project will become a national organization.
"It's a mutually beneficial experience for the mentors and the mentees, which I think is really great. … It's an important program, and the more people hear about it, the more [support] it will [receive]," Tremelling says.●
This article was published in our July/August 2023 issue.