Diversity Champions exemplify an unyielding commitment to diversity and inclusion throughout their campus communities, across academic programs, and at the highest administrative levels. INSIGHT Into Diversity selected institutions that rank in the top tier of Higher Education Excellence in Diversity (HEED) Award recipients. 
[Above: MUSC is fifth in the nation for enrolling African American medical students and in the 97th percentile for graduating black male students in medicine.]
Diversity and inclusion professionals at the Medical University of South Carolina (MUSC) take on a big role. The MUSC enterprise includes a network of eight hospitals with 1,600 beds across the state, clinics, and six colleges. Ensuring every student, employee, and patient feels welcome throughout the enterprise requires cross-campus teamwork, the full support of institutional leaders, and a willingness to continuously innovate for improvement.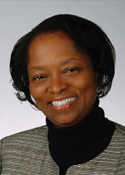 These characteristics define MUSC, says Willette Burnham-Williams, PhD, chief diversity officer, Title IX coordinator, and assistant professor. "We really consider our diversity and inclusion work as a journey. We know you cannot approach this work with the mindset that there is an end in sight because as populations change, needs will continue to change," she says. "For us that means continuous innovation to stay on the pathway for organizational excellence in diversity and inclusion."
Growing Diverse Leadership
To ensure candidates from underrepresented groups were being prepared for leadership positions on campus, MUSC created the David J. and Kathryn Cole BRIHTE Leadership Academy, says DaNine J. Fleming, EdD, director of training and intercultural education and an associate professor at MUSC. The academy is a two-year cohort model for approximately 15 employees representing a wide range of sociocultural and professional backgrounds. The first year of BRIHTE, which stands for Building and Retaining Inclusive High-Potential Talent and Excellence, consists of day-long didactic training sessions every month led by the MUSC department of diversity, equity, and inclusion and guest lecturers utilizing the Health Leadership Competency Model from the National Center for Healthcare.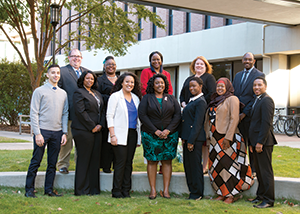 In a recent session, the cohort learned about ADA compliance from senior officials and compliance experts at MUSC and the nearby Military College of South Carolina. By interacting with guest speakers and each other, BRIHTE scholars "see how the skills they learn as well as their own unique talents and interests are applicable to a cross section of the campus community they may have never considered before," Fleming says. In the program's second year, participants are assigned to shadow MUSC leaders.
Though the program is relatively new, it has been rewarding to see participants "blossom and grow," with each new session, Fleming says. "This is just going to be a great retention and recruitment program for our underrepresented minority leaders on campus. … Our end goal is that whenever [leadership] positions are available, this will be a pool and a resource of candidates who we know will meet the criteria to be strongly considered for the position," she says. 
The academy is named after the university's president and first lady in recognition of their support for advancing diversity and inclusion. Having the president's name attached to this type of effort reinforces the idea that "diversity is everyone's business and [President Cole] consistently demonstrates that to me, to our senior officials, and to our entire campus," Fleming says.
Making Information More Accessible
While every institution is obligated by law to make certain materials available for those with disabilities, accessibility has long been a central focus of MUSC's institutional mission. During the last year, senior leadership helped form the Digital Accessibility Steering Committee to ensure that all MUSC digital materials are "accessible to anyone, no matter what their disability," says committee co-chair Mary Mauldin, EdD, a professor, executive director of instructional technology and faculty resources, and associate director of interprofessional initiatives.
The committee works to provide resources and training that gives community members, employees, and students the opportunity to experience the digital domains available through MUSC in an equitable manner. These domains include webpages, documents, videos, or other digital resources provided by MUSC. This means faculty members are learning to adapt files for screen reader technology and know which color contrasts are best for users with visual disabilities and color blindness, Mauldin says.
MUSC offers group and individual trainings and online courses to help employees and students learn digital accessibility and universal design. The institution also recently hired a digital accessibility expert to head these efforts.
Mauldin herself wears a hearing aid and says she knows firsthand what a difference something as basic as closed captioning on an online video can make. Digital accessibility doesn't just help people with disabilities. Written course materials can now "be downloaded as podcasts so students are free to listen to those materials while driving or working out, and we've seen that they are taking advantage of that convenience," she says.
The principle of universal accessibility also shapes MUSC's approach to health literacy. Rather than assessing an individual patient's "health literacy capability," the organization presents all patients with multiple options for how they would like to receive information, says Kathleen White, MUSC Health patient and family coordinator. This means that a patient who has just been diagnosed with an illness has the option of watching an interactive video about their diagnosis rather than relying solely on written explanations and disease management tips.
MUSC offers a library of 800 such videos accessible directly from patient rooms. Some materials are available in both English and Spanish. The institution also provides community health materials and interpretation services in several languages to better serve local immigrant populations.
Student-Centered Work
In addition to its Department of Diversity, Equity, and Inclusion, the Office of Student Programs and Student Diversity serves as a hub for student affairs across the six colleges and fosters teamwork between administrators and student leaders in creating an inclusive, student-centered campus.TaJuan Wilson, EdD, executive director, says teamwork enables his office to be more effective in meeting the needs of a diverse campus. Last year, MUSC's student government association (SGA) created the position of vice president for diversity and inclusion.
The responsibilities of this role include spearheading efforts with Wilson's staff that promote the well-being of students representing multiple sociocultural identities. This year, the SGA and the Office of Student Programs and Student Diversity organized university "health weeks," such as Queer Health Week, to help people understand "the nuances and need for further education," on healthcare for specific populations, Wilson says.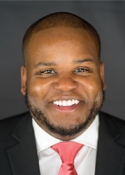 The office also works closely with the MUSC Student Diversity and Inclusion Advisory Council to resolve concerns and improve campus engagement. "[The council] has really shifted from a group where we would discuss problems with diversity and inclusion to a group where we discuss proactive approaches to these issues," Wilson says. This year, MUSC began hosting university- wide mixers after the council brought up the fact that students often feel siloed within their individual colleges.
When students of color commented to Wilson's office that there were few opportunities to meet "the folks of color who look like us or folks from marginalized backgrounds," his team started an annual orientation session specifically for underrepresented students. The Multicultural Orientation and Resources for Excellence program takes place at the beginning of every academic year and allows attendees "to meet folks who look like them and engage with our office from day one," Wilson says.
This kind of relationship-building has helped MUSC become one of the top schools for African American medical students in the United States. According to the Association of American Medical Colleges, the university is fifth in the nation for their enrollment and in the 97th percentile for graduating Black male medical students.
Michael de Arellano, PhD, senior associate dean for diversity in the MUSC College of Medicine, attributes these achievements to the school's comprehensive pipeline and mentorship programs. MUSC works with high schools to identify underrepresented students interested in healthcare careers and offers them mentoring and academic development opportunities that continue through undergraduate, medical, and residency education. "I think that's really the key to our success, having not just pipeline programs, not just getting students through admissions, but making sure we have thorough mentorship to offer once they're here," he says.
Uniting Institutions in Support of Diversity
MUSC is devoted to supporting diversity professionals not only across its own enterprise, but outside organizations invested in this work, as well. One major endeavor to do so is MUSC's annual Inclusion to Innovation Summit.
The event was founded after the community recognized their work "can be isolating," says Burnham-Williams. "The goal is to look at really innovative ways to address diversity and inclusion work and approach it from a collaborative, 'you're not alone' kind of mindset," she says.
Burnham-Williams and MUSC Health chief diversity officer Anton Gunn created the summit in 2017 specifically for chief diversity strategists in higher education and other businesses and organizations in the Charleston, S.C., region. The event attracted 50 local participants in its first year. By the second annual summit in 2018, it had more than doubled in size to approximately 125 attendees. "In year two, our focus was to broaden our community to expand across South Carolina, North Carolina, HBCUs, and to have the summit be a resource for those [institutions] and leaders doing this kind of work," she says.
"What was interesting for me," Burnham-Williams says, "is that a lot of us struggle around the same things. For instance, how do you let someone know their behaviors are characteristic of microaggressions while letting them keep their dignity? … So often, they don't realize what effect their behaviors or words have."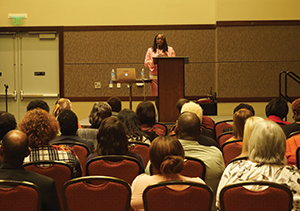 Attendees appreciate the communal support and learning opportunities. Feedback surveys note "the importance of taking a day and a half to just have conversations and reflect on the work that we're doing as counterparts," Burnham-Williams says. "Two HBCUs attended this year and they stressed how it's great to get another perspective and how they enjoyed having the broader conversations on diversity work."
Planning for the third annual summit is already underway and MUSC will continue to offer this opportunity for the foreseeable future, she says. "We made a commitment to do this because we know it's a resource that people badly need. We feel that we have a role where we sit in South Carolina to provide opportunities like this for education, training, collaborations, and conversations."
Mariah Bohanon is the associate editor of INSIGHT Into Diversity. MUSC is a 2018 Diversity Champion and a 2016, 2017, and 2018 Health Professions Higher Education Excellence in Diversity (HEED) Award winner. This article ran in our May 2019 issue.