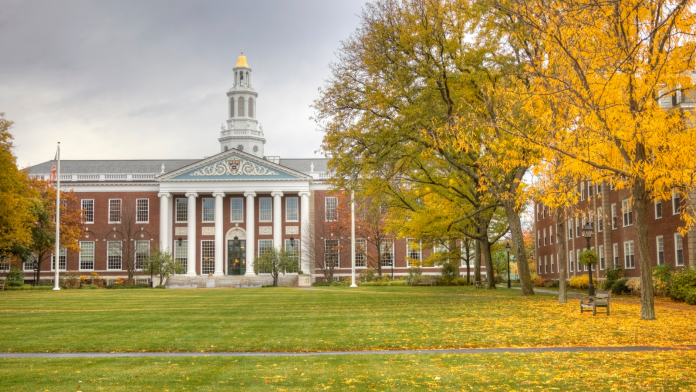 Three Harvard University graduate students filed a federal lawsuit this week claiming the school ignored accusations that anthropology professor John Comaroff allegedly sexually harassed them.
The lawsuit says it highlights Harvard's "decade-long failure to protect students from sexual abuse and career-ending retaliation."
Students Margaret Czerwienski, Lilia Kilburn, and Amulya Mandava claim that Comaroff "kissed and groped students without their consent, made unwelcome sexual advances, and threatened to sabotage students' careers if they complained," according to the lawsuit.
Today, we filed a lawsuit against Harvard for its indifference to Comaroff's pattern of harassment and retaliation against students.https://t.co/jG8A2SB9wC

— Margaret Czerwienski (@MCzerwienski) February 8, 2022
Comaroff is a student adviser, an Oppenheimer Research Scholar, and the Hugh K. Foster Professor of African and African-American Studies and Anthropology at Harvard.
Last month, Comaroff was placed on unpaid leave following an internal investigation that found he violated the university's sexual and professional conduct policies. He is currently barred from teaching required courses and taking on additional advisees through the next academic year, The Crimson reports.
The accusations have pitted dozens of Harvard faculty members against each other. A group of 38 professors voiced their support of Comaroff in an open letter last week, but 34 later issued a statement Wednesday disavowing his actions. More than 70 faculty members signed a letter backing the graduate students.
Harvard has yet not responded to the lawsuit, according to Reuters.
Campus communities at other universities are also raising concerns about how officials are handling sexual harassment allegations. At the University of Connecticut (UConn), students held a protest this week urging administrators to better respond to sexual harassment claims.
 "The health, safety, and well-being of all our students is our highest priority. UConn abhors sexual violence in all its forms and does all it can to provide victims with compassionate care, resources, and much-needed support in the face of their trauma," UConn Interim President Radenka Maric wrote in a campus-wide letter.