Kathryn Redmond, JD, spent spring break of her final year of law school in a San Antonio bus station. As a student volunteer with the Saint Louis University School of Law (SLU Law) Removal Defense Project, part of her duties involved handing out backpacks of food and supplies to newly arrived undocumented immigrants. 
Another responsibility: teaching them the complex and lengthy process for gaining asylum.
[Above: Rabin, second from left, and UCLA Law students celebrate the grand opening of the UCLA School of Law Immigrant Family Legal Clinic on the campus of the RFK Community Schools in Koreatown, Los Angeles. (Photo by Rich Schmitt, courtesy UCLA Law)]
"Even for people trained in the legal field, immigration law is very complicated," Redmond says, adding that she took several classes in this area before enrolling in the defense clinic. "There are a lot of procedural steps where, if done incorrectly, your case can just be dismissed, and you're left with really no options." 
Redmond's decision to study immigration law and to share her knowledge with the people who need it most represents a growing trend. A November 2017 report by the American Bar Association Journal states that "interest in immigration law is surging," thanks to President Donald Trump's anti-immigrant rhetoric and policies. Class sizes in immigration courses at some law schools have double or even tripled since the presidential election, according to the American Bar Association (ABA). Duke, Northeastern, and Vanderbilt University, among others, have joined SLU in opening their first immigration law clinics in recent months.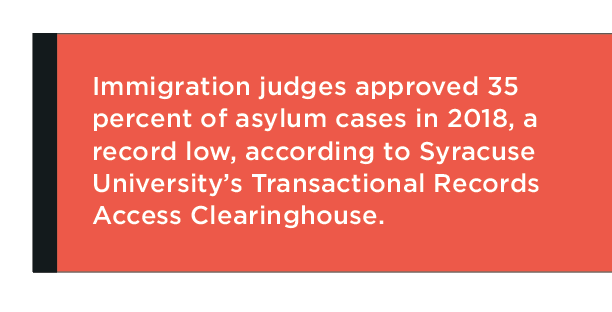 Aida Farahani, JD, a lawyer with the Refugee and Immigrant Center for Education and Legal Services (RAICES), says law schools are offering increased opportunities to become involved in this work as students become more impassioned. As the pro bono attorney coordinator for RAICES' Karnes Pro-Bono Project, Farahani organizes legal aid for undocumented families at the Karnes County Residential Center, an hour outside of San Antonio and three hours from the Mexican border.
At first, only nearby attorneys and law schools like St. Mary's University and University of  Texas at Austin visited. As word spread, however, schools from across the United States began contacting Farahani asking if their law students could provide assistance.  
"We've had such a great experience working with law students … because of the [knowledge] they have and how passionate they are in helping our groups of detainees," Farahani says. Most groups who visit do so during spring or winter break, and the center is booked for student volunteers through spring break 2020. Farahani does outreach with law schools to see if they are willing to send interns or create externship programs at Karnes so there would be steady assistance, not just during school holidays, she says.
Helping vulnerable immigrant populations doesn't necessitate prior training in immigration law or even clinical law. RAICES trains all volunteers before they arrive, preparing them to do tasks such as "know your rights" presentations and drafting declarations.
"Volunteers are attorneys, law students, retired professors — honestly anyone that we feel is open and willing to learn what asylum is in order to provide the legal services we give [detainees] every day," Farahani says. 
Helping advocate for and protect asylum seekers, however, doesn't only happen near the border. Legal educators and students across the U.S. are finding innovative ways to reach vulnerable immigrant populations within their communities, such as the UCLA School of Law Immigrant Family Legal Clinic. Located within the Robert F. Kennedy (RFK) Community Schools complex, the clinic, which opened in January 2019, is the first of its kind to be situated on a K-12 campus. 
"One of the struggles for reaching immigrants is the climate of fear and in many ways living below the radar," says Nina Rabin, JD, the clinic's executive director. "But schools are particularly trusted by people and their communities."
The RFK schools see an especially high number of students who arrived in the U.S. as unaccompanied minors or whose families are recent immigrants and "in pretty urgent need of legal help," Rabin says. Unlike student service trips to Karnes or SLU Law's Removal Defense Project, which consists of a semester-long class and one week in Texas, law students in the UCLA immigrant family clinic spend an entire semester working on select cases for RFK students or their families. 
An additional benefit of the clinic is that some of Rabin's students and the UCLA undergraduates who help operate and interpret for the clinic are themselves immigrants, first-generation students, or individuals who have overcome other disadvantages, Rabin says. As such, they serve as excellent role models for RFK students who may visit for walk-in consultations or see them around the RFK campus. "They see really accomplished young people who may just be a little older than them that are going on to law school," Rabin says. "It's just another great aspect of [the clinic]."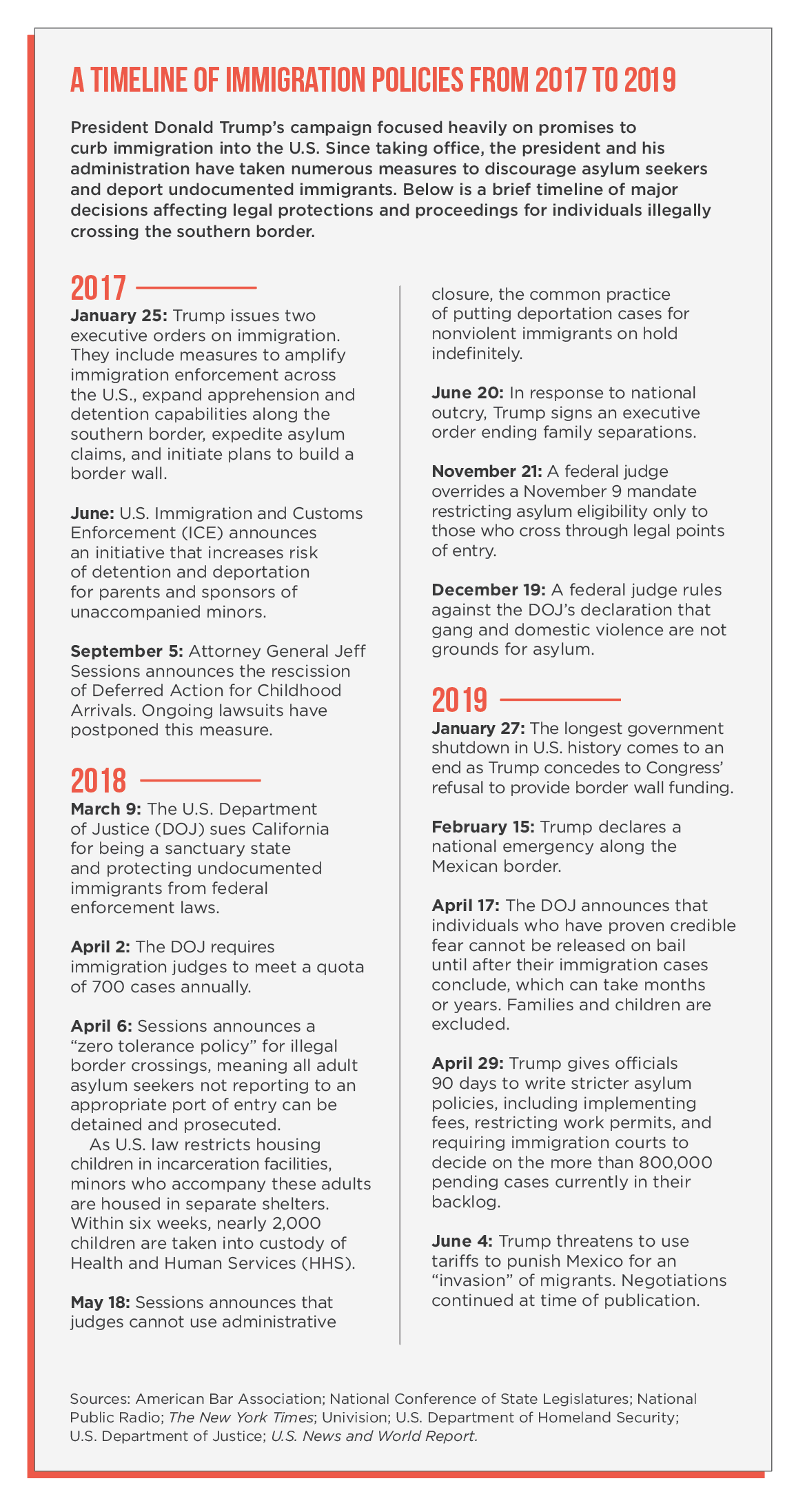 Cases selected by the clinic are urgent and can be completed within a semester's time; lengthier ones are passed on to other nonprofits. One of the greatest successes of the clinic's first semester involved a 17-year-old student who would have been eligible for deportation upon his 18th birthday. Under Rabin's supervision, her students helped him prove in family court that he had "suffered some pretty serious abuse" by his father in Central America, she says. They then assisted him in applying for asylum status on the premise that returning home would put him at risk of violence from his father and the gangs with which he is associated. 
This two-step litigation is just one example of the ways that immigration law can be quite complex, thus offering "extremely valuable training" for the future attorneys working on these cases regardless of what type of law they eventually plan to practice, Rabin says. Students acquire skills such as client interviewing, fact gathering, persuasive writing, and community lawyering.
Redmond, who graduated in May, plans to go into real estate finance law but says she will continue to use her experience in immigration law to work pro bono on what she sees as "one of the biggest civil rights fights of our time."  There are many organizations that provide free or reduced-cost legal services to the undocumented that practicing and soon-to-be attorneys can volunteer for, she adds. 
"Anyone who's ever had to go to court even for a traffic ticket knows it can be frustrating and complicated," Redmond says. "Just imagine if you were in a position where you needed real resources but couldn't afford them and there is no public defender to step in."
Mariah Bohanon is the associate editor of INSIGHT Into Diversity. This article ran in the July/August 2019 issue.