May 2020 marked the first time in the Law School Admission Test's (LSAT) 73-year history that law school hopefuls could complete the exam from the safety of their own homes after officials moved it online to mitigate the spread of the coronavirus.   
On April 10 of this year, the LSAT saw another major first when Anthony Niedwiecki, JD, president and dean of the Mitchell Hamline School of Law (MHSL) in Saint Paul, proctored the exam in person for test takers at the Minnesota Correctional Facility – Shakopee — marking the first time that the LSAT was administered from within the walls of a prison.
The day after proctoring the test at Shakopee, which is located just 25 miles from the site of George Floyd's murder, Niedwiecki administered the LSAT onsite at yet another Minnesota correctional facility. His actions were inspired by the belief that providing accessible legal education for inmates is an important step in creating a more equitable criminal justice system in the wake of Floyd's murder and the ensuing push for social change.
"You can't have what happened over the last year and not look internally at what we can do individually and as an institution to help change some of the things that are in our system," says Niedwiecki. "As a law school, I think it should be our mission and our goal to really play a bigger role in the community."
Niedwiecki is among a growing number of advocates who say that inmates are uniquely suited for the study of law because they possess an insider's perspective of the criminal justice system. Gaining admittance to law school while behind bars is, however, no easy feat when prison internet restrictions prevent users from taking the LSAT online. Furthermore, paying for basic college courses — not to mention the hefty price of a law degree — was impossible for most prisoners before Congress reinstated inmate Pell Grant eligibility in December 2020.
Now, MHSL is collaborating with the Minnesota Department of Corrections and the nonprofit organizations Until We Are All Free and All Square, both of which are dedicated to supporting inmates and ex-offenders, to develop a revolutionary prison-to-law pipeline (PLP) program. Their goal is to create the first JD program designed specifically for inmates and accredited by the American Bar Association (ABA). The inaugural PLP cohort of students will be from Shakopee, which is a women's prison, and the nearby Stillwater Correctional Facility. The program is set to commence this year and will consist of inmates studying to become paralegals as well as those seeking a JD, according to the Hennepin County Bar Association website.
MHSL and other PLP partners intend to provide clinical opportunities for JD students "whether they are actively incarcerated or have returned home," the website states. The program is still in a very early stage, so gaining ABA accreditation will be a long-term goal, Niedwiecki says.
The school already has experience with developing innovative pathways to the legal profession, having launched the nation's first hybrid JD program to accommodate rural students, working parents, and others whose life circumstances make traditional classes less accessible. MHSL faculty and students are also familiar with supporting inmates and ex-offenders through the school's Legal Assistance to Minnesota Prisoners and Reentry Clinic.
"I think people who have gone through the [criminal justice] system and seen the flaws and seen things that work and now are part of the system should be able to make important changes," says Niedwiecki. "We should be encouraging them and taking away those types of barriers to being able to be a lawyer because they bring something to the table that a lot of other people can't bring."
Critical steps remain to fully execute the Prison-to-Law program, including technological logistics and approval from the ABA, but Niedwiecki says the hope is to be fully operational by next year.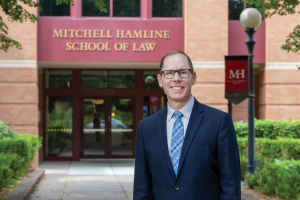 Facilitating Second Chances
While schools like MHSL are fostering educational opportunities for current inmates, other law schools are hard at work providing a fresh start for former offenders.
Many law students across the U.S. advocate for this population by helping with expungement, or the process by which a person convicted of a crime — typically minor, non-violent offenses — can ask the court to conceal or dismiss their record from public view. As a legal antidote to the idea that punishment should be permanent, expungement grants access to employment, education, and housing without fear of discrimination and disenfranchisement. According to research from Brigham Young University's legal design lab, LawX, former convicts with fully expunged records are up to 13 times more likely to find employment than those whose convictions remain public.
At the University of Notre Dame, law students are closely involved in special expungement clinics that prepare petitions on behalf of hundreds of Indiana residents. Similar work is being conducted at Stanford's Community Law Clinic, where students help facilitate reintegration for former inmates by researching client eligibility for expungement, drafting motions, and appearing in court.
"Expunction law is important because it focuses on restorative justice," says Christopher Meadows, JD, a recent graduate of Duke University School of Law who served as co-coordinator of the Duke Law Fair Chance Project. "When you are working with clients and looking at their records, you really only have a snapshot of their life."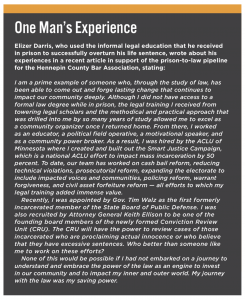 The project consists of partnerships between the law school and local groups dedicated to helping former offenders and recovering addicts re-enter society. Student volunteers work closely with supervising attorneys to assist North Carolinians with eliminating or minimizing the consequences of dismissed charges, juvenile convictions, misdemeanors, and more. 
Meadows says the importance of the clinic's work cannot be overstated, especially considering the daunting challenges many former inmates may face in what he calls the "expunction labyrinth." Procedural, financial, and logistical requirements can inhibit many clients who may not be able to petition, pay fees, or travel to the necessary jurisdiction to have their record expunged.
"If you don't jump through these loopholes and procedural barriers, then you are still stuck in the same place. Not to mention, [expunction law] is very technical, so without legal assistance you may not be aware you are eligible at all," explains Meadows.
Clients who have overcome major hurdles in life such as drug addiction say that having a clear criminal record makes them finally feel free, according to Meadows.
"We've had plenty of clients who have beaten their addiction, and me being able to convey to them that they are eligible to have their records eligible for expunction gives them a peace of mind," he says.
In no small measure, the project's efforts have provided clients with renewed hope, even for those who are not eligible for a completely clean slate. "You'd be surprised to see how they respond to having something off their plate and having a new beginning," says Meadows.
As of 2016, North Carolina was one of 12 states whose prison population was more than 50 percent African American, according to a report by The Sentencing Project. Nationwide, three out of five U.S. inmates are Black or Latinx. Such statistics demonstrate why advocates like Meadows and Niedwiecki say criminal justice reform is necessary — and that one way to achieve it is through empowering current and former inmates.
"We have to go into the systems themselves and break down what has been the norm," says Niedwiecki. "We can't have the status quo. We have to go in and do something different."●
Miun Gleeson is a contributing writer for INSIGHT Into Diversity.
This article was published in our July/August 2021 issue.