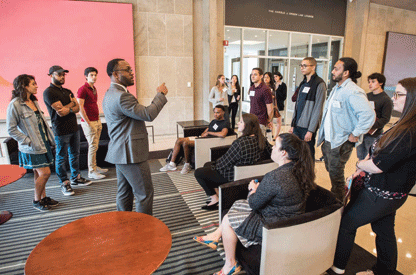 Lawyers are often charged with protecting the rights of the nation's most underrepresented populations, and yet the legal profession remains one of the least diverse in the country, according to the United States Bureau of Labor Statistics. As of January 18, 2019, of America's nearly 2 million lawyers, 88 percent were White and over 60 percent were male, according to the bureau's website.
In regard to lawyers who have achieved partner status, the numbers are even more dismal. A 2017 study by the National Association of Law Placement (NALP) found that women account for just over one fifth of all law firm partners, despite the fact that they comprise more than a third of America's lawyers.
Moreover, underrepresented racial groups accounted for only 8.42 percent of partners in 2017, according to the study. The NALP also reports that less than one percent of American lawyers reported having a disability, while only 2.64 percent openly identified as LGBTQ.
[Above: Christopher Clarke, the University of Chicago Law School's director of diversity and inclusion, gives a tour of the school to participants in a pre-orientation program for historically underrepresented students.]
Addressing the general lack of diversity within the profession is critical, given the fact that those who study law go on to wield considerable authority in both political and corporate settings, wrote Stanford law professor Deborah L. Rhode, JD, in a 2015 Washington Post article.
An additional reason to improve diversity and inclusion efforts is that the U.S. government is currently in the process of auditing law firms that hold federal contracts. As INSIGHT Into Diversity magazine reported in the July/August Law Schools issue, Office of Federal Contract Compliance Programs (OFCCP) director Craig Leen said in an April 2019 town hall meeting that law firms "need to get their houses in order."
But prominent legal organizations as well as individual law schools are working to improve conditions for women and underrepresented groups in the profession through targeted recruitment efforts and support for law firms.
Law Schools that are Moving the Needle
The University of Chicago (U of C) Law School and New York Law School (NYLS) in New York City offer two examples of institutions that are stepping up efforts to diversify the profession by recruiting, retaining, and ensuring the success of underrepresented individuals.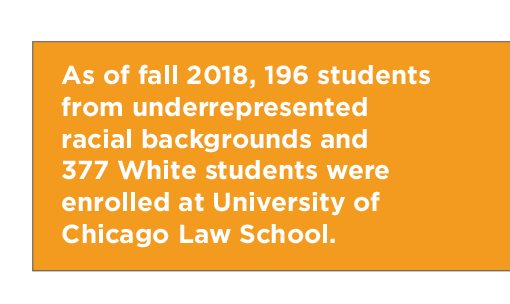 For its part, U of C Law School hired Christopher Clarke as the director of diversity and inclusion in May 2019. A significant part of his role is to attend recruitment events across the country, building relationships and sharing his contact information with people from underrepresented populations who are interested in attending law school, in effect serving as "an extension of the admissions team," he says.

Since joining U of C, Clarke also established a pre-law orientation program that took place this September for 20 first-year students from underrepresented groups. He likens the five-day program to "preseason" of the first year of law school, allowing students to "simulate what the real [law school] experience is like, knowing that it doesn't necessarily have an academic impact but creates additional preparation opportunities." Participants are exposed to the day-to-day rigors of legal education, ranging from in-class cold calling to managing student loans.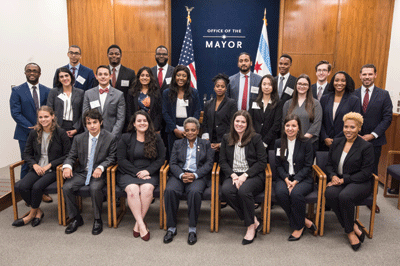 Clarke plans to carefully track the program's long-term effect on participants' success throughout their time at U of C. Initial results show that their scores on a pre- and post-competency exam increased after they attended the orientation.
NYLS also focuses on recruitment, retention, and long-term professional success of diverse students.
In 2015, during the lead-up to its 125-year anniversary, the school launched a comprehensive institutional diversity plan that pledged to make law school more affordable through an increased number of scholarships and grants.
NYLS has also committed to expanding its partnerships with affinity bar associations, law firms, government offices, diverse alumni contacts, and more to ensure new lawyers receive guidance and support as they enter the profession.
In line with the diversity plan's goals, NYLS has invested in pipeline programs to diversify its student body. In 2019, it launched a two-year Summer Pre-Law program for underrepresented rising juniors and seniors pursuing undergraduate degrees in the state of New York. The free four-week program involves four hours of class per day, covering topics such as "written legal communication" and LSAT preparation. It also hosted a five-week program for high school students.
NYLS plans to launch an additional pipeline program in the summer of 2020 targeting older, nontraditional students who may have previously worked as paralegals or civil servants.
The efforts of these schools and organizations are helping numerous underrepresented individuals pursue a legal education and a career. However, for more widespread, systemic change to occur, law firm leaders need to do a better job of prioritizing diversity and inclusion work, says Jean Lee, JD, president and CEO of the Minority Corporate Counsel Association (MCCA).
Too many firms still look at traditional indicators that favor the White and wealthy during the hiring process, such as an Ivy League undergraduate degree, a certain GPA cutoff, or a high LSAT score, Lee says. "The recent college admissions scandal has really highlighted the issues we've been talking about all along," she adds.
Improving diversity and inclusion in the profession hinges on the willingness of law firm leaders to educate themselves about alternative practices, from hiring to promotion to compensation, and then to invest in a more inclusive way of doing things, Lee says.
She calls on practicing lawyers in positions of power to do more, emphasizing that "if the legal profession is interested in creating more diversity, it is absolutely capable of doing it." Fortunately, several councils are working to help law firms take steps in the right direction.
The Law School Admissions Council (LSAC)
LSAC, a non-profit organization dedicated to improving "quality, access, and equity in law education," offers programs that support and encourage diversity in the legal profession.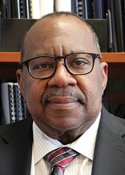 One of LSAC's oldest programs is called the academic support initiative. The program dates back to 1992, according to Kent Lollis, JD, LSAC's vice president and chief diversity officer. "During an anniversary meeting of the council, we identified that we were successfully getting [underrepresented] students into law school, but we weren't seeing them complete law school. So that motivated LSAC to start an academic support program," he says.
Today, an organization called the Association of Academic Support Educators (ASSE) has overtaken LSAC's efforts in this area. Through conferences, online resources, and more, ASSE serves as a support network for professionals at U.S. law schools who are working to make a legal education more accessible.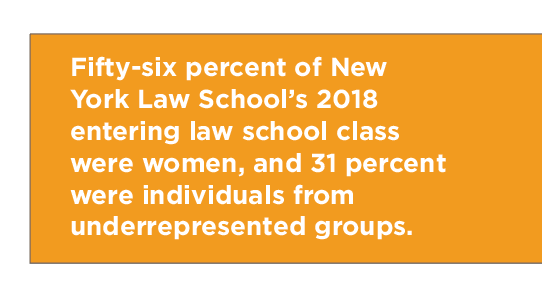 Another program is the LSAC Diversity Matters Grants, which allows each of LSAC's over 200 member law schools to receive $3,000 annually toward programs or events that benefit law students from underrepresented groups. The fund donated more than $100,000 to U.S. law schools in 2018, which went toward a total of 161 events for 8,120 young people across the country, according to LSAC.
The fund also provides Prelaw Undergraduate Scholars (PLUS) program grants with the goal of introducing first- and second-year undergraduate students from underrepresented groups to the skills needed for law school. These grants pay for summer residential pipeline programs that last at least four weeks. LSAC has funded 27 of them since 2002, according to the organization's website.
Miosotti H. Tenecora, JD, a former PLUS participant, believes that such pipeline programs are essential to improving diversity in the law. Tenecora serves as a law fellow in the immigration program at Community Legal Services in East Palo Alto, California, as well as a delegate of diversity for the American Bar Association (ABA).
PLUS improved her self-esteem as a first-generation college student and expanded her ideas about what she could accomplish down the road, she wrote on ABA's Before the Bar blog. "Diverse students not only need the tools to navigate the application process but also need to believe that they deserve to go to law school. [Pipeline] programs are crucial to developing confidence," she wrote.
Minority Corporate Counsel Association (MCCA)
MCCA is a national organization dedicated to the recruitment and retention of attorneys from underrepresented groups.
Leaders at MCCA say money is one of the biggest barriers to becoming a lawyer for underrepresented individuals. When asked what law schools should do to increase lawyer diversity, Lee says, "the number one thing is to provide [financial] access."
To address this issue, MCCA established the Lloyd M. Johnson, Jr. (LMJ) Scholarship Program in 2004. It provides $10,000 for the first year of legal education to women and other underrepresented students who have been accepted into an ABA-accredited law school on a full-time basis.
Since its founding, the LMJ Scholarship has awarded over $3.5 million to more than 200 law students, according to MCCA's website.
MCCA has also paved the way in providing concrete recommendations to law firm leaders regarding how to address and "interrupt" the widespread problem of implicit bias with a 2018 report called the MCCA Bias Interrupters Survey: You Can't Change What You Can't See. 
The authors of the report found that women of color are most adversely affected by the implicit bias problem. From hiring to compensation to promotion assignment, Black and Brown women lawyers face bias at every stage of the employment process, they say.
The document contains sets of incremental but ultimately effective action steps to mitigate bias within both law firms and in-house legal departments. One such step is to limit referral hiring, which typically reinforces an organization's existing demographics and results in a less diverse pool of candidates. For additional solutions, explore the executive summary at mcca.com/wp-content/uploads/2018/09/You-Cant-Change-What-You-Cant-See-Executive-Summary.pdf.
Ginger O'Donnell is a senior staff writer for INSIGHT Into Diversity. This article ran in the November 2019 issue.