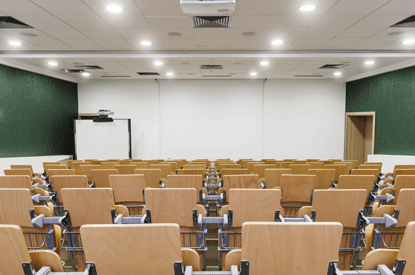 A new study published this week in the journal BioScience reveals that female students are less likely to participate in STEM classes with 120 or more students enrolled.
Researchers from Cornell University also found that women are most likely to participate in STEM courses when instructors use interactive teaching strategies and encourage small group discussions.
The findings are based on data collected from 44 higher education institutions and 5,300 student-professor interactions. The authors of the study examined several different criteria that they hypothesized might affect female participation in STEM classes, such as the proportion of women in a science class and a STEM instructor's gender. They found that class size is the most influential factor.
Based on these findings, the researchers suggest colleges and universities move away from large, lecture-style introductory science classes, if possible. They also recommend that professors who teach these large classes break students up into small groups for in-class work and discussion.
Researcher Abby Drake, a senior lecturer in ecology and evolutionary biology at Cornell, told Science Daily that she has already begun implementing this strategy in one of her introductory courses. Doing so, she says, has significantly reduced the number of both male and female students who receive Ds and Fs.
Another major take-away of the study, according to co-author Kelly Zamudio, is that learning environments have a significant role to play in cultivating greater equity in the STEM fields. "Diversity in STEM in the future will depend on us all paying attention to these issues, not just in admissions and retention, but also in classroom climate," she told the Cornell Chronicle.