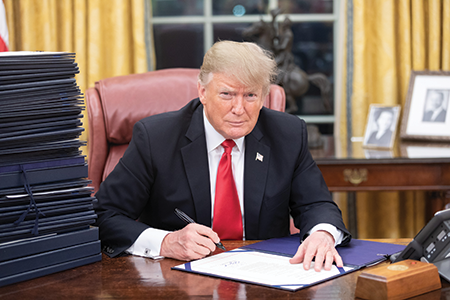 This week, the U.S. Labor Department suspended President Donald Trump's executive order that banned federal contractors from offering certain types of diversity and inclusion training.
Enacted in late September, the "Executive Order on Combating Race and Sex Stereotyping" prohibited federal employees, contractors, and grant recipients from conducting training or other programming "that inculcates in its employees any form of race or sex stereotyping or any form of race or sex scapegoating."
Last month, a federal court in California issued a nationwide preliminary injunction, blocking the order from being enforced after the Santa Cruz Lesbian and Gay Community Center filed a lawsuit against President Trump.
The National Urban League and the National Fair Housing Alliance filed a similar lawsuit against the Trump administration in October, stating that "true patriotism demands confronting the truths of our history — no matter how embarrassing or dishonorable."
Federally contracted schools like the University of Memphis and the University of Iowa suspended diversity training programs in order to comply with the order. 
Through the Labor Department's suspension and the federal court injunction, the Office of Federal Contract Compliance Programs will cease the hotline that was established with the ban to investigate complaints of federal contractors utilizing racial or gender sensitivity trainings.