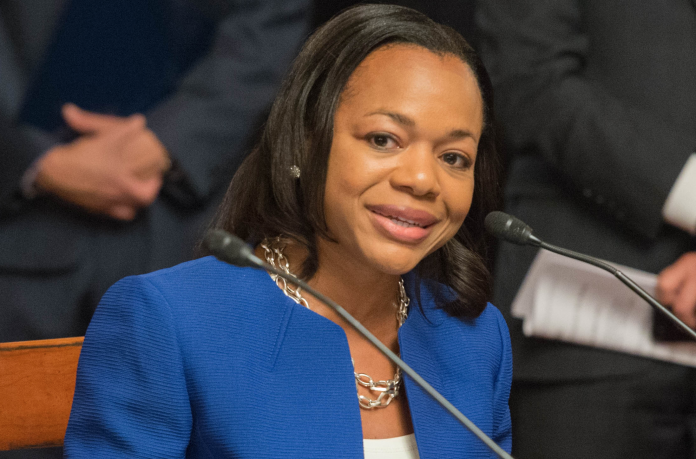 In a 51-48 vote on Tuesday, the U.S. Senate confirmed Kristen Clarke as assistant attorney general of civil rights at the Department of Justice (DOJ), making her the first Black woman to lead the division.
Clarke is an attorney who serves as a president and executive director of the Lawyers' Committee for Civil Rights Under Law, covering voting rights, hate crimes, discrimination, and more.
In January 2021, President Joe Biden nominated Clarke, a first-generation American, to serve as the head of the civil rights department.
"Our nation is a healthier place when we respect the rights of all communities. In every role I've held, I have worked for and with people of all backgrounds — regardless of race, national origin, religion, and disability status," Clarke said in her opening statements during her April confirmation hearing. "I've listened deeply to all sides of debates, regardless of political affiliation. There is no substitute to listening and learning in this work, and I pledge to you that I will bring that to the role if confirmed."
Kristen Clarke has proven herself to be an unwavering champion for justice, equality & civil rights. Today, the Senate has an opportunity to propel our nation forward by confirming her to lead the DOJ's Civil Rights Division. We must #ConfirmClarke.

— Senator Reverend Raphael Warnock (@SenatorWarnock) May 25, 2021
Clarke's historic new role comes on the anniversary of George Floyd's death, which sparked a social justice reckoning across the U.S. last year.
Sen. Susan Collins (ME) was the only Republican to vote in favor of Clarke's appointment.