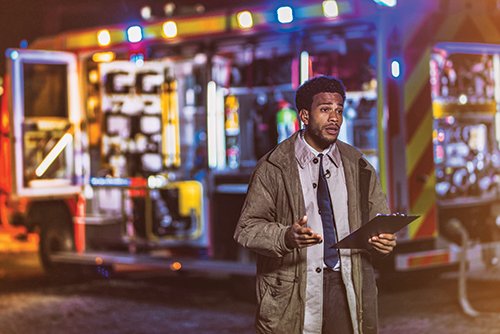 Lulu Ramadan became a breaking news reporter for The Palm Beach Post shortly after earning her journalism degree from Florida Atlantic University.
By the time she was 23 years old, Ramadan had covered three mass shootings and a total of 71 gun-related deaths in Southern Florida. According to an article in The New Yorker, the tragedies on her beat included the June 2016 Orlando Pulse night club massacre, the January 2017 Fort Lauderdale Airport shooting, and the mass shooting at Marjory Stoneman Douglas High School in Parkland in February 2018. 
"I knew I'd have to cover tragedy. I'd like to think I'm pretty comfortable and almost good at it, but I never expected to do it this often," Ramadan told The New Yorker in 2018.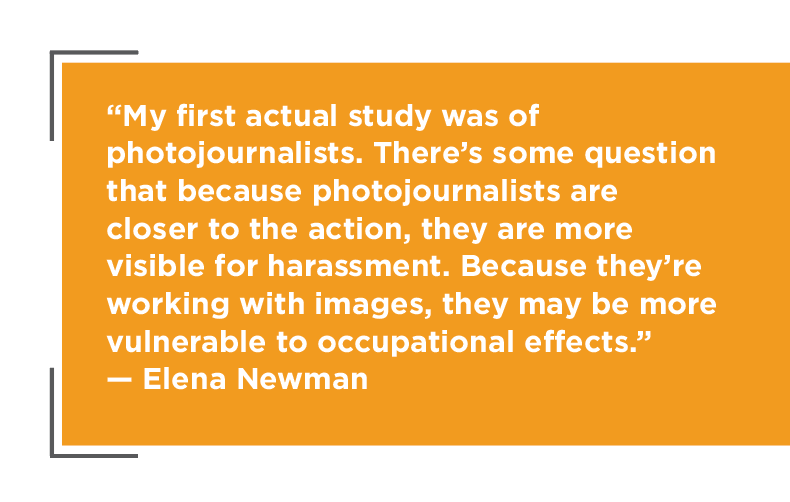 Sadly, Ramadan is far from alone. For news reporters, there is "trauma in every beat," from homicide to accidental death to natural disaster, says Elena Newman, PhD, research director for the Dart Center for Journalism & Trauma at Columbia University and the McFarlin Professor of Psychology at the University of Tulsa. 
"People need to understand that 60 percent of the U.S. public has been exposed to a traumatic stressor, which means that journalism students have been exposed. This makes them both vulnerable and stronger," Newman says. 
The stress reporters face is exacerbated by the current American political climate, with President Donald Trump referring to journalists as "enemies of the people" and delegitimizing their work as "fake news," says Michigan State University journalism professor Geri Alumit Zeldes, PhD. 
Historically, many in Ramadan's position have turned to unhealthy coping mechanisms such as alcohol and substance abuse or workaholism to manage the stress of repeatedly covering trauma, says Anna Mortimer, a former journalist turned therapist. 
Now, journalism schools and professors are arming students with the skills to cover distressing events in a way that does justice to — rather than re-traumatizing — communities while protecting their own mental and emotional well-being.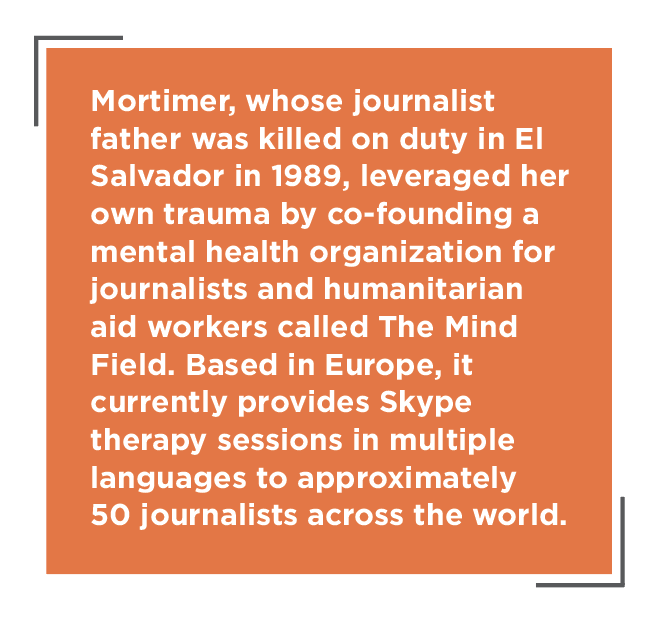 These priorities reinforce each other, according to Newman. "Ethical reporting on trauma leads to good mental health among journalists," she says.  
Columbia University
The Dart Center for Journalism & Trauma, operated by The Columbia University Graduate School of Journalism, offers myriad resources for educators and students on producing trauma-informed journalism. 
Dartcenter.org contains tip sheets, articles, videos, and expert interviews on topics such as avoiding the re-victimization of survivors of tragedy during the interview process. Another important lesson is how to responsibly report on suicide so as to prevent suicide contagion — the phenomenon that causes increased suicidal thoughts and behaviors in people who have been exposed to stories of others taking their own lives.   

The website also offers classroom resources developed by Amy Schmitz Weiss, a Dart Academic Fellow and associate professor of journalism at San Diego State University. Her teaching materials specifically address issues relevant to student journalists, including reporting on campus rape and sexual assault and using social media to share information about tragedies. 
The Dart Center's research unit, led by Newman, offers a database of relevant articles and is currently conducting a needs analysis of educators "from all accredited journalism programs" who teach trauma-informed practices, she says. 
Boston University (BU)
As managing editor of a magazine affiliated with The Ochberg Society for Trauma Journalism, Sarah Kess interviewed beat reporters of all types — from those covering local news in their hometowns to overseas war correspondents. Despite their differences, "one thing almost all of them said was 'I really wish I had learned how to properly cover traumatic events and how this work affects the mental health of journalists,'" Kess says.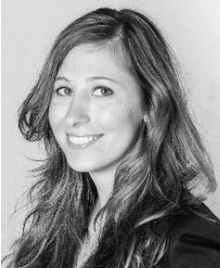 Now an administrator and adjunct instructor in the BU College of Communication, Kess teaches a course titled Trauma Journalism, which she created in fall 2018. Visiting experts talk to students about ethical reporting; staff members from a local rape crisis center, for example, speak about the impact that news media can have on rape culture. A family therapist advises on interviewing traumatized children in ways that empower them rather than compounding their pain. 
Kess teaches self-care by allocating each student a mental health day, encouraging them to take a step back when they feel overwhelmed. This is a practice "journalists historically have not been great at," she says, adding that burnout is common in the profession. 
From what Kess has observed, the prominent role of trauma in news coverage weighs heavily on students, and the discussion-based class gives them a space to "really grapple with issues that are already on their minds." 
Michigan State University (MSU)
At MSU, journalism professors are focused on preparing their students to safely cover the 2020 presidential election in a polarized country where journalists increasingly face hostility and mistrust. 
Zeldes and her colleague Joe Grimm applied for and received a $10,450 grant from MSU's Office of Inclusion and Intercultural Initiatives to support student journalists in covering politics in their state as well as give voice to Michigan's underrepresented communities as the election unfolds. 
As part of the grant, MSU recently hosted an online workshop titled "Covering Civil Unrest, Riots, and Protests" that was led by Global Journalists Security, a safety training organization for news media and employees of nongovernmental organizations. The workshop covered how to protect oneself on the job from aggressive individuals — including sexual aggressors — and how to safeguard equipment, as well as working as a team in volatile situations such as protests.
Later in the day, participants learned strategies for self-care and coping with trauma from a counselor and yoga instructor.
MSU journalism students will further develop these skills as they undertake group reporting projects on issues of diversity, equity, and inclusion related to the 2020 election, such as women in politics and civil rights issues on the campaign trail. Their work will be featured in the local publications Lansing State Journal and Battle Creek Enquirer, which are part of the USA Today Network. 
By addressing the need for trauma-informed journalism, such efforts have the potential to revolutionize the way society tells and understands negative news stories — and to reinforce public trust in journalism as a tool for empowering communities.  
"If you can tell stories about devastation in innovative ways, where people can engage with it and understand it, then citizens can make democratic choices," Newman says.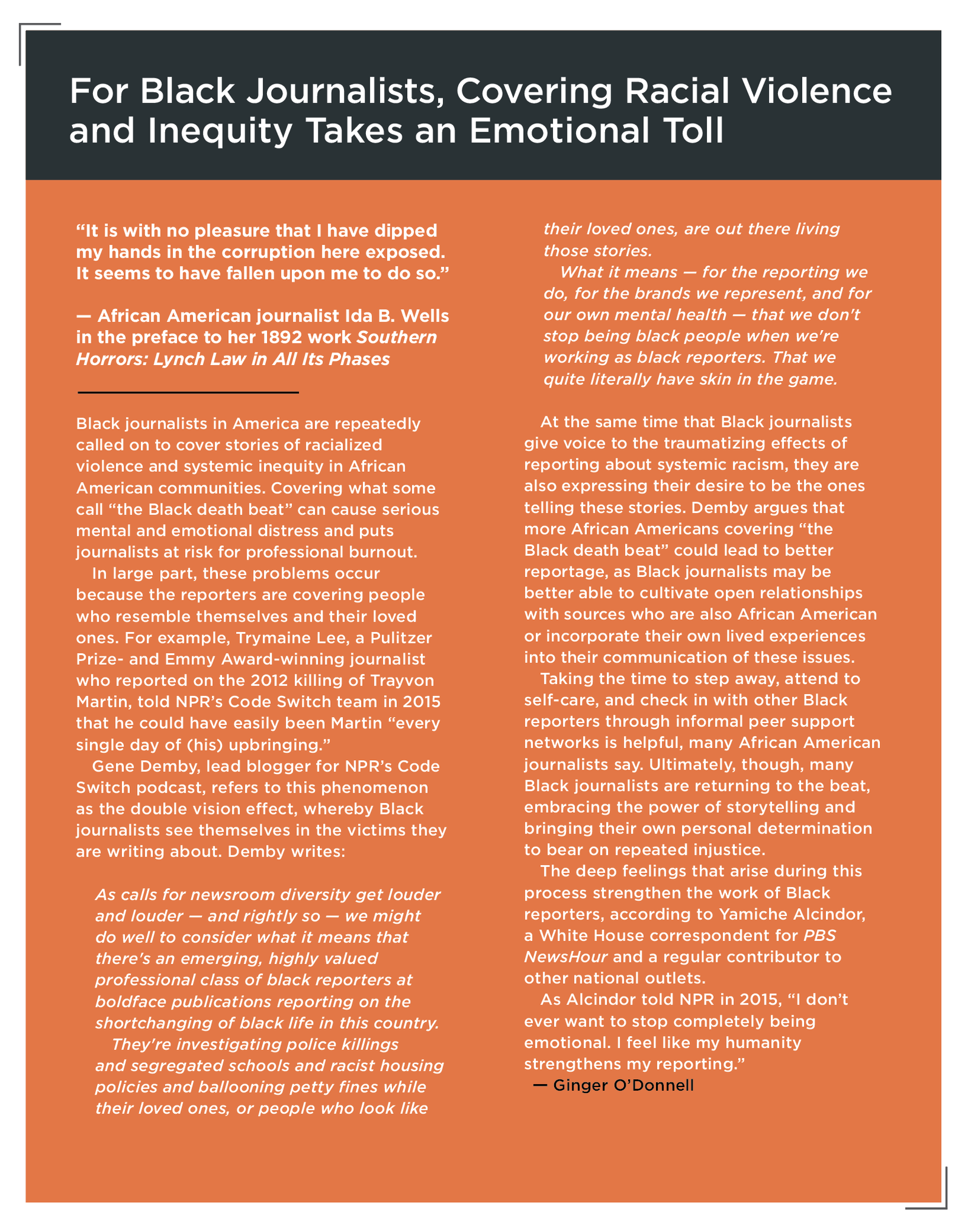 Ginger O'Donnell is the assistant editor of INSIGHT Into Diversity. Columbia University is a 2015-2019 INSIGHT Into Diversity Higher Education Excellence in Diversity (HEED) Award recipient and a 2016-2019 INSIGHT Into Diversity Diversity Champion. This article was published in the April 2020 issue.