Johns Hopkins University is a 2022 INSIGHT Into Diversity Diversity Champion, one of a select group of higher education institutions that rank in the top tier of our Higher Education Excellence in Diversity (HEED) Award recipients. We invite Diversity Champions to share their success strategies and best practices as a way to inspire other colleges and universities to set a new standard for diversity, equity, inclusion, and belonging within their own campus environments.
Johns Hopkins University (JHU) has doubled down on its commitment to DEI (diversity, equity, and inclusion) by building on the foundation of its 2015 strategic diversity initiative. Beginning in spring 2022, JHU began rolling out "Realizing Our Promise: The Second JHU Roadmap on Diversity, Equity, and Inclusion." The institution has intentionally dug deep into areas where progress has been slow and created new partnerships to ensure success.

Katrina Caldwell, PhD, vice provost for diversity and inclusion and chief diversity officer, directs the five-year plan's implementation. The road map is centered on a theme of accountability, she says, including metrics for data transparency, infrastructure, leadership — deans and other academic and campus leaders are developing DEI strategic plans for their own divisions — and key performance indicators for diversity programs.
"This second road map is called 'Realizing Our Promise,' for a reason," she says. "[Ronald J. Daniels, JHU president,] came up with that title because we felt it was important to communicate that Johns Hopkins' academic and research missions are not going to be successful without DEI."
For emphasis, and as evidence of the institution's commitment to the value of diversity, Caldwell points to a key sentence in the foreword of the plan: "Our search for truth and knowledge for the good of humanity depends on bringing the greatest variety of viewpoints and voices to bear on the challenges before us as students, scholars, staff, neighbors, and citizens."
The first JHU diversity road map focused on increasing faculty diversity, instituting model search practices university wide, shifting the university to need-blind and no-loan admissions, increasing campus supports for first-generation and low-income students, and expanding benefits, mentorship, and professional development offerings for staff.
The second road map reflects on the institution's progress and acknowledges where gaps still exist. It adopts a research-based, data-driven approach to addressing the challenges, Caldwell says.
"We want to be transparent around both the things we do well and the things we struggle with," she says. "We also want to work with others to tackle problems in [the DEI] space. I've been in this business for 30 years and we're still having the same conversations … but we haven't reached parity and we haven't reached equity. To that end, JHU aspires to be a convening space in order for real change to occur … [to] bring people to campus to problem-solve."
Faculty Diversity Initiative
The earlier iteration of JHU's faculty initiative was funded with a $25 million commitment to expand diversity. The results showed a meaningful but modest increase, with faculty from underrepresented racial and ethnic groups increasing from 8 percent in 2015 to 10 percent in 2019. This time around, the university has rebranded the program as the Fannie Gaston-Johansson Faculty of Excellence Program — named for the first African American woman to become a tenured full professor at JHU — and infused $50 million in funding, twice the original amount. The new program also focuses on cluster hiring elite faculty from across the world who demonstrate a commitment to inclusive excellence.
Cluster hiring addresses isolation among new hires and allows JHU to hire a group of faculty members concentrated on solving one significant problem in a given societal sector, she says. It is also a strategy to encourage and support interdisciplinary cohorts with targeted community-building, leadership development, and other infrastructure supports.
"One example is a cluster hire in biological sciences so we'll be able to educate more diverse graduate students," she says. "The idea is that they will work on intractable problems that require diverse minds."
The Vivien Thomas Scholars Initiative
The road map also features a new effort to advance pathways for students from historically Black colleges and universities (HBCUs) and other Minority-Serving Institutions (MSIs) to pursue and receive PhDs in STEM (science, technology, engineering, and math) disciplines. Known as the Vivien Thomas Scholars Initiative (VTSI)and backed by Bloomberg Philanthropies, the $150 million effort will ensure students receive academic and financial support, as well as mentorship and professional development, along their paths to anticipated future leadership across the full STEM enterprise in academia, government, industry, and beyond.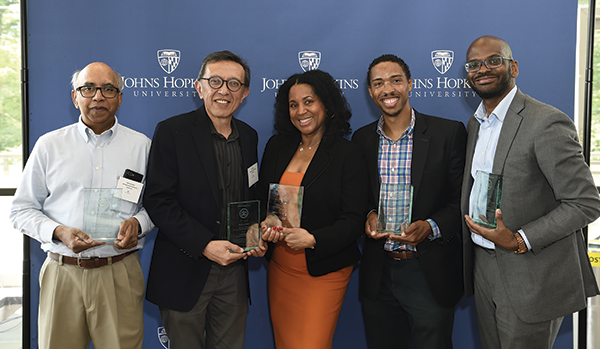 Partnerships with HBCUs and MSIs are an integral part of VTSI and include robust collaborations with Howard University; Morehouse College; Morgan State University; Prairie View A&M University; Spelman College; and the University of Maryland, Baltimore County. The schools will share expertise about programming and other components of VTSI.
"Our work is to learn from them," says Caldwell. "How have they been successful in climate, culture, and graduation rates? How can we best support them?"
VTSI is named in honor of African American scientist Vivien Thomas, best known for his work to develop a cardiac surgery technique (the Blalock-Thomas-Taussig shunt) to address "blue baby syndrome" at the Johns Hopkins hospital in the 1940s. Never having received a medical degree, Thomas was awarded an honorary doctorate by JHU in 1976.
Expanding DEI Staff
Elevating the profile for DEI-related activities is a key component of the new road map because stakeholder survey groups consistently reported they were unaware of various major JHU efforts. When Caldwell joined JHU in 2020, there were two staff members in the Office of Diversity and Inclusion. In a significant expansion, 10 more have been hired since, in roles focused on data strategies and transparency as well as marketing and communications, among others. The staff will continue to grow over the next few years as part of the road map.
"In terms of public opinion or response, [as practitioners across the country] we didn't talk enough about what we did, the impact our work has had on certain groups," she says. "At JHU we want to educate the public because we may have had more people on the side of this work if they knew more about how we help everybody, not just certain groups. People with disabilities form the largest diversity group in the country, and there are veterans [who receive support services]. Understanding of that could have helped sway public opinion."
As part of the expansion, Caldwell also hired a deputy chief diversity officer who manages operations and addresses the infrastructure aspects of campus.
"The newest roles have helped to raise our brand, market new programs, and better tell the Johns Hopkins University story in terms of our progress along some key metrics," Caldwell says. "They've made a huge difference in our day-to-day work — they're visionary."
One institutional goal for the second JHU road map is to adopt a new university wide DEI statement of principles to broaden consensus and provide clearer aspirations for a more equitable campus environment.
The document's executive summary expresses the overall mission of JHU's new DEI plan: "Johns Hopkins assumes its responsibility as a leading research university to work to achieve diversity, equity, and inclusion, and we hold ourselves accountable for our progress through transparency, open communication, and an ongoing, unflinching assessment of met and unmet needs."●
This article was published in our October 2023 issue.