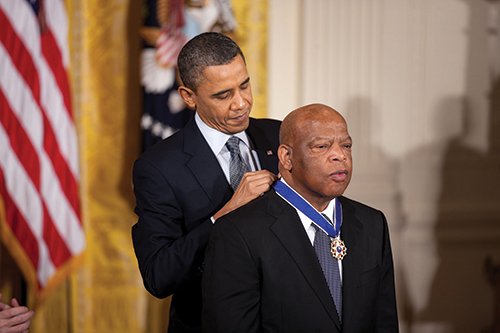 "Never, ever be afraid to make some noise and get in good trouble, necessary trouble."
These words, shared by John Lewis in a tweet in June 2018, encapsulate the congressman's lifelong legacy of fighting for human rights, no matter the opposition or even brutality he faced for his efforts.
Lewis was best known for his key role in the civil rights march on the Edmund Pettus Bridge in Selma, Alabama, in 1965. This landmark moment in history became known as "Bloody Sunday" due to the police violence directed toward Lewis and other peaceful protestors.
Lewis continued to be a leading figure in the civil rights movement, and in 1986 he was elected to the U.S. House of Representatives. Throughout his 30-year political career, Lewis placed special focus on higher education issues including making college affordable for all, increasing the maximum Pell Grant award funding, ending subsidies for banks that serve as middlemen for federal student loans, and co-sponsoring a bill to end states' discrimination against DACA recipients seeking to attend college.
Despite battling pancreatic cancer, Lewis remained active in politics and even spoke at a Black Lives Matter event a month prior to his death. He finally succumbed to his illness on July 17, 2020. As part of his memorial ceremony, his body was carried in a horse-drawn caisson over the Edmund Pettus Bridge one last time, commemorating his unwavering bravery and leadership during the march in Selma 55 years prior.●
This article was published in our September 2020 issue.