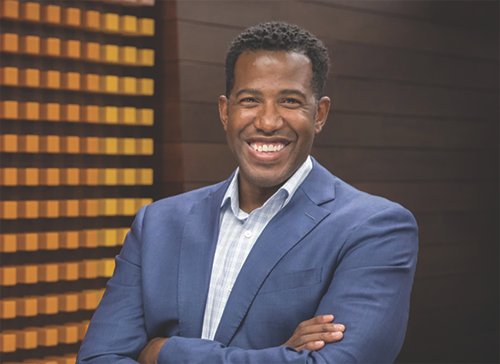 With a global workforce of more than 250,000 employees, PricewaterhouseCoopers (PwC) is the fifth largest private company in the United States, according to Forbes. Having won numerous accolades for workplace diversity and inclusion, the company ranks sixth on employer research firm Universum's 2018 list of most attractive employers for business students worldwide. 
Rod Adams, U.S. and Mexico Talent Acquisition Leader, has worked for PwC since 1995, conducting an estimated 5,000 job interviews and earning recognition as a student recruitment expert from Business Insider and the National Association of Colleges and Employers. He talked with INSIGHT Into Diversity about how PwC recruits diverse students and what institutions can do to ensure underrepresented graduates are matched with inclusive employers. 
[Above: Rod Adams (Photo courtesy PricewaterhouseCoopers)]
Why is cultivating a diverse, inclusive workforce important to your corporation? Creating and maintaining a diverse and inclusive workforce to serve an increasingly diverse consumer and client base is vital to the success of virtually every business operating today. Today's businesses cannot attract and retain talent, think nimbly and creatively, and forecast and solve for tomorrow's issues without diverse representation throughout the ranks of an organization.
Diversity has been proven time and again to improve a company's bottom line. Organizations that reported above-average diversity on their management teams also reported innovation revenue that was 19 percent higher than that of companies with below-average leadership diversity.
Can you briefly explain your company's college recruitment strategy? We recruit from a broad variety of schools, including state and private schools, as well as historically Black colleges and universities (HBCUs). We are looking for students who are digitally curious and represent diversity of thought, experience, and perspective.
As we continue to strengthen our partnerships with HBCUs and historically diverse academic institutions, we ensure that we have diverse talent in the pipeline, and internally, we continue to educate our people around unconscious bias and blind spots. We are actively recruiting at 35 HBCU sources, up from seven sources previously, and have seen a 72 percent increase in hires from these sources over the year.
Internships are a major element of our strategy as well. The majority of our intern opportunities are for rising college seniors, but we do have a specific internship program for underrepresented minorities that are rising juniors. This program gives us an opportunity to identify top diverse talent earlier than our traditional internship timing. This summer we had over 600 interns in this program nationally.
Beyond internships we also host two- and three-day "summer leadership programs" for students. For all of our practices, we host a program for underrepresented minorities who are rising sophomores. Our consulting practice hosts a program specifically for females interested in consulting.
How does diversity play into your college recruitment efforts? In order to take on the unique challenges and opportunities of a digital workforce, we know that we need to better reach, prepare, and recruit diverse talent. When it comes to recruiting diverse talent, we must strengthen our partnership with more diverse academic institutions and take a new look at the sources from which we recruit. Empowering professors to have the tools and resources needed to prepare their students for the jobs of the future is equally important. That's why PwC runs pro bono academies for professors to provide them with the tools and resources needed to create relevant, digitally focused curriculums.
What advice do you have for underrepresented students or new graduates in search of a job? Don't hesitate to ask questions. We are living in a time of unprecedented change and it's more important than ever to have open, authentic conversations about your career development opportunities. Consider on-the-job learning opportunities, chances for future growth and development, and the leadership mentoring environment of the organizations where you are considering working. Don't undermine the importance of on-the-job learning. It's how you'll make sure that you're "future proofing" yourself for tomorrow's jobs, and how you'll stay engaged and interested in your current role. My advice: Ask about these opportunities for learning and "total rewards" before accepting a job offer.
What advice do you have for universities and business schools that want to help underrepresented students and graduates connect with supportive, inclusive employers? Make sure that you are empowering your students with the curriculum and learning needed to take on the jobs of the future.
Mariah Bohanon is the associate editor of INSIGHT Into Diversity magazine. This article ran in the October 2019 issue. This article ran in the October 2019 issue.