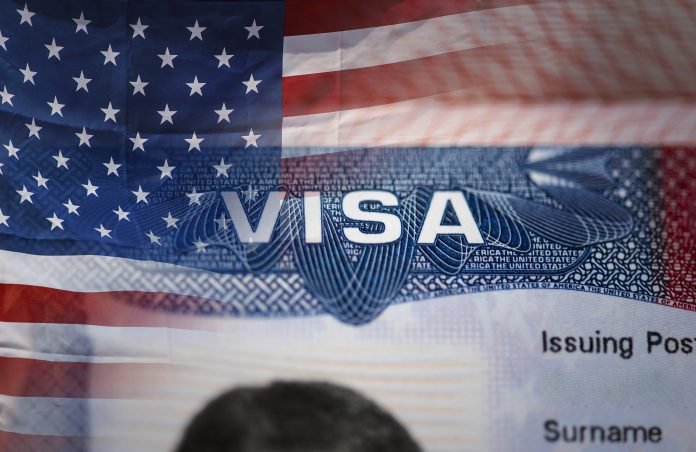 For the fall 2019-2020 academic year, new international student enrollment at U.S. universities decreased by 43 percent compared to the previous school year, according to an annual survey by the Institute of International Education (IIE) released on Monday.
Nearly 40,000 new international students have halted college enrollment, which is the largest decrease IIE has seen since it started collecting data in 1954.
The report titled "Open Doors 2020 Report on International Educational Exchange" is sponsored by the U.S. Department of State and surveys more than 700 universities.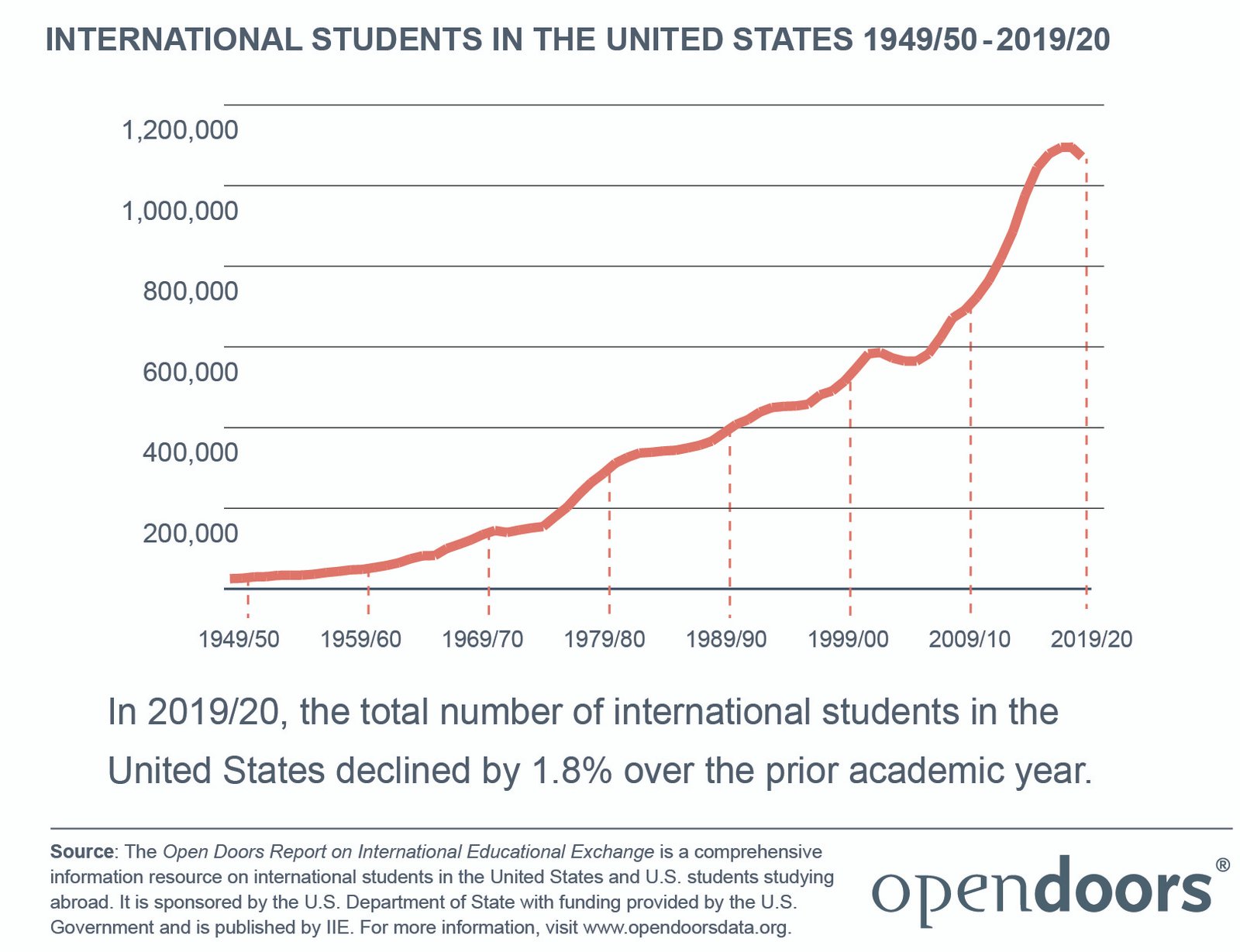 International enrollment fell by 16 percent for both new and returning students. One in five or 20 percent of enrolled foreign students returning to U.S. education were studying online from abroad, the survey finds. 
For the 2019-2020 academic year, international students re-enrolling into colleges and universities declined by 1.8 percent (19,803 students), the study found. However, the total number of foregin students enrolled was 1.075 million, making it the fifth consecutive year in which more than 1 million international students have been enrolled at U.S. schools.
The data combines currently enrolled international students and students with F-1 visas who have graduated, but participate in the federal Optional Practical Training program, which temporarily allows U.S. employment.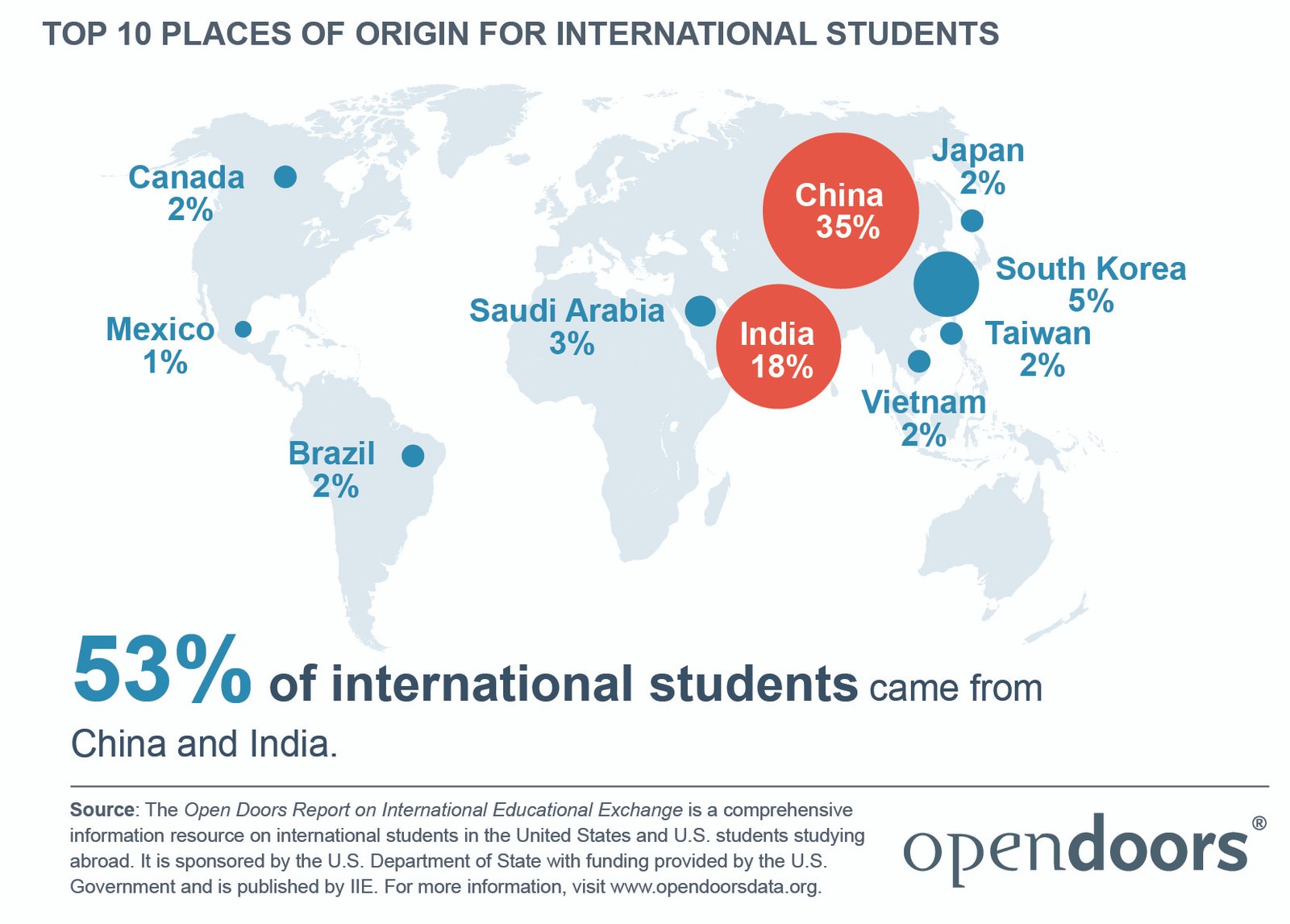 For the past few years, international student enrollment has been on a continuous decline due to several different reasons including competition from other countries that offer high-quality education at a lower cost like Canada, Australia, and the Netherlands, White House visa restrictions, and racial profiling of Chinese students prior to the pandemic.
Despite the current social climate, China and India remain the top sources for international enrollment in the United States with more than 372,000 Chinese students and more than 193,000 Indian students enrolled in the 2019-2020 school year, the survey shows.
New York University was found to be the institution with the highest number foreign students, with more than 21,000 currently enrolled.