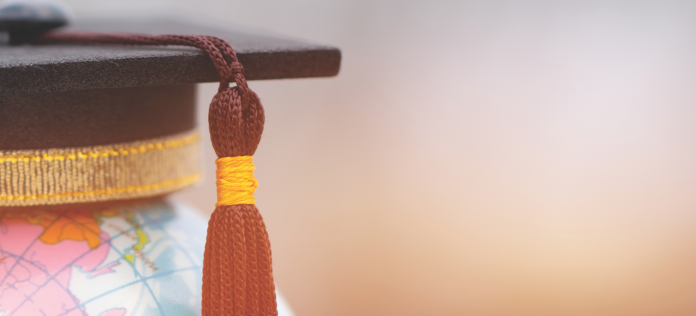 After a nearly two-year hiatus, higher education institutions across the U.S. are revitalizing their study abroad and international education programs. Colleges and universities are reporting a 68 percent increase in new international enrollment for the 2021-2022 academic year after experiencing a 46 percent decline in 2020, according to the Institute of International Education (IIE). Study abroad programs, which plummeted by 99 percent in summer 2020, are also seeing renewed student interest and have been hiring additional staff to keep up with demand, according to IIENetwork Lead Lindsay Calvert.
"We're seeing more professional roles reopen or programs hiring again, because they need the faculty and the staff to support that [interest]," she says. "There is less of a hiring freeze, meaning that there is more programming being developed with the anticipation of enrolling more students."
Still, experts know to remain cautious following the uncertain progression of the COVID-19 pandemic. The Omicron variant as well as the potential discovery of new coronavirus strains have some institutions hesitant to reinstate international education, but many other colleges and universities are continuing or planning to launch programming in the spring and summer 2022 semesters. The Ohio State University, for example, recently approved study abroad programs in Ecuador, South Korea, and throughout Europe. In early December, New York University and the University of Sydney in Australia announced a student exchange partnership that will begin in July 2022.

One challenge for such programs going forward will be implementing strenuous safety measures for students leaving and entering the country. Study abroad facilitators will have to take COVID-19 vaccination, testing, and potential quarantine requirements into consideration, which could affect the cost and learning outcomes of international programs. 
"One of the challenges has been around risk assessment and safety, which has always been an ongoing and ever-evolving import issue for international education as a whole, but [COVID-19] has added one more layer to that," Calvert says. "The downside is that there may be some enrollment drops, there might be some late cancellations, and there might be programs that ultimately won't get off of the ground due to the different safety measures that need to take place." 
Additionally, institutions will need to develop contingency plans to respond to potentially rapid changes in international travel. Such possibilities are evident in the sudden travel restrictions imposed by and against southern African nations following the Omicron variant's discovery. A similar incident occurred in mid-November when Austria instituted a national lockdown to curb a rise in cases. University of Chicago students participating in the Vienna in Western Civilization program were prevented from leaving their dormitories or attending in-person classes, prompting university officials to advise them to return to the U.S.
Despite these challenges, many have found innovative methods for adapting to the pandemic. Western Michigan University launched a series of virtual study abroad offerings that match students with online cultural courses from countries around the world. As virtual education is far more affordable than in-person study abroad, these programs have the added benefit of making cross-cultural education more accessible for low-income students. The IIE reported that 45 percent of its partner institutions offered multiple online global learning experiences in 2020.
"[These experiences] have created supplemental ways to keep that [international] connection or establish new relationships that might evolve and expand to in-person where possible," Calvert says.
The IIE and its member colleges have also used the pandemic period to reinforce diversity, equity, and inclusion principles. The organization has encouraged institutions to examine their policies regarding campus xenophobia and discrimination. It also launched a virtual engagement series that focuses on topics such as supporting Black and LGBTQ student communities and creating systemic change within international education.
While diverse participation in study abroad has increased in recent years — growing from 21 percent to 30 percent between 2009 and 2019 — most participants are White and middle- or upper-class, according to the IIE. The enhanced focus on racial and social justice throughout the pandemic, however, will hopefully lead to more international opportunities for the underrepresented, Calvert says.
"It's a wonderful thing, because if that [focus] is going to address critical issues and bring more students to these experiences, that's just going to be so beneficial to all of us," Calvert says. "We've definitely seen an increase in the diversity of students who've been participating over the last 20 years, and we certainly want to continue to see that."●
Erik Cliburn is a senior staff writer for INSIGHT Into Diversity. 
This article was published in our January/February 2022 issue.