Employment of registered nurses is predicted to grow 12 percent from 2018 to 2028, a rate much faster than the average for all occupations, according to the United States Bureau of Labor Statistics (BLS).
But the steady growth in nursing jobs is being challenged by a shortage of qualified faculty. Universities are faced with a precarious situation that amounts to a simple numbers game: Producing future nurses is only possible if there are enough nurse educators to teach and train them. In the 2018-2019 school year, 75,000 qualified applicants were turned away from nursing programs, with most schools indicating faculty shortages as one reason for not being able to accept more students, according to the American Association of Colleges of Nursing (AACN).
This dearth of nursing faculty has compelled many nursing schools to evaluate how they can encourage current students to pursue academic teaching rather than clinical practice. A report from the National Advisory Council on Nurse Education and Practice shows one reason behind the shortage is a lack of awareness among students that nursing academia is a viable career option.
"We could do a better job as a profession encouraging or discussing potential faculty opportunities as a career trajectory," says Rolanda L. Johnson, PhD, assistant dean for diversity and inclusion, assistant dean for academics, and an associate professor at Vanderbilt University School of Nursing (VUSN).
A critical aspect of attracting students to nurse education is conveying that a faculty career is not an either/or proposition that sharply delineates between the clinical setting and a teaching classroom, Johnson says. Most students who go into nursing do so because they have a passion for serving patients, so the idea of teaching may seem counter to their career goals. Schools such as VUSN are emphasizing that nursing academia offers a unique professional space where teaching students and working with patients can be interchangeable.
"Our message is education is important but not separate from practice," says Johnson. "Having faculty who are engaged in practice but who also teach creates a better experience for nursing students."
Building a Pipeline
Tapping into their own student pipeline allows nursing schools to promote a "homegrown" approach where students are given a direct channel to pursue their doctoral education and return to the classroom as a faculty member.
"We try to grow our own or grow within," Johnson says. "With our [master of science in nursing] students, we have created a seamless transition plan for them to graduate with a master's degree and continue pursuing a doctorate."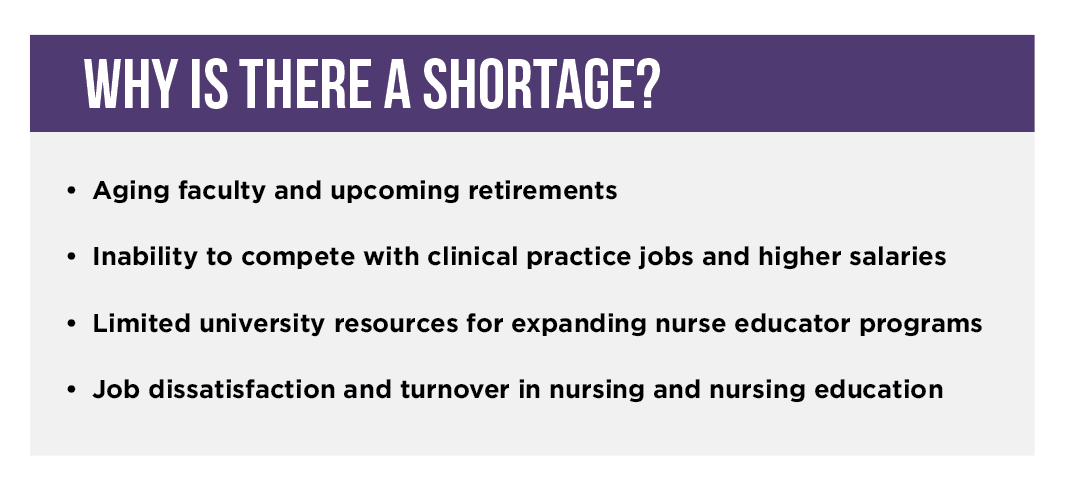 VUSN also offers nurse educator electives such as Curriculum Strategies for Health Professional Education, Educational Evaluation for Learning in the Health Professions, and Online Methodologies for Nursing Education that introduce students to nursing academia. These exploratory courses are coupled with more informal outreach such as "Brown Bag" listening sessions with VUSN faculty regarding doctoral education and academic careers. The school also offers a postdoctoral program that serves as a direct "feeder" into the faculty line, according to Johnson.
Financial incentives are another way nursing colleges can encourage students to pursue academia. Some demonstrate their investment in future nurse educators by offering financial assistance to offset doctoral study costs. Walden University offers students a 10 percent tuition reduction for future nurse faculty, while the University of Wisconsin system has fellowships and loan forgiveness programs. At VUSN, students on the PhD track receive full scholarships.
Even so, there is an acknowledgement that such financial incentives may not be enough. The appeal of higher compensation in the clinical sector can draw potential nurse educators away from the pursuit of an advanced degree and teaching career.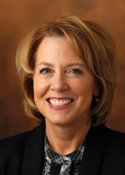 "It's not a secret that a predoctoral stipend cannot compete with higher practitioners' salaries," says Mariann Piano, PhD, professor of nursing and senior associate dean for research at VUSN. "People can't live on [what that pays]. We need more funding to support this development of educational PhD programs."
The median salary of registered nurses in the U.S. — who are required to have at minimum an associate degree — was $71,730 in 2018, according to BLS. By comparison, the average salary for an assistant professor in nursing who holds a master's degree is $78,575, according to the American Association of Nurse Practitioners.
Compounding these factors, of course, is the burden of student loan debt, with the average graduate nursing student accruing between $40,000 to $55,000 in loans, according to AACN research. This issue can be especially restrictive for underrepresented students, who tend to take on more education loans than their White counterparts. A 2018 study in the journal Sociology of Race and Ethnicity found that 15 years after graduation, Black students held 186 percent more debt than their White peers.
Less than 13 percent of nursing faculty are from underrepresented racial and ethnic groups, according to a report by the University of Texas at Arlington. While the nursing workforce remains predominantly White, attracting diverse students is imperative for both meeting national nursing shortages and reflecting patient demographics.
Futhermore, the older demographics of current nursing faculty demonstrate how diversity among educators has not kept pace with the student population. According to AACN, the average age of doctorally-prepared nurse educators is 51 for an assistant professor, 57 for an associate professor, and 62 for full professor. A surge in faculty retirements is also expected over the next decade.
VUSN and institutions such as Columbia University School of Nursing have begun using holistic admissions in recent years in order to diversify their student body. As part of its pipeline program for faculty, VUSN offers an Academic Pathways postdoctoral program specifically for underrepresented graduates. It is designed to help them transition into entry-level faculty positions through a multi-level mentoring framework, connections to relevant resources, and professional development opportunities across campus. 
While recruiting underrepresented nursing students is an important priority, seeking out current nursing PhDs to promote an equally diverse faculty is just as critical. Vanderbilt's multi-pronged approach to recruiting and retaining non-White nurse educators includes a multicultural search committee for new hires and targeted advertising in social platforms and journals for underrepresented groups.
As in the nursing workforce, men are severely underrepresented in the faculty ranks. Only six percent of full-time nurse educators are men, according to the National League for Nursing (NLN). In a 2016 report, the league notes that traditional surveys of nurse educator diversity have focused on the male/female binary and tend to overlook other factors that can improve nursing education, such as the inclusion of educators who are LGBTQ or who have disabilities. The NLN calls on higher education institutions to be proactive in reducing these disparities and bearing responsibility for the future of nursing education — and, therefore, the future of patient care.
"Nursing education must provide the leadership in a dramatic expansion of diversity and inclusion," the NLN report states. It urges a call to action for "the nursing education community to co-create diversity and inclusion in nursing practice and nursing education to positively influence health care for all populations and global communities."
Miun Gleeson is a contributing writer for INSIGHT Into Diversity. This article ran in the January/February 2020 issue.