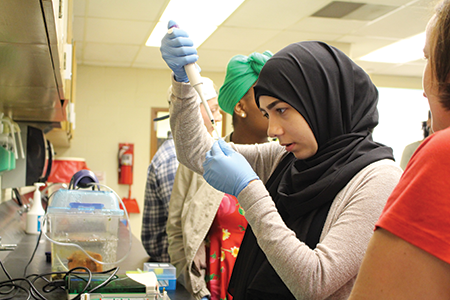 A 2012 federal report found a lack of students from underrepresented backgrounds entering undergraduate programs that lead to careers in biomedical research. To address this problem, the National Institutes of Health (NIH) created the Diversity Program Consortium (DPC).
DPC takes a multi-pronged approach in its efforts to train and mentor students, enhance faculty development, and improve institutional research training infrastructure. "The goal of the Diversity Program Consortium is to take a scientific approach to understanding what sort of factors could contribute to successes in enhancing diversity," says Alison Gammie, PhD, DPC program leader. 
[Above: Zahraa Alhabib, an incoming reBUILDetroit trainee, practices her pipetting during the Summer Enrichment Program for incoming students at the University of Detroit, Mercy. The reBUILDetroit program is one of the ten Building Infrastructure Leading to Diversity (BUILD) programs in the Diversity Program Consortium, which is funded by the NIH Common Fund. (Photo by John Powell)]
There are three interconnected programs that make up DPC: Building Infrastructure Leading to Diversity (BUILD), the National Research Mentoring Network (NRMN), and the Coordination and Evaluation Center (CEC).
BUILD sites work to identify and incorporate innovative methods to prepare students from underrepresented backgrounds for biomedical research careers through increasing their enrollment, providing them with opportunities for research training, and boosting faculty and staff development. The NRMN enhances training and career development through mentoring and networking opportunities, while the CEC supports the other two programs through data coordination and longitudinal evaluations. 
Below are some examples of how each of these programs has been implemented.
ReBUILDetroit
ReBUILDetroit is a partnership between the University of Detroit Mercy, Marygrove College, Wayne County Community College District, and Wayne State University and is funded by a $21.2 million NIH grant. Collectively, the institutions enroll roughly 47,300 undergraduates. Nearly 52 percent of them come from underrepresented backgrounds and half are economically disadvantaged.
Through experimental programming, the project, in its fifth and final year, aims to change the culture of higher education in urban Detroit and have 75 percent of its scholars graduate with baccalaureate degrees in biomedical sciences.
By introducing them early in their higher education careers to research, mentoring, and professional development opportunities, reBUILDetroit "will encourage students to complete undergraduate training and matriculate into biomedical graduate degree programs to ultimately excel as the next generation of biomedical research scientists," according to the project's website.
Jacob Kagey, PhD, associate professor of biology at Detroit Mercy and reBUILDetroit student training core director, says there's a national need to increase diversity in the biomedical research community. "[At] our institution, we have a large number of biology, chemistry, and science majors, but the diversity of our science majors didn't necessarily represent the diversity of the university, and that doesn't represent the diversity of the city," Kagey says.  
Students who pursue research during their undergraduate degrees "have a higher likelihood of success in graduation rates and in entering biomedical research careers," according to the reBUILDetroit project description.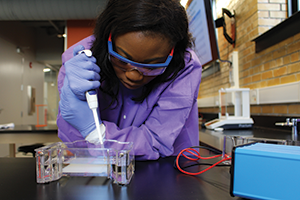 ReBUILDetroit recruits students from high school and then supports them through their four-year program, beginning with an orientation the summer before freshman year that serves as a bridge program. The orientation has a few main goals: to develop a sense of community among the incoming scholars and faculty on campus, to expose scholars to what it means to be a scientist, and to provide academic preparedness training.
This experience provides a foundation for the rest of the program. In their first semester, students take a research methods course and join a Research Coordination Network (RCN). They begin working in a faculty-run laboratory in their second semester and continue this work for the duration of their program.
Key steps taken as part of the project include the following:
● Formation of a steering committee and an administrative core to oversee and coordinate the project
● Reconstruction of university laboratories for use by the RCN project and BUILD scholars
● Development of cross-institutional mentoring for graduate students and postdoctoral fellows
● Integration of research opportunities into the fabric of university scholarly activities
After the program's completion, project leaders will evaluate the tested models of training and mentoring to compile recommendations for institutions nationwide, according to NIH. The ultimate goal is to pursue creativity and advancement in research, which "will come from a biomedical workforce that fully embraces our diversity."
For more information about reBUILDetroit, visit rebuildetroit.org.
BUILD EXITO
With 10 partnering institutions, the BUILD EXITO program is a consortium within a consortium. Students enter the three-year program after completing their first year of college at Portland State University (PSU) or one of the partnering institutions, according to Jen Lindwall, communications coordinator for BUILD EXITO.
"The real vision was to think about our Pacific North region and how we could support some of the most underrepresented students in the Pacific Rim, students from the Northern Mariana Islands, the American Samoa, and Guam," Lindwall says.
In the program's first year, students work closely with mentors, attend enrichment sessions, and take a course on research ethics. The following summer, they are introduced to a research learning community where they work throughout the rest of their program.
"They're in the labs 26 hours a week working on a research project," Lindwall says. "These are undergraduate students who are getting incredible in-depth, hands-on experience. They get a stipend and partial tuition remission as part of their training appointment with NIH, so for a lot of them, it replaces part-time work."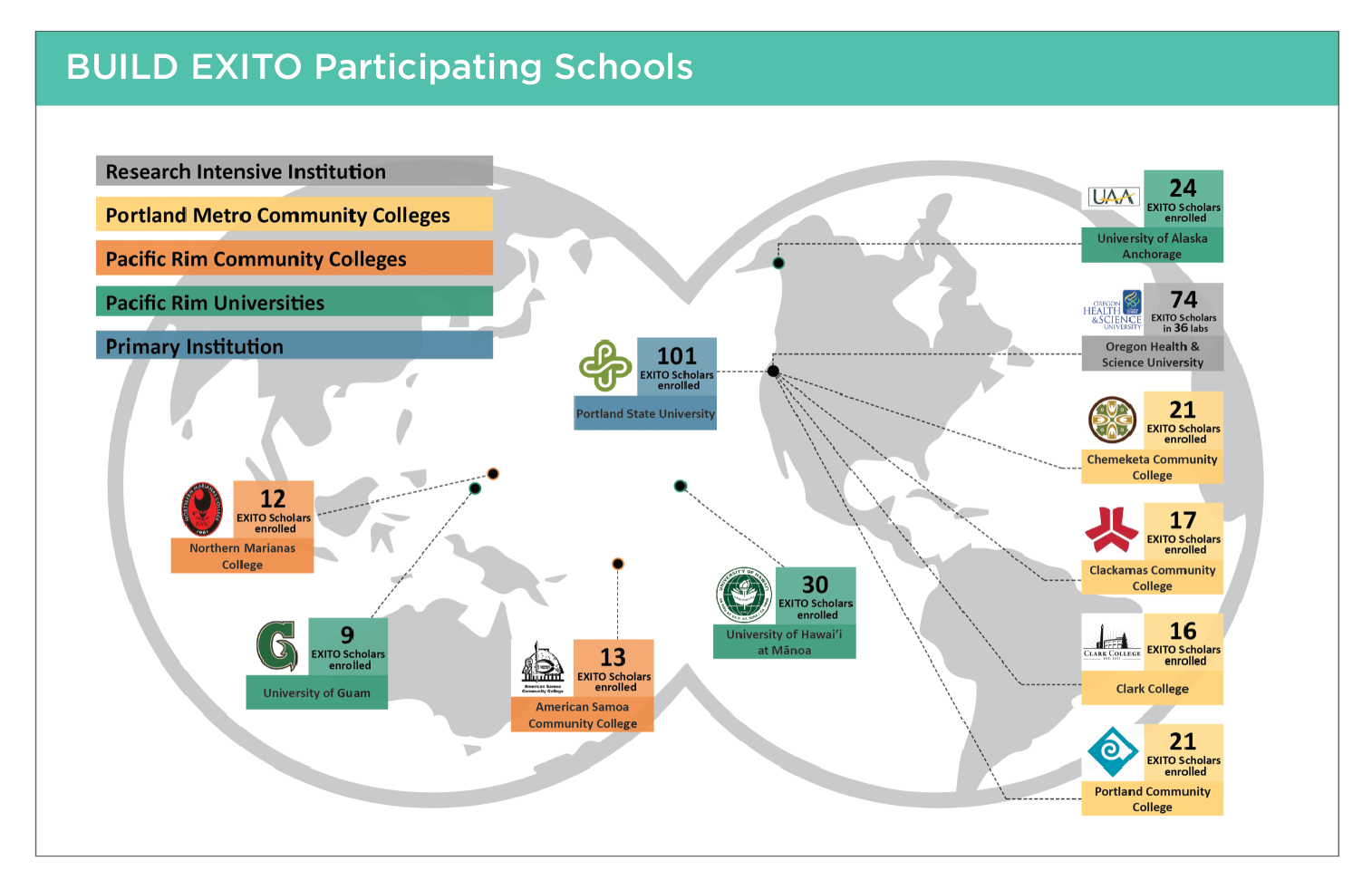 EXITO's gift to its consortium members is the opportunity for the institution and research communities to learn from the students, Lindwall says. "We have an opportunity to ask ourselves, 'What can we learn from students who have nontraditional backgrounds or are underrepresented in these fields? How do we need to respond to that in terms of how we structure our policies, our practices, our programs?'"
For more information on BUILD EXITO, visit pdx.edu/exito/about-build-exito.
National Research Mentoring Network
The NRMN is a nationwide mentoring network for those studying and working in all biomedical disciplines, from undergraduate students to early career faculty.
The network provides professional development, mentor and mentee training, networking opportunities, and mentorship. One of NRMN's priorities is to provide grant writing workshops for postdoctoral fellows and early career faculty.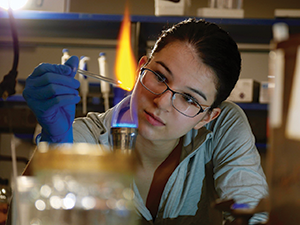 The second phase of NRMN, which begins this fall and will extend over the next five years, will be organized as a consortium of independent research projects on innovative strategies for research mentoring. Financial awards will be given to up to 15 projects exploring the science of mentorship, professional networks, and navigating academic transition points.
The awards are in the process of being announced. "That's bringing a scientific approach to the mentoring process," says Gammie, the program leader. "There was a strong requirement that [the applicants] have comparative groups with enough statistical power to really be able to pinpoint what types of mentoring activities can shape outcomes." 
Tracking Progress
While each BUILD site owns its own data, the CEC is compiling consortium-wide data. There are processes in place for data requests within and outside the consortium, but Gammie says the project is "still in the early stages."
"What everybody has to realize is how long it takes to go from being a student entering undergraduate [school] thinking about whether they want to go into the biomedical field, to actually choosing the major, graduating, and then going on to graduate school. The pathway [to collecting data] can take as long as 20 years."
Jen Roberts is a contributing writer for INSIGHT Into Diversity. This article ran in the June 2019 issue.