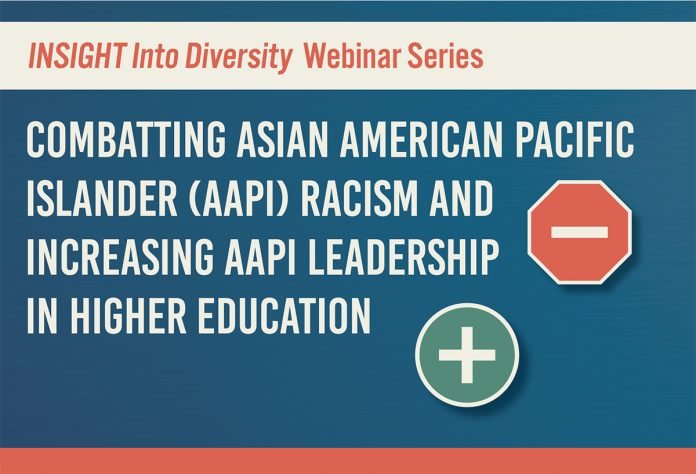 INSIGHT Into Diversity hosted a webinar on September 20 focused on the Asian American and Pacific Islander (AAPI) community in higher education.
The webinar, titled "Combatting Asian American and Pacific Islander Racism and Increasing AAPI Leadership in Higher Education," featured five panelists of Asian descent:
Linda Akutagawa

President and CEO, Leadership Education for Asian Pacifics, Inc., Editorial Board member of INSIGHT Into Diversity Magazine




—

Lindsay Dhanani, PhD

Assistant Professor, Psychology Department, Ohio University

 




—

Christa Grant, MS.Ed 

Assistant Dean of Intercultural Affairs/Chief Diversity Officer for Student Affairs/Director of Religious and Spiritual Life, Union College New York

—

Meena Naik

Program Director, University of North Texas

—

Gigi Secuban, PhD

Vice President for Diversity and Inclusion, Ohio University, Editorial Board member of INSIGHT Into Diversity Magazine
INSIGHT co-publisher Holly Mendelson moderated the hour-and-a-half discussion.
Holly Mendelson

Co-publisher, INSIGHT Into Diversity Magazine
The discussion began with a deep dive into the webinar's title and how the acronym AAPI is used to reference such a diverse group of people. Recognizing that the diaspora of people of Asian descent is so layered and that the definition of who is considered Asian differs by source, the panelists spoke at length about the complexities of this issue.
Identifying with this term can be even more confusing for South Asians, who often do not consider themselves as AAPI because of their skin color or other cultural differences, according to Naik. She and other panelists suggested deferring to an individual's personal preference, if possible, when deciding which identifier to use.
The conversation then delved into topics such as the "model minority" myth, which stereotypes AAPIs as more intelligent and hardworking than other marginalized racial and ethnic groups. The panelists noted that this myth is often divisive and can pit communities of color against each other.
"One of the reasons why I think this myth of the model minority … is so pernicious is that it does serve to divide different groups of people of color and to measure us up based on our perceived closeness to Whiteness [while] ignor[ing] the systemic disadvantages that other groups face," Dhanani stated during the discussion.
She later noted that because these stereotypes are so deeply ingrained in our culture, it is important for higher education professionals to be conscious of any assumptions they may have about their AAPI students. 
"We might not think they're struggling academically or financially because of stereotypes around wealth and model minorities," Dhanani said. "[These assumptions] tend to erase the inequality, the poverty, and these types of issues that do exist in the Asian community."
The panelists also discussed how the COVID-19 pandemic has led to an increase in anti-Asian racism, with several members noting that they have friends or family members who have experienced discrimination firsthand. 
The webinar addressed the ways colleges and universities can combat this form of racism on their campuses. Secuban recommended that officials support AAPI student affinity groups, invite more AAPI speakers to campus, and be diligent about issuing statements on current issues that affect this community.
Akutagawa stated that another way to reduce anti-Asian hate on campuses is by increasing AAPI representation in higher education leadership. The panelists emphasized how stereotypes about Asian men being less masculine and Asian women being more introverted can prevent qualified AAPI individuals from assuming these types of roles because those traits are not seen as leadership qualities. She noted the importance of speaking up and changing people's perceptions to increase the number of people of Asian descent in visible decision-making roles.     
Despite the detrimental effects of the model minority mythology, the panelists acknowledged the privilege it affords the AAPI community compared with other marginalized groups. They further recognized internal AAPI struggles with colorism and racism and a reluctance on the part of some to dispel the myth because of its benefits.
"In order for us to really combat racism, not just anti-Asian hate, we need to examine our own privilege, biases, and stereotypes against Black and Brown folks," Grant stated. 
Although there is much work still to be done, the panel highlighted the courage of many in the AAPI community for taking a stand against the recent rise in racist acts against themselves and other people of color.
"It is positive to see how many Asians have found their voice and are willing to speak up not just about anti-Asian hate, but also about anti-Blackness and other forms of racism," Naik said.
To view the webinar and access additional information about how to address AAPI discrimination in higher education, visit insightintodiversity.com/aapiwebinar.●
Lisa O'Malley is the assistant editor of INSIGHT Into Diversity. 
This article was published in our November 2021 issue.