On June 16, 2020, in a historic decision, the U.S. Supreme Court ruled that the landmark 1964 Civil Rights Act upholds the protection of LGBTQ people from discrimination in employment. The 6-3 vote was considered a victory for the estimated 11.3 million LGBTQ people who live in the U.S. today, according to the Williams Institute at the University of California, Los Angeles School of Law. 
Now more than ever, higher education institutions have an opportunity to show their support for the LGBTQ community by establishing safe spaces on campus, enacting policies for equality, and celebrating LGBTQ identities and traditions in order to promote a sense of pride and inclusion for a group who has long been marginalized.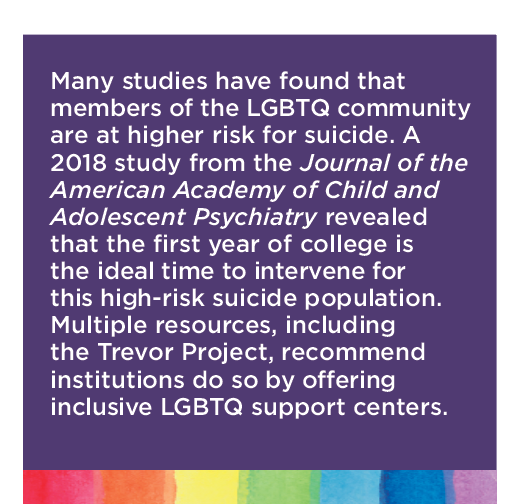 Many schools have engaged in this work in recent decades by establishing campus resource centers and hosting lavender graduation ceremonies, which honor LGBTQ students. Between 1996 and 2006, over 60 institutions created LGBTQ centers, according to research by the University of California, San Diego. Today, more than 100 such centers exist on college campuses across the nation, many of which are staffed by paid employees, according to the Postsecondary National Policy Institute (PNPI). 
In addition, other programs and organizations have been created in recent years that serve as innovative resources to meet the unique needs of LGBTQ students and employees as well as the broader community. Here, INSIGHT highlights several colleges, universities, and organizations that exemplify the spirit of LGBTQ inclusion in higher education. 
College and University-Related Programs
DGALA at Dartmouth University
DGALA, formerly known as the Dartmouth Gay and Lesbian Alumni/ae Association, has a membership of more than 700 LGBTQ graduates of Dartmouth University across the U.S. In addition to fostering the social and intellectual well-being of its members, the group's goals include supporting the experiences of LGBTQ students, faculty, and staff at the university. Among DGALA's accomplishments is the creation of the Speak Out project, which trains students to collect and record the oral histories of LGBTQ members of the Dartmouth campus community. 
LGBTQIA Living-Learning Community at Kent State University
Many schools have made the leap to gender-inclusive housing; however, Kent State has gone a step further by combining LGBTQ education with a living-learning program. Through the LGBTQA Living-Learning Community, undergraduate students have the opportunity to be truly immersed in intellectual exchange outside of the classroom through exclusive lectures, academic advising, and more. Members live in the same residence hall on campus, and the community is open to anyone who is curious about and shares a passion for social justice related to issues of LGBTQ equality. All members take one course per semester in LGBTQ studies and have the option of participating in career exploration, faculty-led research, leadership development, and other unique opportunities. 
The Q Center at the University of Washington (UW)
With an average of 500 monthly visitors, the Q Center has been a vital resource for the LGBTQ community at UW for 15 years. It offers a confidential gender discussion group, queer mentoring program, a name/gender change option in the student database, and a virtual "Q tour" that educates users about local LGBTQ history. The Q Center also hosts a discussion group called Color Mode, which offers people of color the opportunity to connect with others and share their experiences of being queer, trans, bi, nonbinary, and gender nonconforming people of color (QTBIPOC), according to the UW website. The center's comprehensive approach to LGBTQ support helped earn UW the top spot on Campus Pride's index of LGBTQ-friendly colleges and universities. 
Outside Organizations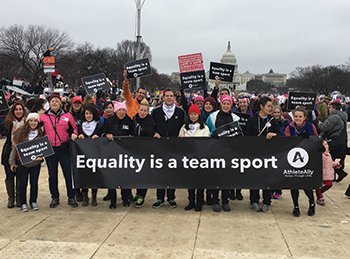 Athlete Ally
Hudson Taylor, a former NCAA All-American wrestler at the University of Maryland, was inspired to found Athlete Ally in 2011 after witnessing frequent homophobic and sexist attitudes in the world of college sports. The organization's mission is to end homophobia and transphobia among athletes, coaches, and fans. Athlete Ally's major accomplishments include successfully lobbying the International Olympic Committee to include a policy in the Olympic Charter prohibiting discrimination based on sexual orientation; co-authoring the NCAA's first-ever policy and resource guide on LGBTQ issues; and creating a first-of-its-kind Athletic Equality Index, which ranks collegiate athletic departments by LGBTQ inclusiveness. The organization also worked with the NCAA in moving championship games out of North Carolina after the state passed a law in 2016 making it easier to discriminate against LGBTQ individuals.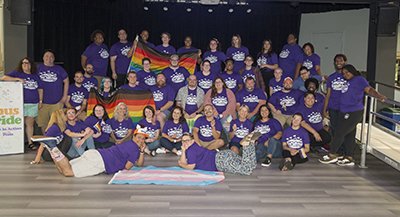 Campus Pride
Founded in 2001, Campus Pride is a national nonprofit dedicated to building future leaders and safer campus communities by developing vital resources, programs, and services to support LGBTQ and ally students on college campuses. The organization currently supports more than 1,400 higher education institutions by partnering to host LGBTQ-friendly college fairs, ally trainings, and other events. Its educational resources include the Campus Pride Index, which analyzes and ranks LGBTQ-friendly schools, as well as a database of LGBTQ-focused scholarships and fellowships. Among its unique initiatives is the Lambda 10 Project, a national clearinghouse of information working to highlight the visibility of LGBTQ members of sororities and fraternities.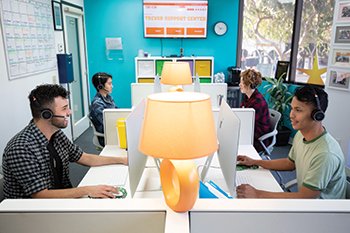 The Trevor Project
For more than two decades the Trevor Project has worked toward LGBTQ youth suicide prevention. Its many free resources include "LGBTQ on Campus for Students," an online, interactive training designed to assist higher education institutions in spreading awareness and empathy for the challenges faced by LGBTQ students. The Trevor Project also allows LGBTQ youth who may be struggling with mental health or thoughts of suicide to speak with trained specialists via phone, text, or instant messaging service. In June 2020, the organization released a guide for supporting Black LGBTQ youth in crisis.●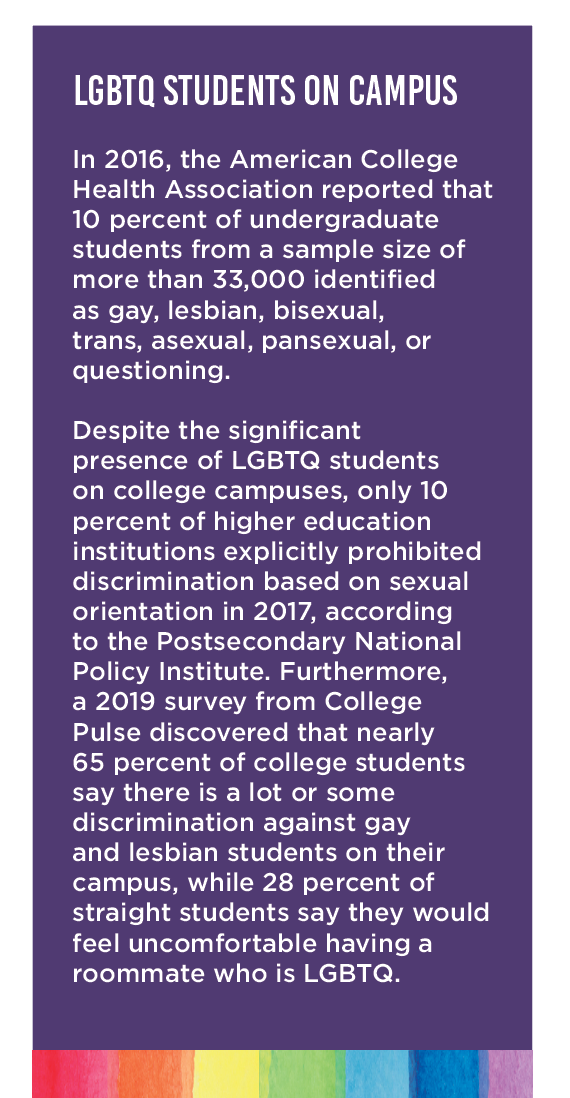 Mariah Stewart is a senior staff writer for INSIGHT Into Diversity. Kent State University is a 2013-2019 INSIGHT Into Diversity Higher Education Excellence in Diversity (HEED) Award winner and a 2016-2017 Diversity Champion. This article was published in our July/August 2020 issue.