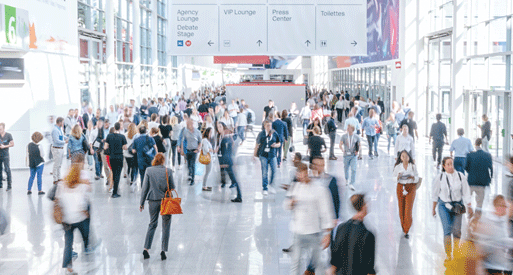 Holding job fairs specifically for underrepresented students on campus can improve career readiness and professional opportunities after graduation, according to officials at Indiana University (IU) in Bloomington, who have successfully implemented such a program.
The IU Diversity Career Fair and Bootcamp focus on connecting underrepresented students with employers seeking a diverse workforce. The bootcamp takes place before the fair and offers "elevator pitch" preparation, résumé evaluation, and mock interviews, among other resources.
Combined, the fair and bootcamp strengthen student readiness for a career after graduation, says Patrick Smith, executive director of IU Mentoring Services and Leadership Development. The programs are a joint effort between Smith's office, the Office of the Vice Provost for Diversity and Inclusion, and the Office of the Vice President for Diversity, Equity, and Multicultural Affairs (OVPDEMA).
"For those students who participate, they really get something out of it. They grow," Smith says. "We have to make sure they are well prepared and have the opportunity to learn to perform well in the workforce."
The idea for a diversity job fair came about when career development staff noticed underrepresented students would feel more comfortable and confident at an event where employers are specifically seeking diverse identities and experiences, says Yolanda Treviño, PhD, assistant vice president of strategy, planning, and assessment for OVPDEMA.
The fair was something employers were looking for as well. A diversity-focused approach allows them to access a large group of students who will be well prepared when they graduate and could bring unique perspectives to a company. Roughly 250 students and 20 employers attended the first career fair last spring.
"The businesses are looking for diversity in their own talent," Treviño says. "That diversity of thought, experience, and community — you may not see that as much in a regular career fair."
The bootcamp training helps participants prepare to have a productive encounter with those employers. This preparation is especially important for underrepresented students who might not have ever interacted with a corporate or nonprofit representative in a professional setting, says Christina Colón, a sophomore majoring in informatics.
"The bootcamp helps you show your face and feel comfortable in places where you might not normally feel comfortable," Colón says. "I came to college not knowing what a credit hour was. My peers say, 'Oh, my mom went to IU.' I'm like, no, my grandparents were born in Puerto Rico. They did not know anything about higher education. I have no extended family who went to college."
Colón says she is pursuing an internship at Eli Lilly and Company, an Indianapolis-based pharmaceutical company, after attending the Diversity Career Fair and Bootcamp and meeting representatives from the corporation.
"After you go to one, you don't feel afraid to go to another," she adds.
Another benefit of diversity job fairs, Smith says, is that students like Colón know they're interacting with employers "where they're going to be supported and valued not just for who they are, but for the skills they're bringing."
Best practices
While the Diversity Career Fair and Bootcamp have seen success in their first year of operation, the events were carefully calculated to cater to students and employers, Smith says.
The bootcamp, for instance, was designed to provide a relaxed environment. The most recent event in September had 40 participants on a Saturday morning. This format allowed students to ask and answer questions and spend more one-on-one time with facilitators. The "calmed down" setting helps attendees feel comfortable making mistakes and learning from them, Treviño says.
Another essential facet of the Diversity Career Fair and Bootcamp is to ensure students take an early-and-often approach, Smith says.
"I tell students to take these opportunities seriously and to take advantage of them early," he says. "Don't get an attitude that you'll just wait for your senior year, because students who took advantage as freshmen and sophomores will have had more opportunity to polish their skills, network, and develop relationships with employers."
Smith says he also encourages professors to tell their students about the program and to participate in it.
To make sure the employers they invite to job fairs are serious about diversifying their workforce, Smith adds, universities should vet them by asking for a track record of hiring, retaining, and promoting diverse individuals.
"If an employer is not genuinely interested in diversity, it will show because you can ask, 'What is your track record of promoting the students we send to you?'" Smith says. "Students talk and people talk, and the word will get back that [the company] may have preached diversity, but there was really nothing in place to ensure success."
Additionally, marketing on campus is key to raising awareness among students, faculty, and staff. Smith coordinated with the marketing and communications team at IU to develop a plan that involves signage, flyers, social media, and emails. Smith also works with peer mentor groups on campus to ensure potential participants are aware of the programs.
While the Diversity Career Fair and Bootcamp are in their early stages, all of the IU officials involved say they're confident in the programs' potential and relevance.
"The national demographic is changing, and it's changing such that the minority is going to be the majority population," Smith says. "There needs to be a corresponding shift of the demographic makeup at the top as the face of our nation changes."
The programs are one part of IU's efforts to prepare students holistically for "life outside of the classroom," Treviño says.
"We know our students need this," she says. "It was the aligning of the stars to say, 'Hey, let's do something that is a win for everyone — for the students, for the employers, and for us, the providers of resources for students."
Kelsey Landis is editor-in-chief of INSIGHT Into Diversity. Indiana University Bloomington is a 2015-2019 HEED Award recipient and a 2017-2019 Diversity Champion. This article ran in the November 2019 issue.