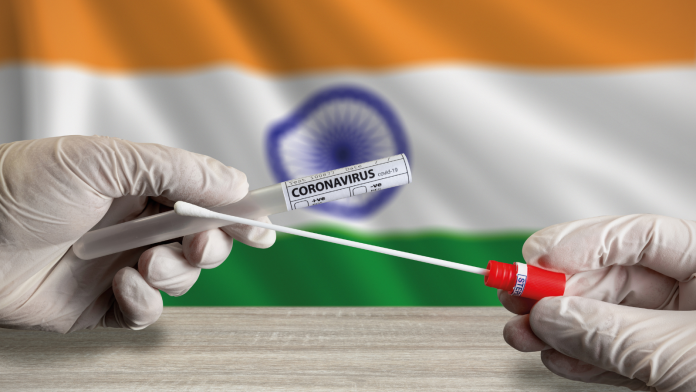 As the COVID-19 pandemic stretches into its second summer, many in the U.S. are enjoying a partial return to normalcy thanks to widespread vaccine access.
For students of Indian descent studying at American colleges, however, any sense of relief at the pandemic's decline here has been replaced with anxiety and grief for family and friends facing the unrelenting coronavirus surge in India. As of mid-May, the country was reporting nearly 400,000 new infections daily, and the virus had become its leading cause of death.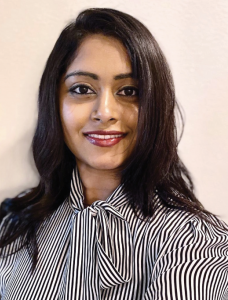 Tanvi Parikh, an Indian American student at the University of Houston (UH), counts her grandfather and an uncle among the nation's 250,000 COVID-19 death toll. She says the magnitude of the crisis there is nearly indescribable.
"It just brings tears in my eyes because some children are losing both their mother and father, leaving them all alone. The most difficult part is [seeing] ads of children who need to be adopted because they lost both of their parents to COVID," says Parikh.
The travel ban on visitors from India implemented by President Joe Biden on May 4 has compounded the worries faced by Indian students living in the U.S. While Parikh agrees that the ban is necessary, it prevents family members from reuniting with loved ones — even when it comes time to mourn.
"Last week, one of my closest friend's grandfather passed away, and because of the [travel and social distancing] restrictions, no one could go and see him," Parikh says. Her own grandmother, who survived COVID-19 after contracting it earlier this year, is now restricted to her home, isolated, rather than coming to the U.S. for Parikh's upcoming college graduation as planned.
"Now my grandmother is all alone there, caught up in her house. We are just really worried about her because it gets really depressing for her to have to stay inside," explains Parikh.
Travel restrictions also mean that some Indian students who had been planning to attend college in the U.S. now have to defer or cancel their plans. "I feel the travel ban was something that had to go into effect because we want to be as safe as possible, but I also understand that a lot of [students] are suffering," she says. "They have to give up on a full year or semester because of the ban."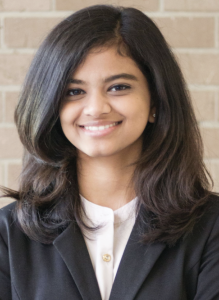 Rukaiya Batliwala is another UH senior who is spending her final days as an undergraduate worrying about the catastrophe in India. Originally from Surat, a large city in the western state of Gujarat, Batliwala has a friend back home who has been in the hospital with COVID-19 for more than two weeks.
"She still hasn't recovered," Batliwala says. "I haven't heard from her recently, but the last time I heard, she was still hospitalized, still fighting."
Batliwala says she is fortunate that she was already planning to spend the summer in the U.S. rather than returning to Surat after her upcoming graduation. Many other Indian students are not so lucky.   
"I have had a lot of friends who are also graduating and just planned to go back home, but now they can't. They will be staying in the U.S. because of the ban."
Among the many challenges facing India are a slow vaccine rollout and a national shortage of vital medical supplies, including medical oxygen and hospital beds. Now, students from India and those of Indian descent are ramping up efforts to send crucial aid from afar. The North American Association of Indian Students (NAAIS), a newly formed nonprofit organization representing more than 800,000 members across the U.S. and Canada, recently partnered with the Indian Embassy and the Association of American Physicians of Indian Origin to launch the Students Against COVIDIndia campaign. The large-scale crowdfunding effort raises money for medical supplies.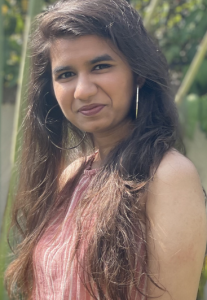 Lavanya Agarwal, a student at the University of Virginia who is originally from New Delhi, is one of the NAAIS volunteers helping with fundraising efforts.
"It's very sad to hear about everything that's going bad at home and not being able to do much about it," Agarwal says. "The work I've been doing with NAAIS has made me feel like I'm doing something for my country."
The first phase of the Students Against COVIDIndia campaign launched in late April and was successful in raising more than $40,000 to purchase 40 oxygen concentrators for Indian hospitals. More than 3,000 donors, 450 students, and 45 student clubs and organizations contributed. The second phase of the campaign kicked off in mid-May.
Agarwal says that a council of international students at her university donated money to support NAAIS efforts — something she would like to see replicated at other institutions and the higher education community at large.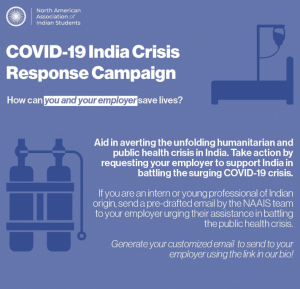 "Not only do we want to fundraise," she says, "but we want to form community and show solidarity so that everyone knows that we're in this together."●
Mariah Stewart and Erik Cliburn are senior staff writers for INSIGHT Into Diversity. To donate to the Students Against COVIDIndia campaign or learn about other ways to help, visit covid.giveindia.com.
This article was published in our June 2021 issue.