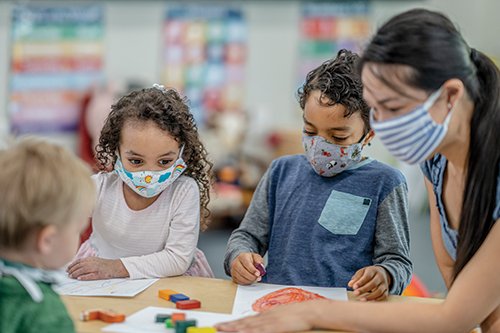 While colleges and universities  continue to grapple with serving students in the face of the pandemic, campus childcare providers are struggling to serve the families who rely on them. In the face of campus closures and reduced funding for campus daycares, it is often low-income families who are most affected by the new limitations on access to childcare.
At most public institutions, faculty, staff, students, and the general public are able to enroll children in campus daycare facilities, according to Stacey Smith-Clark, executive president of the National Coalition for Campus Children's Centers (N4C) and manager of the Long Beach City College's Child Development Center and Learning Lab. Options for campus childcare vary across institutions, but typically include full-day services for infants and toddlers and after-school programming for children up to the age of 11.
"It depends on the university, but most childcare centers tend to be self-supporting," Smith-Clark explains. "We have a lot of essential workers, both campus workers and people in the community, that rely on our services."
The pandemic has been an especially trying time for these facilities, as many have faced a decrease in revenue. Some centers have been able to maintain tuition income by holding distance learning classes for toddlers and school-aged children that include lessons, activities, and the opportunity to virtually socialize with classmates. Others have not been so lucky. The University of Vermont, for example, announced in June that its Campus Children's School would close permanently. 
Even at facilities that have managed to stay open, many have been forced to raise tuition to make up for the loss in revenue due to restrictions in the number of children allowed based on social distancing and public health guidelines. The increased cost disproportionately affects single mothers and families from lower socioeconomic backgrounds, says Smith-Clark. "These issues are really having the biggest impact on women and people of color who don't have the income to afford more expensive childcare options," she says.
In addition to struggling to pay higher tuition fees, many families are also having trouble receiving support for basic needs. "These families aren't just relying on childcare services, they also need help in so many other areas," Smith-Clark says. At her college's daycare center, employees take time to check in with each family, especially those who are low-income or are from underrepresented groups. They direct those in need to community resources, such as food pantries, diaper banks, and more. Employees also pass along locations for free mobile hotspots, as internet access is crucial for parents and children who are taking classes online or working remotely. 
A 2019 report by the Federal Communications Commission found that 21.3 million people in the U.S. lack access to high-speed internet. According to Smith-Clark, parents typically use a single mobile device for work, communication, and for their children's schoolwork as well. Libraries and public places where people could previously go for free WiFi are closed because of the pandemic, making it even more challenging for them to access reliable internet.
"We really strive to help in any way we can," Smith-Clark says. "A lot of our families are Spanish speaking and have a difficult time accessing the information they need, so we've gone so far as calling rent assistance and unemployment hotlines on their behalf."
Meanwhile, some childcare facilities have already reopened, albeit with new safety measures in place. Brenda Boyd, PhD, associate professor of human development and executive director of Washington State University's (WSU) Children's Center, says that thorough planning was involved to ensure children and staff were protected before reopening their center on July 16. 
As part of the WSU Children's Center's new protocols, parents must sign daily online attestation forms stating that neither they nor their children have been exposed to the coronavirus and are not exhibiting any symptoms. In addition to enhanced cleaning and hygiene efforts, students receive a daily health check upon arrival. All caregivers and children over the age of five wear face masks, and Boyd says staff also assist younger children, including toddlers, with wearing facial coverings if requested by their parents.
Despite all the safety measures in place, Boyd says that it's unrealistic to expect children to follow all the safety guidelines, especially with regard to social distancing. "You just can't tell children to stay away from each other. And at that age, an important part of development is creating strong emotional and social bonds with caregivers — which requires physical contact," she explains. 
Although there is a long waiting list for enrollment at the children's center, Boyd says she and her staff try to provide as many community resources as they can to parents seeking other childcare options.
As we are now moving into the fall semester, it is difficult to predict whether those daycare facilities that have reopened will be able to continue serving families in need, especially as the number of colleges and universities that have experienced COVID-19 outbreaks continues to rise.
Until more is known, Smith-Clark says that checking in with families is the most important thing childcare professionals can do right now in terms of providing support in the face of so much uncertainty.
"Sometimes just asking, 'How are you?' is all you need to do," she says. ●
Lisa O'Malley is the assistant editor of INSIGHT Into Diversity. This article was published in our October 2020 issue.