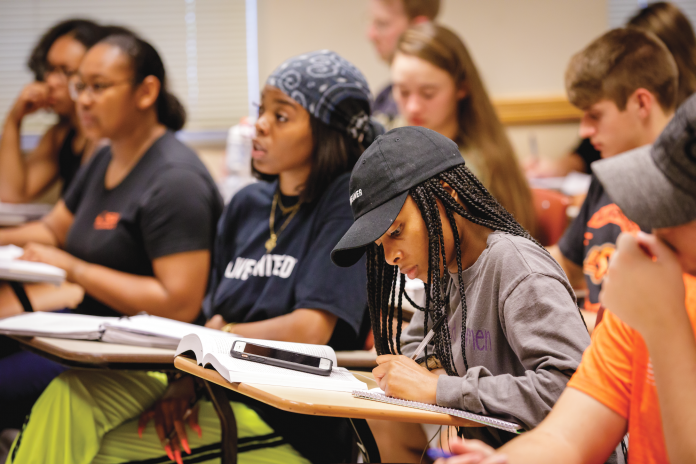 Nearly three years after the start of the pandemic, many higher education institutions are still having trouble attracting students. This past spring, undergraduate enrollment dropped 4.7 percent, according to the National Student Clearinghouse Research Center. The nation's undergraduate student body is 9.4 percent smaller than before the pandemic. 
Yet a number of colleges and universities are defying that trend — while also making progress on their diversity goals. 
Oklahoma State University:
Connections with Counselors
and Focus on First-Gen Students
This fall, the freshman class at Oklahoma State University (OSU) in Stillwater is nearly 9 percent larger than last year's class. The first-year cohort is also more diverse, with a 1 percent increase in students of color over fall 2021.
Karen Chen, vice president of enrollment management, says increases in online enrollment and in science, technology, engineering, and math (STEM) majors helped fuel the university's growth. Another factor is OSU's deep relationships with high school counselors, who wield tremendous influence over college choices for their students.
The population of first-generation students in OSU's freshman class has risen by more than 7 percent. Chen cites a culture of paying attention to the needs of these students and getting the word out — even during the campus tour stage — that help is always available for those whose families might not be equipped to prepare them for college life.
"Walking them through what a bursar's bill looks like, what their financial package includes, advice about study habits and time management," Chen says. "These things are all going to be part of the conversation we have with these students."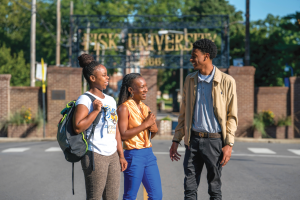 Fisk University:
Career Connections and Increased Visibility
Fisk University in Nashville saw a 32 percent jump in its freshman class compared to last fall. The rise follows four consecutive years of growth at the small, private, historically Black university.
Jens Frederiksen, vice president for institutional advancement, credits the enrollment increase to the university's stronger efforts to connect students with the working world.
"For many years, there was a presumption about students going on to graduate school and law school and medical school," Frederiksen says. "And that's still the case, but it's actually a relatively small demographic of the entire student population."
In recent years, Fisk has ramped up its corporate partnerships. HCA Healthcare, Google, and the Los Angeles Lakers all work with the school to provide adjunct professors, contribute scholarship money, and create internships. It's been difficult to capture job placement data following the pandemic, but a fall 2020 survey of 126 Fisk STEM and business graduates showed average starting salaries were just above $72,500, Frederiksen says.
"Students and their parents are informed consumers," Frederiksen says. "They want something to show for taking on the debt of education."
Frederiksen also cites Fisk's growing national visibility, thanks in part to a new women's gymnastics program and the Grammy award its Jubilee Singers took home last year.
Because Fisk is a historically Black university, it measures diversity in metrics other than race — 58 percent of its students are Pell Grant eligible, 20 percent are first generation, and 12 percent are international. 
"Fisk is meeting its diversity goals," Frederiksen says.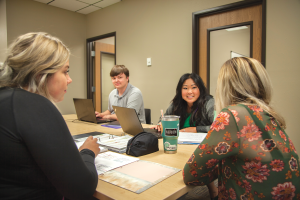 Lake Area Technical College:
Filling Open Jobs in the Community
Lake Area Technical College (Lake Area Tech) in Watertown, S.D., similarly cites job placement for students as the reason for a 3 percent growth in enrollment reflected in its freshman class. With the assistance of more than 400 industry partners, the school aims to help fill more than 30,000 job openings in the state, says President Michael Cartney. 
"Our philosophy is that we are the first responders for our community's workforce needs," Cartney says. 
Industries hungry for employees include health care, manufacturing, transportation, and drone technology and operation. Some of the college's business partners supplement state scholarship money in exchange for an agreement in which recipients commit to working with their organization for three years. 
Efforts to attract more students overall and underrepresented students go hand in hand, Cartney says. The technical college is reaching out to immigrants, refugees, and guest workers with visas, along with Native Americans. School representatives meet regularly with members of South Dakota's nine Native tribes. 
In the past year, Lake Area Tech achieved a half-percent increase in students of color, bringing the total to 7.3 percent. This slow but steady growth has increased by nearly 3 percent since 2015.
"It ends up being a win-win-win when you redefine success as job placement rather than graduation," Cartney says.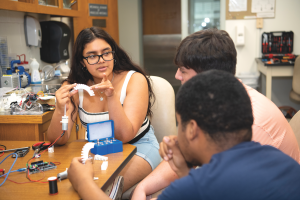 Bucknell University:
Pandemic Changes Still Paying Off
Bucknell University saw an increase of nearly 1 percent in its incoming freshman class. The private liberal arts school in Lewisburg, Pa., credits making standardized tests optional as a major reason for increased applications over the past three years. Another important factor stems from changes made during the COVID-19 pandemic, says Lisa Keegan, vice president for enrollment management.
When the campus shut down in the spring of 2020, Keegan worried about how prospective students would be able to visit. Very quickly, Bucknell implemented driving tours with an audio component to guide the experience.
"And then we took that one step further and asked ourselves, 'Can we offer that audio in different languages?'" Keegan says.
Bucknell also launched virtual reality tours, placing prospective students inside classrooms and labs through special headsets. But the idea was still location-based; interested students had to come to campus to pick up the equipment.
"Then we had a couple of students who were down to the wire in making their decisions and telling us, 'We don't have an opportunity to come there,'" Keegan says. "And we said, 'Not a problem.'"  
Bucknell began mailing out headsets so that prospective students could participate from their homes. Even as pandemic restrictions have lifted, the virtual tour remains a popular way for interested students to get a feel for the school. 
Along with increased total enrollment, the university is seeing a gain in underrepresented students. Students of color now make up 21.7 percent of Bucknell's freshman class, an increase of just over 1 percent from last fall. Keegan attributes much of the rise to the university's work with community organizations in a variety of cities. The school also recruits underrepresented students from Los Angeles, Boston, and Washington, D.C., in partnership with the Posse Foundation, a national full-tuition scholarship program.●
Nancy Fowler is a contributing writer for INSIGHT Into Diversity.
This article was published in our November 2022 issue.