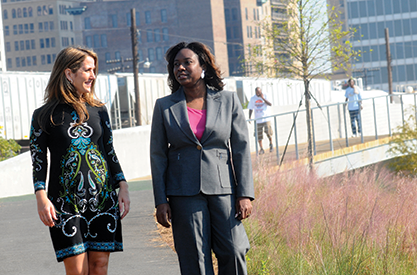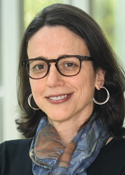 Lorena de Idiaquez, a professor in the University of Alabama Birmingham (UAB) School of Medicine and an attending physician at the Birmingham Veteran Affairs Medical Center, had been transitioning to her authentic gender for more than a year when she notified her employer she was officially coming out. When she returned from vacation on Nov. 2, 2017, she would do so as her true self.
[Above: Monica Baskin (right) and a colleague walk on the UAB campus together.]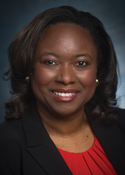 At the time, UAB did not have a plan established to help employees transition, says Monica Baskin, PhD, professor and vice chair for culture and diversity in the Department of Medicine. "We realized we did not have anything in place in terms of guidelines about how to make this happen," Baskin says. "We had a lot of homework and research to do to try to develop a process that would help this person transition in a way that was respectful."
Because the university is located in one of the most conservative states in the country, those involved in the process of developing guidelines worried they would see pushback. De Idiaquez was also concerned about how her co-workers and patients would perceive her. But leaders from the university's divisions came together to develop a process that can be implemented anywhere in the institution, not just in the School of Medicine.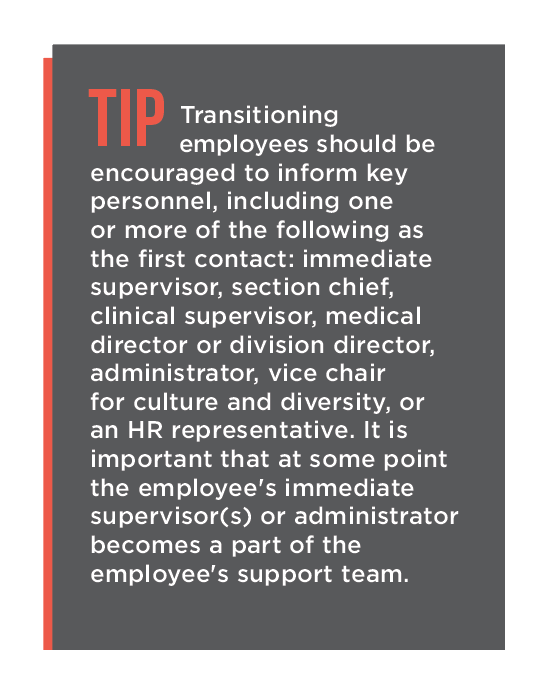 "We were all able to put on the table fears and concerns and quickly squash all of that," Baskin says. "Looking at our existing policy as it relates to discrimination, it clearly stated we would not do anything that discriminates against any single gender or gender identity."
De Idiaquez says nearly everyone supported her coming out, including her longtime patients. "They were like, 'Well, if it makes you happy and it doesn't change my premium of care, no problem,'" de Idiaquez says. "We underestimate how capable people are of understanding the desire somebody has to be happy. We need to stop fearing the reaction of people."
To accommodate a tight timeframe, UAB leaders built the guidelines in a relatively short time period by higher education standards. The university had roughly three months to develop a plan from scratch. Though the institution's discrimination policy provided legal protection, there was no actual process detailing how to support employees during their transition.
The guidelines UAB developed are intended for use by managers, human resource professionals, LGBTQ employee group leaders, and others involved in the transition. They also cover best practices for employees and managers as well as how to address customers and patients.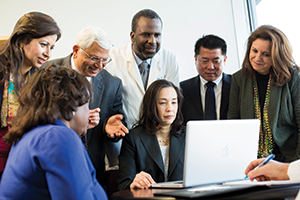 As an ally and advocate for Department of Medicine employees, all eyes were on Baskin as she looked outside the university to find resources on "how to make this transition happen in a way that was most beneficial to all parties involved." Though advice from sources such as the Human Rights Campaign and the Center for Transgender Equality provided practical tools, the guidelines ultimately tied back to the institution's core values — diversity, inclusiveness, integrity, tolerance, and collaboration.
The most important piece of the puzzle, however, was the employee's perspective, Baskin says. "I stayed true to being very employee-focused to make sure that person's voice was being heard." Baskin began by having conversations with de Idiaquez and then identified advocates and allies who would help navigate the process in order to keep her interests at the forefront.
"Those guidelines talk first and foremost about what the employee wants to get out of this," Baskin says.
"It's important to incorporate the person transitioning in the process," de Idiaquez says. "We can't shield the person because by shielding the person we isolate them."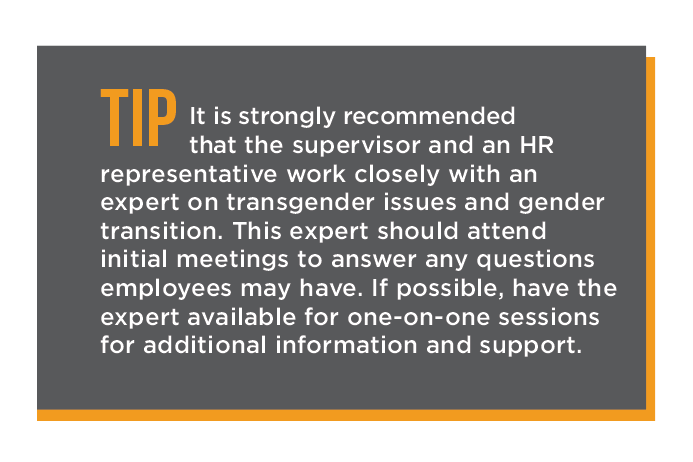 Institutional leaders were careful to protect de Idiaquez, however, by maintaining a level of separation between her and parts of the process. Discussions and SAFE Zone training sessions with supervisors, colleagues, and administrators occurred without de Idiaquez present. Leaders made this decision to ensure employees could ask honest questions without fear of causing offense, though discussion leaders made clear what is and is not acceptable.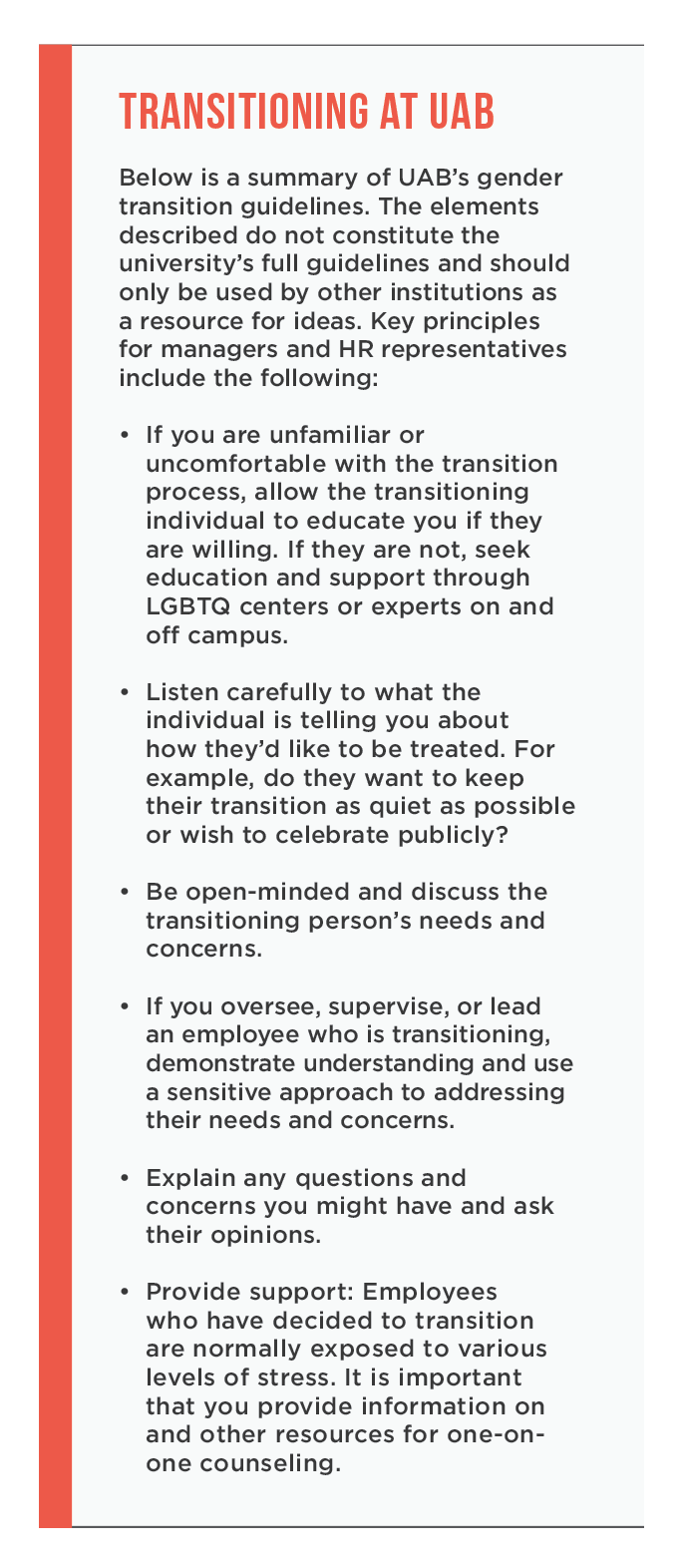 "As an institution with a clear policy about discrimination, diversity, and inclusion, [we made clear] the things that will be tolerated and the things that will not be tolerated," Baskin says.
De Idiaquez says she agrees with that approach because it allowed her colleagues to say what they needed to without worrying about offending her, though she hopes the university will find a way to include transitioning employees in the conversation more in the future.
More than a year later, de Idiaquez is living and working authentically. The transition at work was smooth. The personal transition continues.
"The change is about discovering who you are, and the process does not start the day before [you come out] and does not end the day after," de Idiaquez says. "It's about becoming a more complete, more open person. Being able to live your life the way you feel you should live it, it's fantastic. … I was able to smile again."
Baskin says the role she played as an advocate has been rewarding and fulfilling. "Medicine is fairly conservative and we're in a very conservative larger environment [in Alabama]. The fact we were able to do this so successfully does bode well for any other kind of organization or institution," Baskin says. Baskin earned a President's Diversity Champion Award this year for her work.
Having a champion like Baskin is essential for making the transition process easier and for taking the responsibility off the person transitioning, de Idiaquez says. "People say it's up to us to convince them we truly are who we say we are, but that's not fair. It's really up to everybody to learn."
"Monica has been wonderful," de Idiaquez says. "It's important to have people like her at institutions, people who take it upon themselves to learn."
Kelsey Landis is the editor-in-chief of INSIGHT Into Diversity. This ran in our May 2019 issue.