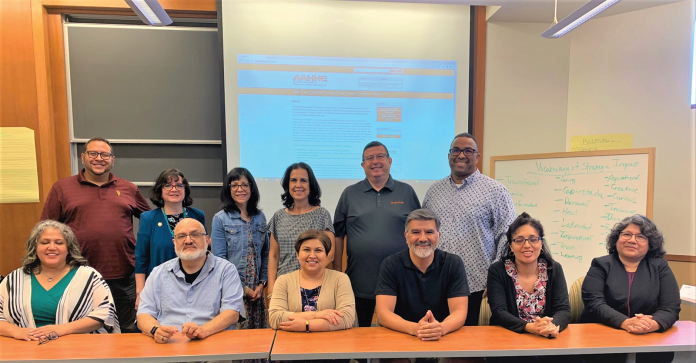 The number of Hispanic people ages 18 to 24 enrolled in college has doubled since 2005. While this is good news, the leadership at the American Association of Hispanics in Higher Education (AAHHE) says continued and increased support for the community remains critical.
​One factor behind the enrollment rise is the growth of the nation's Hispanic population — from 14.6 million in 1980 to 62.1 million in 2021 — according to the U.S. Census Bureau article "Significant Educational Strides by Young Hispanic Population," published in May.
In fact, educational attainment across the board has increased among Hispanic populations, including high school graduation rates.

Azara Santiago-Rivera, PhD, AAHHE chair elect, attributes many of the higher education successes to recruitment and retention efforts by public higher education institutions, where the majority of Hispanic students attend college.
"What [these schools] have done over the years is … intentionally [open] up access," she says.
The targeted recruitment of Hispanic students, heightened awareness of and enhanced programming for DEI (diversity, equity, and inclusion) on campus, and the decision by many schools to no longer require standardized test scores are all actions that result in the success of Hispanic students, she says.
With the recent repeal of affirmative action in college admissions processes, Santiago-Rivera expects a negative impact in recruitment efforts at most public institutions. However, she notes that Hispanic-Serving Institutions may see more diverse applicants flocking to their schools. 
"We know that affirmative action is what paved the way for many of us going to college, and if it [weren't] for affirmative action and the use of race [in admissions], we would not have had access," Santiago-Rivera says. "So it's just remarkable how [this] is playing out."
Schools will need to develop creative strategies to continue inclusive recruitment efforts and build an inclusive campus environment, she says.
Retaining and graduating Hispanic students is imperative, Santiago-Rivera says. In 2021, 28 percent of Latino adults 25 and older had earned an associate degree or higher, compared to 48 percent of White adults the same age, finds the nonprofit think tank Excelencia in Education. Solutions include expanding financial aid opportunities and streamlining transfers from two-year colleges to four-year institutions, Santiago-Rivera says.
It's important to remember that Hispanic groups are not monolithic, and each subgroup of students experiences different challenges, she says. For example, Central American and Mexican populations have the lowest higher education enrollment in the nation, but Mexican students have recently seen the largest enrollment increase. 
Santiago-Rivera encourages institutions to study these trends to better determine how to improve rates of success.●
This article was published in our October 2023 issue.