American Indian and Alaska Native Heritage Month, celebrated each year in November, is a time to recognize the important contributions made by Indigenous peoples of more than 600 tribes and celebrate their histories, cultures, and traditions. It also serves as an opportunity to educate the larger U.S. population on the oppression and challenges faced by Indigenous peoples for hundreds of years and to shed light on injustices that still persist, according to the National Congress of American Indians. 
Native American art across a wide range of mediums has helped advance the conversation around tribal history, societal contributions, and modern issues. Numerous colleges and universities across the country highlight contemporary Indigenous art through a variety of programs, exhibitions, film series, campus installations, and festivals. Featured below is a small sample of ways that institutions celebrated Indigenous art and culture in 2021.
Boston University
Indigenous Voices in the Americas Series
For the 2021-2022 academic year, the Boston University Arts Initiative is sponsoring an interdisciplinary program focused on amplifying the voices of Indigenous creators from North and South America through music, art installations, conferences, and more. In September, the program featured the Eastern Medicine Singers, an Algonquin drum group that promotes and celebrates the eastern woodlands American Indian culture.
Institute of American Indian Arts
Manifesting Our Destinies Exhibition
From April to October 2021, the Institute of American Indian Arts in Santa Fe, New Mexico, is hosting an exhibition of work completed by graduating fine arts students from diverse native tribes. Titled Manifesting Our Destinies, it touches on issues of discrimination, cultural and gender identity, and the historical impact of Indigenous peoples.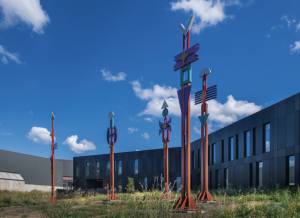 Johnson County
 

Community College
Spirit Totems
In September, Johnson County Community College in Overland Park, Kansas, became home to a new permanent sculpture installation titled Spirit Totems. Featuring five 30-foot metal totems, it was designed by renowned Native American sculptor Doug Coffin. 
University of Northern Iowa
The Earth is a House of Stories Exhibition
In partnership with the Meskwaki Tribal Council, the University of Northern Iowa Gallery of Art hosted The Earth is a House of Stories exhibition from August 24 to September 25. The exhibition highlighted contemporary artwork from Native American community members and the gallery's own collection. 
Syracuse University
Each One Inspired: Haudenosaunee Art
Across the Homelands Exhibition
The Each One Inspired: Haudenosaunee Art Across the Homelands exhibition at the Syracuse University Art Museum runs from September to November and features contemporary works from artists representing the six Haudenosaunee Nations. This group, sometimes referred to as either the Iroquois Confederacy or the Six Nations, includes the Mohawk, Oneida, Onondaga, Cayuga, Seneca, and Tuscarora Nations.
University of Alaska Fairbanks
Alaska Native Filmmaker Intensive: Stories for Climate Justice
In August, the University of Alaska Fairbanks (UAF) Department of Theatre and Film partnered with the nonprofit organization Native Movement to launch the inaugural Alaska Native Filmmaker Intensive: Stories for Climate Justice fellowship. The program invited Alaska Native students to learn about filmmaking, storytelling, and other digital media and had them reflect on their relationships with their culture and land as they relate to climate change.
Festival of Native Arts
In March, UAF held its annual student-led Festival of Native Arts virtually. The event provides cultural education through art, dance, and music. The 2021 festival featured various performances, workshops, and conversations led by Native Alaskan and Indigenous creators.●
This article was published in our November 2021 issue.