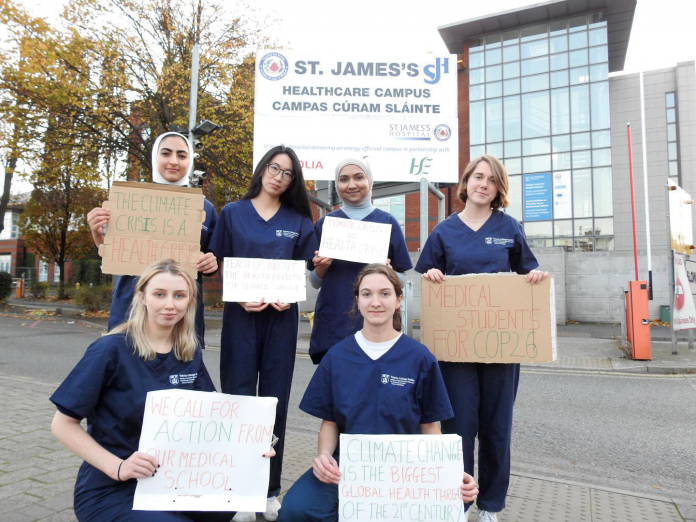 More than 450 students at health professions schools around the world are measuring how effectively their institutions address climate change using the Planetary Health Report Card (PHRC).
Developed in 2019 by a group of students at the University of California, San Francisco School of Medicine, the PHRC is an advocacy tool intended to increase the planetary health awareness and accountability of medical schools. 
Planetary health, according to PHRC's creators, is defined as "a solutions-oriented, transdisciplinary field and social movement focused on analyzing and addressing the impacts of human disruptions to Earth's natural systems on human health and all life on Earth."
Students sign up to lead teams to evaluate their schools across five categories: curriculum, interdisciplinary research in health and environment, community outreach and advocacy, support for student-led initiatives, and campus sustainability. More than 80 institutions in seven countries participate in the project.
Isabel Waters, a final-year medical student at Trinity College Dublin and a co-director for PHRC, says it is imperative that future health professionals have the knowledge and resources to confront climate change.
All future health professionals are going to be facing patients that are suffering from the effects of climate change, and many already are, she says. 
"From respiratory disease due to air pollution, infectious disease due to unclean water, dehydration and collapse due to heat stress, mental illness, and worsened livelihoods due to energy poverty, people are presenting to emergency departments with health issues directly related to the climate crisis every day," says Waters. "Currently, this issue is underrepresented in health care curriculums. This needs to change urgently, so that health care professionals of the future are prepared to recognize, treat, and educate their patients."
The global health care industry is one of the largest contributors to the climate crisis, says Waters, because hospitals produce a significant amount of medical supply waste and often use anesthetic gases and other chemicals that can harm the environment. 
"If [the industry] were a country, it would be the fifth-largest greenhouse gas emitter," she says. "The ironic thing is this is extremely harmful to the wider patient population. This is something health professions students should be made aware of."
One of the benefits of using the report card is that institutions will be able to determine how they can implement more sustainable clinical practices.
"A huge proportion of [greenhouse] emissions come from purchasing equipment and medicines," Waters says. "There should be more opportunities and funding for initiatives to reduce the contribution of the health care system to the climate crisis. The place to begin is with our students."●
This article was published in our March 2023 issue.