Community service and institution-wide partnerships are key tools being used by two historically Black colleges and universities (HBCUs), among other schools, to address long-standing inequities in the criminal justice system and legal profession. One initiative helps community members with nonviolent criminal records navigate the legal system and the other provides robust learning opportunities for underserved students interested in pursuing a legal career.
In Baton Rouge, La., residents can receive expert advice on how to get applicable nonviolent charges removed from their criminal records, thanks to efforts by students of the historically Black Southern University Law Center (SULC).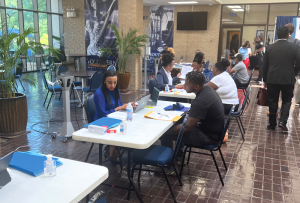 Through a partnership with local governments and state workforce agencies, SULC regularly hosts events in which law students review individuals' records and determine what charges can be expunged — an important service that will make it easier for those impacted by the criminal justice system to find employment and housing. 
The cost of expunging criminal records creates a significant barrier for someone who has experienced limited employment options due to their record, so the free service provided by SULC students fills a much-needed gap, says Marla Dickerson, JD, vice chancellor of innovation and strategic partnerships and initiatives at SULC.
"Expungement fees are $550 per arrest date, so that's a large chunk of money for people who may have been denied employment in a capacity that allows them to pay that amount of money," says Dickerson. "We hear stories from people who come in and … say they have jobs but were refused promotions or were not able to even find housing or employment."
Through these Expungement Initiative events, the Louisiana Workforce Commission covers legal fees, while SULC students assist formerly incarcerated individuals in filing the necessary paperwork. Each event has helped hundreds of people, but they have also served as learning opportunities for the students who get face-to-face experience in working with the public and those who have been involved in the criminal justice system, says Dickerson.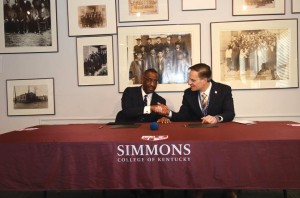 As part of a recently established partnership between Simmons College of Kentucky, a Louisville-based HBCU, and the University of Kentucky (UK), the institutions are creating a pre-law constitutional studies program at Simmons, which has not had a law school since the 1930s. 
Per the agreement, the UK J. David Rosenberg College of Law's Diversity, Equity, and Inclusion Student Advisory Board will provide pre-law programming to select Simmons students interested in pursuing a career in law.
In addition to the pre-law program, the agreement provides professional development opportunities for Simmons students through the law school. These include "law student for a day" events as well as access to keynote speakers, student organizations, and court proceedings. UK law faculty and administrators will also participate in seminars and presentations at Simmons to discuss civil rights and constitutional law.● 
This article was published in our July/August 2023 issue.