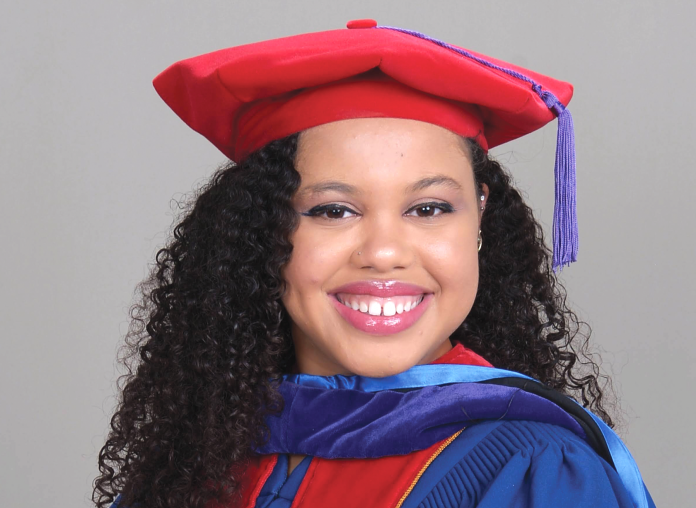 Nineteen-year-old Texas native Haley Taylor Schlitz recently made history as the youngest Black American to ever earn a law degree when she graduated from the Southern Methodist University Dedman School of Law (SMU Law) in May 2022. 
Her accomplishment is particularly extraordinary considering only 5 percent of all lawyers in the U.S. are Black, according to the American Bar Association. Taylor Schlitz chose to pursue this field because she wants to help reform the nation's education laws to be more equitable for all students, she says. 
"I wanted to be a doctor like my mom up until about halfway through my undergraduate degree," she explains. "I majored in chemistry, but then I did a lot of self-reflection on what I want to do with my life, who I want to be, and what impact I want to make. …so I switched my major to education because I want to change the way our K-12 system functions, which also led to me to law school and education policy." 
Her passion stems from her childhood experience being denied access to gifted education programs in public school before being homeschooled by her parents. She co-wrote a book titled The Homeschool Alternative: Incorporating a Homeschool Mindset for the Benefit of Black Children in America with her mother, the celebrated physician Dr. Myiesha Taylor, about these experiences. Her goal is to help other students who may be denied educational opportunities and whose families do not know that homeschooling is an option or do not have the ability to pull them out of public schools, she says.
Taylor Schlitz graduated from high school at the age of 13 and earned her undergraduate degree from Texas Woman's University at the age of 16. After being accepted into nine different law schools, she chose to attend SMU Law because she was impressed by the passion exhibited by its faculty and by the inclusiveness of the campus.
"Being so young and also being a Black woman, I was wondering how I would fare in law school — not questioning whether or not I'd be successful, but more of what law school would look like for me," she explains. "But the student body was very accepting. I wasn't hazed or discriminated against, and everybody was very supportive of me." 
Her sociocultural identity and age gave her a distinct viewpoint of higher education and law school, Taylor Schlitz says. 
"I think that the intersectionality of everything that I am — being Gen Z, being Black, being a woman, and being so young — provides me with a unique perspective on our education system and on civil rights and advocacy," she explains. "Gen Z is very [politically] active, but on top of that it's the first generation that America has ever seen that's majority-minority. Being part of that generation, being able to speak with and align with a lot of my peers who are also minorities, and being young in law school all [relate to] a lot of politics, advocacy, and leadership in that area." 
Her age is especially relevant for someone wanting to pursue a career in educational policy because so many of the decision-makers crafting today's K-12 and higher education laws are older, she says. "I am of the age where the legislation that is being written impacts my generation, but a lot of the people who write legislation are significantly older and the laws that they write for our school systems specifically and other systems that impact youth do not affect them directly," Taylor Schlitz states. "I represent the majority of my generation when I speak on issues that affect minorities, so I definitely have this ground view and am in a unique position to be an advocate." 
Thus far, she has found significant success as a youth activist. In addition to her work as an author and proponent of equitable education, Taylor Schlitz has participated in the American Civil Liberties Union's Teen Summer Public Policy Program and served as the youngest delegate ever to the Texas Democratic Party convention. Her academic accomplishments have earned her numerous national honors, and her graduation from SMU Law was featured in news stories around the world. 
While the future clearly looks bright for Taylor Schlitz, right now she is focused on preparing to take the bar exam in late July. Her immediate career plans include teaching government and politics at E.A. Young Academy, a nonprofit institution for gifted students, where she says she is excited to be able to create a positive educational environment for other young people.●
Mariah Stewart is a senior staff writer for INSIGHT Into Diversity.
This article was published in our July/August 2022 issue.