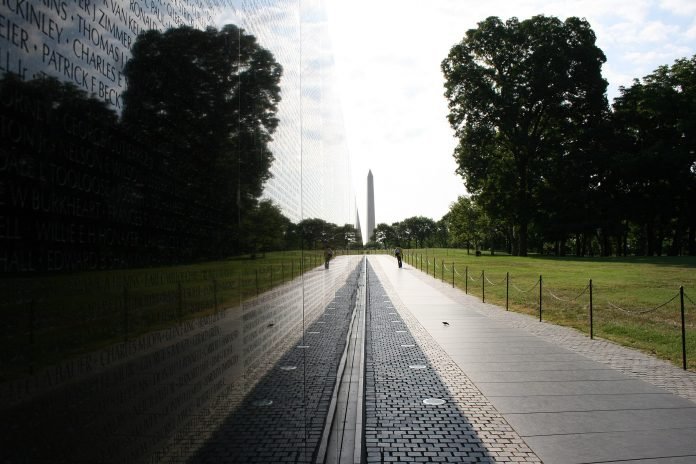 From colonial structures to modern-day skyscrapers, American architecture continues to evolve through artistic vision and innovation. As the practice and techniques of this field have evolved, so too has the diversity of its workforce. Though architecture was long a profession for White men, trailblazers from diverse backgrounds and identities eventually found their way into the field. The following list of notable architects celebrates those who beat the odds and broke barriers in an industry that traditionally shut them out.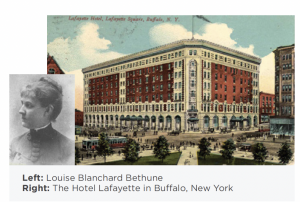 Louise Blanchard Bethune (1856-1913) was the first woman to work as a professional architect in the U.S. Bethune first overcame gender barriers by completing a five-year apprenticeship under renowned Buffalo, New York, architect Richard Waite. She went on to design several prominent structures that would eventually earn her a place as a member of the American Institute of Architects (AIA) — the first woman to do so. She also became the first woman to earn a fellowship with the institute. After marrying fellow architect Robert Armour Bethune, she co-founded the firm Bethune, Bethune & Fuchs, which created the landmark Hotel Lafayette in Buffalo in 1904. The hotel still stands today and is described as "a masterpiece of French Renaissance" and "one of Buffalo's most visited and photographed destinations," according to its website.
Robert Robinson Taylor (1868-1942) was America's first Black accredited architect. In 1888, Taylor became the first Black student at the Massachusetts Institute of Technology (MIT) School of Architecture, where he graduated in 1892. He was then hired by Booker T. Washington, the founder of Tuskegee University, to serve as a campus architect, planner, and construction supervisor. Taylor worked at the university for 40 years, designing several buildings that remain standing on campus today. In 1994, MIT established an endowed chair for faculty of color in Taylor's name, making him the first African American to have an MIT professorship named in his honor. In 2010, Tuskegee renamed its College of Engineering, Architecture and Physical Sciences to the Robert R. Taylor School of Architecture and Construction Science.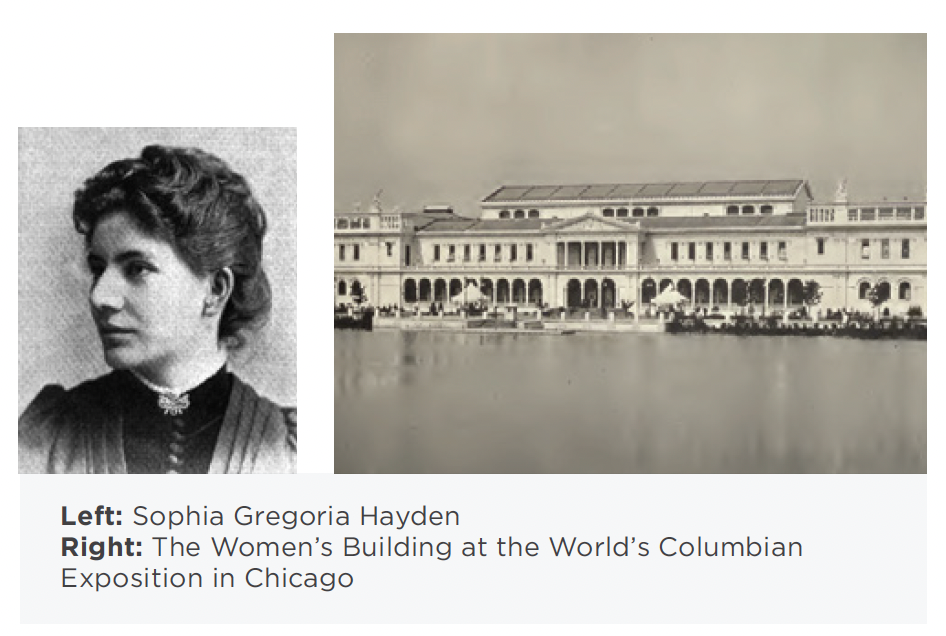 Sophia Gregoria Hayden (1868-1953), originally from Chile, in 1890 became the first woman to earn a four-year architecture degree from MIT. Hayden went on to teach technical drawing at a Boston high school and, at the age of 21, won the design competition for the Women's Building at the World's Columbian Exposition in Chicago. Though she was paid as little as 10 times less than the event's male architects, Hayden successfully oversaw the completion of her building — one of only a few structures at the exposition to be finished on time and within budget. Despite winning two gold medals for the building's design, it was the only architectural project Hayden ever completed, and the structure was demolished shortly after the exposition ended.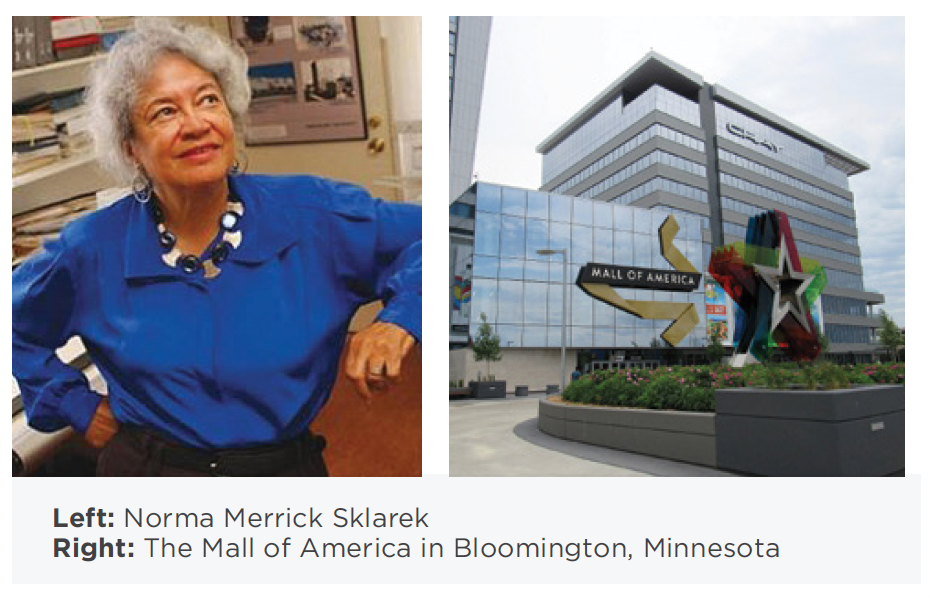 Norma Merrick Sklarek (1926-2012), sometimes referred to as the "Rosa Parks of Architecture," was the first Black woman to become a licensed architect in the U.S. Sklarek graduated from the Columbia University School of Architecture, Planning, and Preservation in 1954. After being turned down by nearly 20 architecture firms, she was finally offered a position with the high-profile group Skidmore, Owings & Merrill. Sklarek later became director of the Los Angeles firm Gruen Associates before assuming a position as vice president of Welton Becket, where she worked on large-scale projects such as the American Embassy in Tokyo. In 1985, she co-founded Siegel, Sklarek, Diamond — the first architecture firm in the U.S. owned and managed by a Black woman.
J. Max Bond Jr. (1935-2009) is recognized as one of the most influential African American architects in U.S. history. He was a graduate of the Harvard University School of Design, a professor at Columbia University Graduate School of Architecture & Planning, and a dean of the City College of New York (CUNY) School of Architecture and Environmental Studies. His designs included prominent libraries, research facilities, cultural centers, and museums around the world. Among Bond's most noted accomplishments are the Martin Luther King Jr. Center for Nonviolent Social Change in Atlanta and the Schomburg Center for Research in Black Culture in Manhattan. His designs are well regarded for expressing the Black experience, and as an educator, he was known for "creating a more inclusive architectural discourse," according to the African American Design Nexus. At the time of his death, Bond was serving as an architect for the museum portion of the National September 11 Memorial and Museum in Manhattan. In 2012, CUNY established the J. Max Bond Center for Urban Futures with the mission of empowering "people and the built environment to equitably provide the opportunities and living conditions necessary to ensure successful urban futures for all people."
Louis L. Weller (1936-2010) was the first licensed Native American architect. A graduate of the University of New Mexico (UNM), he is remembered for having significant influence on the architectural style of the Southwest. Weller was a member of the Caddo and Cherokee tribes, and his work was regarded for its use of Indigenous culture and design. In 1980, he founded Weller Architects, one of the country's largest Native-owned design practices. He later served as co-project architect for the Smithsonian National Museum of the American Indian in Washington, D.C., which opened its doors in 2004. Weller was chair of the Native American Design Collaborative and an AIA fellow. He was actively involved in education, serving on the UNM Foundation Board of Directors, the UNM School of Architecture and Planning's Council for Design + Planning Excellence, and the School Governing Council of the Native American Community Academy, Albuquerque.
Maya Lin (1959-Present), a first-generation Chinese American, is best known for her work designing the Vietnam Veterans Memorial in Washington, D.C. Lin submitted her winning design for the memorial at the age of 21 while a student at Yale University, triumphing over 27,000 other submissions. She later completed a master's degree of architecture at Yale in 1986. Other notable works include a monument to the civil rights movement for the Southern Poverty Law Center and the Women's Table at Yale, which commemorates the historic roles of women at the university. She is also the designer of the Langston Hughes Library, the Museum of Chinese in America, and numerous large-scale art installations inspired by environmentalism and the natural world.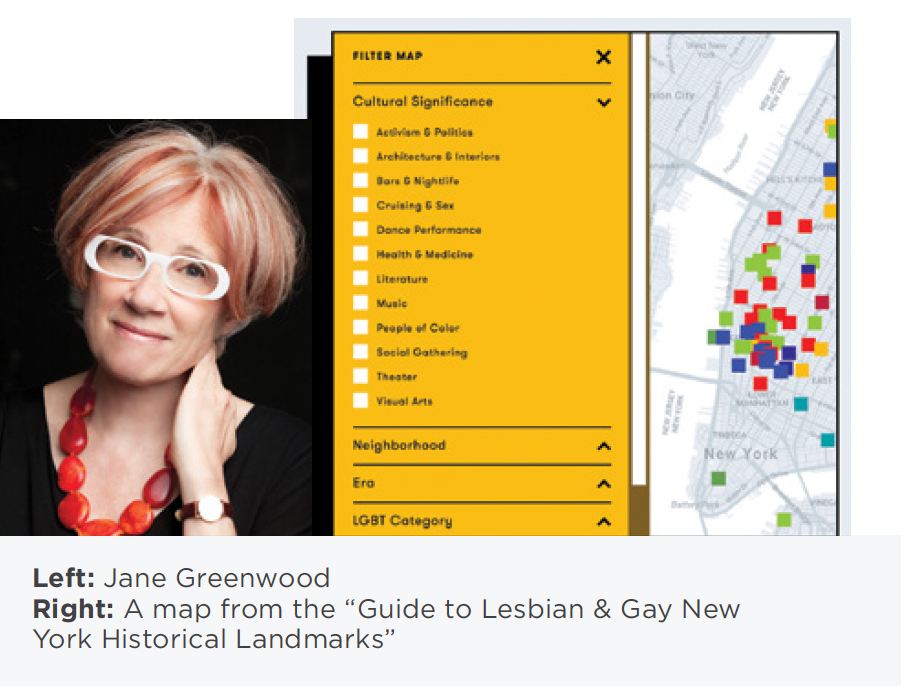 Jane Greenwood (1955-Present) is a principal architect at Kostow Greenwood Architects in New York City and an LGBTQ rights activist. She earned her bachelor's degree in architecture from Pratt Institute in 1987. Four years later, she co-founded the Organization of Lesbian.+ Gay Architects and Designers (OLGAD), a national networking and support organization. One of OLGAD's most notable projects is "A Guide to Lesbian & Gay New York Historical Landmarks," a historical map of significant locations in LGBTQ history in the New York City region. In 2017, Greenwood was recognized for her advocacy in Out magazine's annual OUT100 list, which honors the most influential members of the LGBTQ community. She is also a winner of the New York Business Journal Women of Influence award for women business leaders who "innovate, succeed, and pay it forward." Her work has included media and broadcast architecture, performing arts and cultural institutions, historic preservation, and more. ●
Mariah Stewart is a senior staff writer for INSIGHT Into Diversity.
This article was published in our October 2021 issue.