With new federal grant funding, the Nevada Center for Excellence in Disabilities (NCED) at the University of Nevada, Reno (UNR) has implemented several programs that bolster support for students with disabilities who pursue degrees and careers in STEM (science, technology, engineering, and math) fields.
A key initiative of the $200,000 five-year grant awarded by the National Science Foundation (NSF) is a mentorship program spearheaded by a group of seven students. Program participants advocate for and improve the representation of STEM students with disabilities on UNR's campus. Mentors also help their mentees work through the challenges of studying in STEM fields and the general college experience. 
"I am representing a group that more often than not gets overlooked, [and] my main goal is to be there to help students with disabilities navigate college and to bring awareness of our issues to the public," says Ammal Abdul, an NCED student mentor. "I think that we bring a unique set of problem-solving skills to STEM, [as] constantly having to work around a world that isn't built for you allows you to see solutions that others don't, and that can be especially helpful in the STEM field."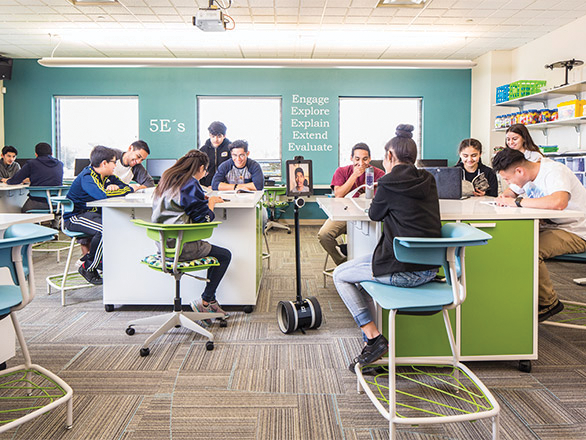 Through the life of the grant, students will also engage in nationwide research projects to raise awareness about people with disabilities in STEM fields and the value they bring, from both innovation and DEI perspectives. One project involves the use of Photovoice, an ethnographic research tool in which participants take photographs depicting significant challenges in their lives. 
Projects stemming from the grant fit within the university's efforts to advance representation of individuals with disabilities within broader conversations regarding DEI (diversity, equity, and inclusion), says Randall Owen, PhD, associate professor of special education, director of NCED, and principal investigator for the NSF grant.
"Disability should be seen as an aspect of human diversity. Because of the high incidence of disability in the population, the perspectives and voices of people with disabilities should be valued within all spaces," says Owen. "As we continue to strive toward social justice, disability demands to be included in those conversations." 
UNR is part of a larger network of 31 colleges and universities across the country known as the NSF Eddie Bernice Johnson INCLUDES Initiative: The Alliance for Students with Disabilities for Inclusion, Networking, and Transition Opportunities in STEM (TAPDINTO-STEM). The initiative works to increase the representation of students with disabilities in STEM programs, help them transition to careers in their desired field, and establish communication networks between higher education institutions, government agencies, national laboratories, industries, and local communities to better support their needs.
Within the alliance, UNR falls into the Mountain Region Hub, which comprises five colleges and universities, including Northern Arizona University's Flagstaff and Yuma campuses, Coconino Community College, and Utah State University. Through monthly meetings, hubs utilize an intersectional lens to combat bias, discrimination, and stigma against STEM students with disabilities.
Through the national and regional partnerships, two UNR students involved in the mentorship program, Makaalynn Wortham and Abdul, will represent the university at the annual TAPDINTO-STEM conference, which will provide them with opportunities to explore STEM research, collaborate with students and faculty from other institutions, and expand their knowledge in a specific STEM field.●
This article was published in our September 2023 issue.