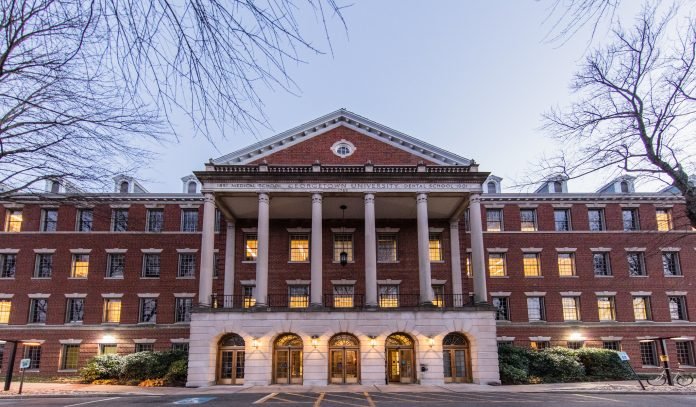 In spring 2022, the Georgetown University School of Medicine (GUSOM) will launch a new academic track that aims to enhance diversity, equity, and inclusion (DEI) in medical education. The program is now part of GUSOM's selection of longitudinal academic tracks, which involve a capstone project, leadership development, and experiential learning through interdisciplinary collaboration in conjunction with students' medical education. 
As part of her capstone research project, L. Tamara Wilson, a 2021 GUSOM graduate, developed the track as a way to address the lack of DEI training for medical students throughout their education. The DEI track is co-directed by Ann Jay, an associate radiology professor, and Colin Stewart, an associate psychiatry professor, who will select a cohort of up to 10 DEI-dedicated students to participate. 
"We will look at students that are traditionally underrepresented in medicine, have had lived experiences that will help them fulfill the goals of the track, have evidence of previous experiences in DEI, and are passionate about making a difference in the DEI space," Jay told the university's student newspaper, The Hoya.
Initially, students will participate in modules and training focused on anti-racism, cultural humility, and overcoming bias. Later, they will work with community organizations to address inequities within health care. The four-year curriculum will coincide with students' standard medical education and includes mentorship opportunities, experiential learning, peer-to-peer teaching, a journal club, and more. 
"If people don't feel like they can be authentic in the workplace, then you can have that representational diversity, but you're not really able to capitalize on it to develop real organizational excellence," Stewart told The Hoya. "People are looking for leaders who are able to really enact anti-racist policies, bring about equity within the workplace, and vigorously close the gaps in terms of health care inequities."●
This article was published in our December 2021 issue.