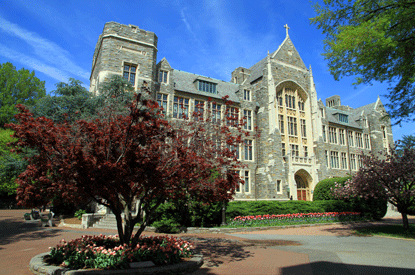 Students at Georgetown University voted on Thursday, April 11, to raise the price of tuition in order to provide compensation for the descendants of enslaved persons once owned by the university. Specifically, these funds will go towards descendants of 272 enslaved African Americans, known as the GU272, who were sold by the Jesuit leaders of the school in 1838. The sale played a major role in stabilizing the university's finances for future generations.
The proposal passed by two-thirds of the vote. It calls for students to pay an additional fee of $27.20 per semester, The New York Timesreported. The amount was chosen for its symbolism of the GU272, Shepard Thomas, a Georgetown junior and a descendant, told the national paper.
Georgetown has approximately 7,000 undergraduate students, so the proposal — if approved by the university's board of trustees — would generate roughly $380,000 for descendant communities, which are located primarily in specific regions of Louisiana and Maryland.
Student activists are purposefully not calling the money "reparations" because the dollars raised would not go directly to individuals. A board consisting of five students and five descendants would manage the funds, according to Yasmine Salam, executive editor of the student newspaper The Georgetown Hoya. The money would likely be channeled into education and healthcare programs for descendant communities, she said in an interview with ABC News.
According to Salam, the campus is strongly divided over the proposal. The advocacy group Students for the GU272 and other supporters of the fee argue that students who attend Georgetown today still benefit from the labor and sale of this population. Furthermore, it falls on students to lead the university in working toward racial justice, they argue.
Critics contend that Georgetown "has a responsibility to atone for its past, but not its students," Salam told ABC. Some of the descendants in Louisiana have also spoken out, saying that the details of the proposal have been rushed, she said.
Todd Olson, vice president for student affairs, issued a statement on Thursday saying that the university "value[s] the engagement of our students and appreciate[s] that they are making their voices heard." He also noted that by engaging in this debate, Georgetown's students are "contributing to an important national conversation" regarding reparations.
The university has taken other steps to make amends to the families of the GU272. In 2016, Georgetown began offering preferential admissions for descendants. In April 2017, the Jesuit order that founded the university formally apologized to the descendants in a special ceremony.The event coincided with the renaming of a campus building after the first person listed on the 1838 bill of sale.
In recent years, several other institutions have also made formal attempts to reconcile with their historic ties to slavery, including the University of Virginia, the University of Wisconsin-Madison, and the University of Mississippi.