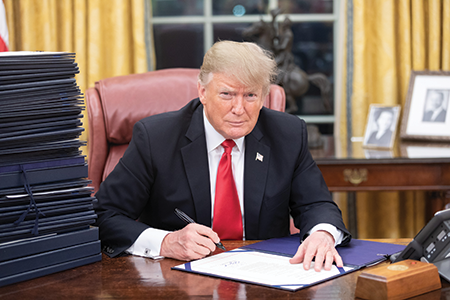 A recent federal mandate threatens to pull money for research from colleges and universities that don't enforce free speech, but uncertainty around what constitutes a violation leaves enforcement of the order in question. 
[Above: (Official White House Photo by Shealah Craighead)]
While the federal agencies that administer more than $35 billion in grants will be responsible for enforcing the rule, it's still not clear what would cause a university to lose funding. Experts say institutions should be aware of the order and its possible implications but doubt any consequences will come to fruition.
In early March, President Donald Trump announced his intention to sign an executive order requiring institutions of higher education to provide more transparency around tuition costs, graduation rates, student loan repayment rates, and estimated median earnings after graduation. Later that month, he signed the order, which also requires universities to "protect free speech" or risk losing research and educational funding.
"If a college or university does not allow you to speak, we will not give them money," Trump said.
Whether Trump follows through on this threat, the president has over the past two years repeatedly attempted to slash the country's budget for science research — efforts that have been shut down by bipartisan disapproval from Congress.
At a press conference, Trump mentioned two incidents at the University of California, Berkeley (UC Berkeley) as motivating factors for signing the order. One event dated back to 2017, when the school cancelled an appearance by right-wing polemicist Milo Yiannopoulos for safety concerns after protests on the campus resulted in more than $100,000 in damages. The second involved a non-student punching conservative activist Hayden Williams on the UC Berkeley campus. Trump praised Williams for "taking a punch for all of us" and suggested that Williams file lawsuits against the school and the person who assaulted him.
Erwin Chemerinsky, dean of UC Berkeley School of Law, is an advocate for free speech and believes the university handled both situations appropriately by fulfilling its duty to uphold campus safety. "[UC Berkeley] wasn't trying to suppress speech," Chemerinsky says. 
Because of the order's ambiguity regarding what constitutes a violation or how colleges will be monitored, Chemerinsky thinks the policy is "clearly unconstitutional," and though it's unclear what specific actions would jeopardize federal funding, he says campuses should be concerned. The White House Office of Management and Budgeting did not reply to a request for clarification on the order.

The connection between the federal government and investment in research dates back more than 70 years, according to Joanne Carney, director of government relations at American Association for the Advancement of Science (AAAS), one of the oldest scientific societies in the United States.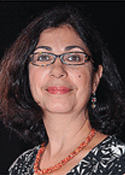 The federal government "recognized that our government investments in cutting-edge basic research will help to advance our nation's innovation capacity," according to Carney, as early as 1945, when Vannevar Bush, a scientist and former head of the Office of Scientific Research and Development, published a seminal report called "Endless Frontier" that built a bridge between government and the advancement of science relations.
Carney says her organization believes the new executive order creates "a solution in search of a problem" and doesn't foresee the government defunding research from colleges and universities. 
"We have a highly regarded research enterprise many other countries wish to emulate, and our advancements in scientific discovery innovation are founded on critical investments by our government," Carney says. AAAS will "place faith in the many federal agencies that for over 70 years funded scientific research grants based primarily on scientific merit," she adds.
Regardless of the longstanding relationship between research and the government, Robert Post, Sterling Professor of Law at Yale Law School, says Trump's directive worries him. "It is a very blunt instrument for the federal government to use the withholding of funding as a lever to beat universities," Post says. 
Post, who called the order "an existential threat to American preeminence in the world in the field of research," is a member of the American Association of University Professors, an organization that advocates for free speech and academic freedom.
Although Post believes deeply in freedom of thought and expression, he says the government should be "very cautious" when interfering with free speech issues on campuses because maintaining independence of universities is crucial to the functionality of institutions.
The most worrisome part of Trump's statement, Post adds, is that "free speech has become a kind of partisan issue."
Stephen Solomon, editor of First Amendment Watch at New York University, says it should be up to judges to apply certain amendment principles, not government regulators. First Amendment Watch is a publication at the Carter Journalism Institute that covers first amendment conflicts around the U.S.
"The government should stay out of the [free] speech business. Except for government judges, where that's their job," Solomon says.
One university president refuses to be intimidated by the rhetoric surrounding the order. Patricia McGuire, JD, President of Trinity Washington University (TWU), says free speech in higher education is the foundation of her life's work. 
McGuire, who has held her position at TWU since 1989, says the president's issuing of the order is "ludicrous" and his actions are "highly partisan."
"The examples he lifted up in his press conference were all political operatives," McGuire says. TWU is a private institution that receives federal grants. 
"As with many [college and university] presidents, I will not be intimidated into doing something because Donald Trump said I should or should not do something. I will do what's right, and I don't need him to tell me what's right."
Mariah Stewart is a staff writer for INSIGHT Into Diversity. This article ran in the June 2019 issue. 
Editor's note: A previous version of this article stated Trump signed the executive order in early March. That is incorrect. He signed the order in late March. This version of the story has been updated to reflect that fact.