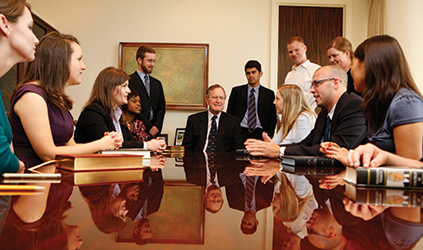 On Krystle Grindley's first day of graduate school, New Orleans was devastated by Hurricane Katrina.
Grindley had just graduated from the University of New Orleans and enrolled at the Bush School of Government and Public Service at Texas A&M University, where she was one of a cadre of students who have been inspired to go into public service because of a presidential example. Along with the late President George H.W. Bush, former President Barack Obama has also lent his name and vision to similar programs at the University of Chicago (U of C) and Columbia University.
[Above: The late President George H.W. Bush speaks with students of the Bush School of Government and Public Service at Texas A&M University on April 26, 2011. (Photo courtesy Texas A&M)]
Their examples serve as a guidepost for young people who want to improve lives everywhere. Grindley was one of them. When she saw the horrible damage to the city where she had spent four years, "it just struck me to the core."
Grindley knew her experience in the Bush School would guide her back to Louisiana, where she decided to commit herself to public service. Now the public information officer for a parish in northwest Louisiana, Grindley says the school's namesake led her to help push its commitment to a diverse student body, including the creation of a diversity committee.
"We wanted to make sure that everybody had the opportunity to learn about things outside our grad school bubble," she said. "There was really an intentional effort to make sure people feel welcome and appreciated."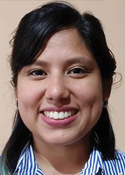 Like Grindley, Ana Cristina Becerra Salas, an Obama Scholar in Chicago, says her program's namesake motivated her to remember that "each of us comes from a different part of the world," she says, "We keep in mind how important it is to help bring together people of different colors."
Grindley, Salas, and other public policy scholars shared their experiences pursuing the legacies of these past presidents.
Program Inspired by Barack Obama
Ranjan Daniels, associate dean of the Harris School of Public Policy at U of C, says the Obama Scholars program grants full scholarships to help students from around the world combine academia with real-world experience. Likewise, the program at Columbia University in New York City offers opportunities for scholars.
"These are people in mid-career with an average age of 31, who have some work experience, and have been identified as emerging leaders," Daniels says. "We didn't want them to have to worry about funding so they can focus 100 percent on learning, content, building relationships, and developing scalable solutions to the problems they are passionate about. … They're not here just to get an ivory tower education but to experience policy and problem solving in Chicago. They are spending time with community leaders working on the same problems they are working on."
In the words of one member of the current class, the scholars, who come from everywhere from Afghanistan to Zimbabwe, are "dreamers and doers." As the former president says in a welcoming video, the program is designed to "inspire, empower, and connect the next generation of civic leaders."
For current program scholar Sri Andini Handayani, moving into the public sphere after graduation will mean bringing what she learns back home to Indonesia, where she has conducted research on violence against children. "I believe in the power of young people," she says. "I really want to work with young people in leadership and management."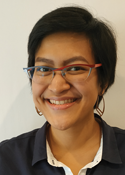 She hopes her public policy training helps her find ways to make their lives better. "They're struggling to find jobs and market themselves," Handayani says. "I'm really grateful I've had mentorship in my life and my work, and now through this program you can see how amazing mentors are able to give you the perspective on how to shape a career."
The diversity of her class makes the experience that much richer, she adds. "Interacting with the different scholars helps me unpack the interconnectedness of one sector with the other," Handayani says. "It's something that I really did not get back home."
Salas, whose work in her home country of Peru involved forestry, says the program experience has opened her eyes to how various academic fields are connected. The multitude of countries represented in her class help forge those links.
"We have created our own community, like a family," Salas says. "Each of us brings a different voice and a fresh perspective, and we've talked about how we can take advantage of that. I've been able to learn about political systems. It was really nice to be able to interact."
In the Obama tradition of community organizing, Salas worked with people in Chicago to share and hone her skills. "We bring diversity," she says, "and we don't forget about how important it is to bring together people of different colors."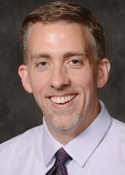 Texas A&M Channels George H.W. Bush's Beliefs
Bush's belief in public service as a noble calling "is more than just a mantra," says Matt Upton, PhD, assistant dean for diversity, career, and student services. "It's in the heart of the people who come here."
The late president's vision drives the Bush School, which was founded in 1997. In its early years Bush was actively involved, sitting in on classes and actually portraying the president in simulations, Upton says.
The program has an enrollment of 340 students, about 25 percent from underrepresented groups. A weekend dedicated to diversity plays a major part in attracting students from a variety of backgrounds. "We want people to come here and see a culture and a climate and a welcoming environment," Upton says. "We're always talking about what else we can do to improve the climate here to make sure students feel like they are included no matter where they come from."
As in the Obama program, Texas A&M provides support for students who want to work in the public sector, where salaries are often less than those in private industry. The university helps makes sure individuals who go on to the public realm aren't saddled with massive student debt. "We think that is working," Upton says. "A large percent of our graduates go out and work in the public sphere, following in President Bush's life and career."
Graduates of the program take a special interest in diversity. Priscilla Barbour, who completed her degree in 2016 and now works for an energy company in Dallas, liked working with elected officials on the local, state, and federal level and the fact that the curriculum was not just theory-based but emphasized practicality.
Diversity in the program is a work in progress, she says. "The school is not afraid of going outside the box to find candidates who are definitely qualified to be in the Bush school program but also able to go into public service once they are out of school. They're not only preparing the next wave of public servants, but they understand that it's important that students look like the public you're going to serve."
For Grindley, the Hurricane Katrina experience brought the idea of inclusion close to home. The federal government's response to the disaster was a case study in policy playing out in a vacuum, she says. "It was a tragedy, it was horrible, but I can't imagine a better way to get involved."
That involvement, she adds, is what public service is all about, and it's something she learned at the Bush School.
Dale Singer is a contributing writer for INSIGHT Into Diversity. This article ran in our March 2019 issue.