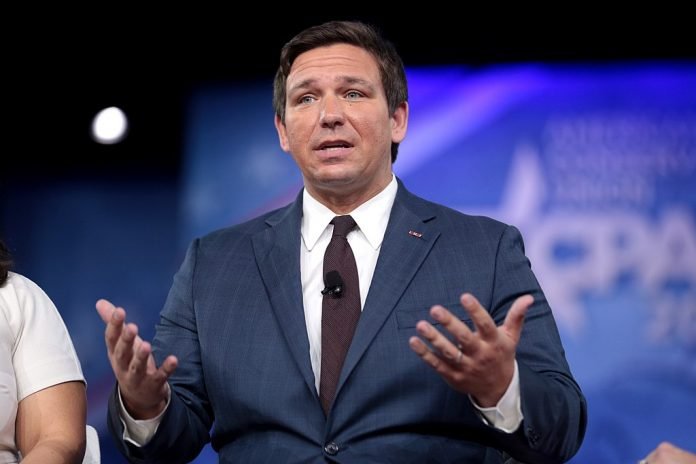 On Tuesday, Florida Gov. Ron DeSantis (R) issued a proclamation declaring Lia Thomas is not the "rightful winner" of the NCAA women's swimming championship.
Thomas, a swimmer at the University of Pennsylvania (Penn), made history last week when she became the first openly transgender woman to win an NCAA Division I title.
In the proclamation, DeSantis states that he rejects the NCAA's actions and instead recognizes Emma Weyant, a University of Virginia swimmer and Florida resident who placed second to Thomas, as the winner.
"The NCAA's actions serve to erode opportunities for women athletes and perpetuate a fraud against women athletes as well as the public at large," the proclamation reads. "Florida rejects the NCAA's efforts to destroy women's athletics, disapproves of the NCAA elevating ideology over biology and takes offense at the NCAA trying to make others complicit in a lie."
Thomas' win has received backlash from others who oppose transgender athletes competing in women's sports. Sebastian Coe, president of the sports governing body World Athletics, stated that the integrity of women's sports was "very fragile."
In a Monday NBC News op-ed, Cheryl Cooky, a professor of American studies and women's, gender, and sexuality studies at Purdue University, argued that Thomas should be celebrated in the pantheon of historic 'firsts' in sports who broke down racial, gender, and sexuality barriers.
"Many of the athletes who become the 'first' encounter resistance, backlash, and opposition, especially from those who have historically benefited from the status quo in sports," Cooky wrote. "Part of what makes the 'first' stories so compelling is the resilience, determination, and love for the sport exhibited by these athletes and their motivation to break down barriers, despite the naysayers."