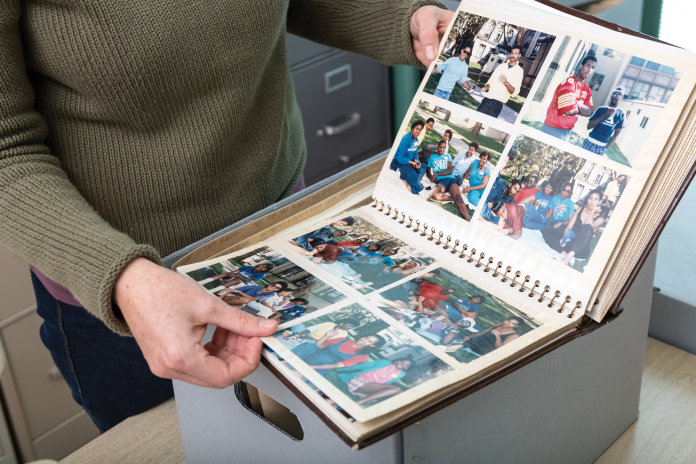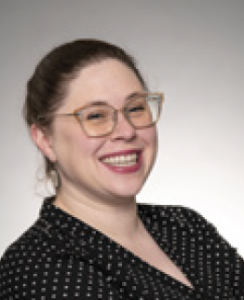 It was a confluence of circumstances that led archivist Julia Corrin and her team to create a virtual exhibit at Carnegie Mellon University (CMU) so forthright and transparent that it was titled simply, "What We Don't Have: Confronting the Absence of Diversity in the University Archives." While the initial response was not immediate — it went online during a pandemic after all — the ideas expressed clearly hit a nerve.
The exhibit statement reads in part, "We recognize that the University Archives fail to represent the experiences and contributions of many of you, and that must change. As archivists, our work is often behind-the-scenes, mired in the jargon and processes of our profession. We are trained to be unbiased, objective stewards, but ultimately we have prioritized some stories over others."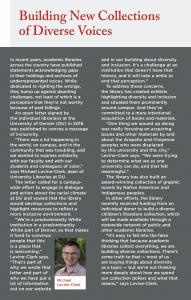 Corrin was nervous about sending the project out into the world but knew it was long overdue.
"I felt very good about it, as did the rest of the team, but any time you try something new, especially something that is so transparent, you're not sure what the reaction is going to be," she says.
The project came about for several reasons, the initial prompt being that funding was newly available from an in-person exhibit that was canceled due to COVID-19.
As the team discussed potential ways to create an exhibit that required minimal access to physical holdings or physical space, the murder of George Floyd spurred social unrest across the nation.
"In response to criticism from students, the university was looking to engage more constructively around diversity, equity, and inclusion [DEI] issues and be more active, more transparent, more aggressive in how we were responding to those issues on campus," Corrin says. 
Even before then, however, Corrin had grown frustrated by the lack of underrepresented voices in the CMU Libraries archives.
"We were a women's college when CMU was founded and students wanted to know what it would have been like to be a woman on campus in 1920," she says. "There were African American or Asian or nonbinary students who wanted to know about their history here, and I couldn't give them any records to start with."
In fact, there was little student representation at all — it was primarily administrative voices, Corrin says.
Ultimately, she says, the question of how to position the exhibit became "What story could we tell that would be meaningful and honest to ourselves and our alumni, faculty, and students?"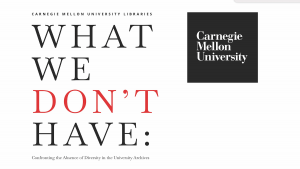 "What We Don't Have" launched in fall 2020 and featured only a large black square as its focal point.
Language used to describe the purpose of the exhibit echoed pleas from many of Corrin's higher education peers to their own constituents: "Help us create a more inclusive archive." 
"It was amazing how many other archivists reached out to us," Corrin says. "This way of framing our work and some of our professional failings or shortsightedness — this really spoke to them as a way of engaging with their own institutions and communities."
The exhibit has resulted in a soon-to-be-announced acquisition of a major collection from a longtime African American faculty member who studied the Black experience in Pittsburgh.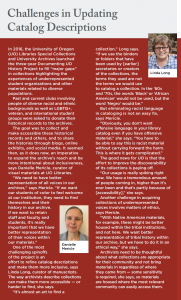 The most concrete outcome, Corrin says, is that CMU has hired a full-time community collections archivist who is charged with processing existing collections that address the university's DEI goals, making catalog descriptions more inclusive and accessible, working with campus communities who are not well represented in the archives and building relationships, and tracking down records the university knows are still out there — somewhere.
"We're confident in many cases there are still faculty and alumni who have records in their offices and in boxes in their basements. We want to bring this material in; this is important to the university," Corrin says. 
Roadblocks exist in acquiring collections from diverse individuals and groups, Corrin says, including a historical lack of effort to do just that. At CMU, other factors contributing to the imbalance is that earlier archivists were short-staffed and underresourced, so they had to follow the funding, she says.
"We would get collections created by White men of importance and they were the ones who were able to provide financial support, so they could donate their collection and give money to hire an archivist to process it. So those were the collections that were made accessible," Corrin says.
In that period of time, the university may have been shortsighted, but the lack of diversity was not intentional, she says, adding that staff primarily and necessarily prioritized materials related to the business of founding and running the university.
Admittedly, however, the university overcompensated on the institutionally important records to the detriment of more representational records, she says. Now the archive is focused on changing that.
"Sometimes people whose voices are underrepresented assume we don't want their papers. What we're doing is saying, 'We really do. We need your voice,'" she says. 
The recent exhibit has attracted new classes to the archives. One group was particularly interested in the topic of policing on college campuses. 
"We are missing a lot of those records, they just never came to us," Corrin says, adding that one of the fundamental conundrums of archives is that it's hard to know what will seem important to future researchers. 
"This ties back to the concept of why diverse collecting is really important in the long term — because that is one of the best ways to ensure we have information for people to pursue a lot of different research angles. There's no way in 1960 people could have guessed that we'd want to go back and understand the motivation of forming campus police forces. So archives have to try their best to cast a wide net."
The CMU archive is relatively recent, Corrin says. The university opened its doors in 1905, but the first archivist wasn't hired until 1988. 
"We did not want to be accusatory or blame our predecessors for this; they've all been doing the best that they could," she says. "CMU is wholeheartedly behind this effort, and that speaks highly to the fact that CMU is trying to do better."
Looking back over the past two years since the "What We Don't Have" exhibit launched, Corrin is pleased with the overall results and trajectory of the work at hand.
"Other archives using this as a framework is a hugely positive outcome," she says. "Being able to hire a community collections archivist was also a big win. We're also continuing to see indirect dividends from this exhibit in terms of new collections and new relationships. The long tail is what's most important to us." ●
Janet Edwards is the executive editor of INSIGHT Into Diversity.
This article was published in our November 2022 issue.