Special Report: Nursing and Pharmacy Schools
Nursing and pharmacy students step up to combat COVID-19 and prepare the nation for a healthier tomorrow.
A groundbreaking fellowship launched in fall 2020 trains nurse practitioners with the unique skills and cultural competency necessary to care for LGBTQ patients. 
The fellowship is the first of its kind in the U.S. It is supported through a partnership between the Callen-Lorde Community Health Center, a nonprofit provider in New York City specializing in LGBTQ care, and the Keith Haring Foundation, a nonprofit that supports AIDS care and prevention. 
Housed in Callen-Lorde's site in Brooklyn, New York, the fellowship is open to applicants from anywhere in the U.S. Applications for the 2021 cohort are open until March 1.
The fellowship is a full-time, 12-month program consisting of precepted and independent sessions, specialty rotations, and more. A strong focus of the program's primary care training is on topics such as the prevention and treatment of HIV and sexually transmitted infections, transgender health, alternative insemination and parenting options, and more.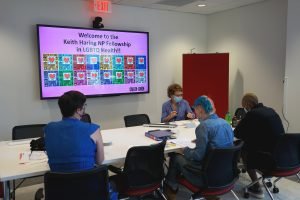 The overall aim of the fellowship is to provide "high quality, patient-centered, culturally responsive, and compassionate primary care to LGBTQ+ communities," Catherine Trossello, DNP, clinical director of the program, wrote in an email to INSIGHT.
Nurse practitioners will then bring the skills they receive with them throughout their careers, Trossello says, helping to "decreas[e] the needs for LGBTQ+ specific health centers and help reduce the gap in health care disparities for LGBTQ+ people."
Although practical training is essential for nurse practitioners, Trossello says most medical and nursing programs offer less than five hours of training in LGBTQ health.
"It is no wonder that so many LGBTQ+ community members experience discrimination and suffer the consequences of inadequate care from their providers," she explains. This need for improved care for LGBTQ patients is what led Callen-Lorde to establish the fellowship.
In addition to training and patient care, program fellows have access to expert providers, mentorship, networking, and professional development opportunities.
The LGBTQ population has long faced substantial barriers to health care. Nearly 10 percent of LGBTQ individuals reported that a health care professional refused to see them because of their actual or perceived sexual orientation, according to a 2017 study by the Center for American Progress. Patients are often denied treatment, have difficulty finding culturally competent providers, or forgo care altogether due to concerns about mistreatment. 
For more information about the Keith Haring Nurse Practitioner Postgraduate Fellowship in LGBTQ+ Health, visit callen-lorde.org/haringfellowship.