In October 2007, Mark Daniel, an 18-year-old ironworker, was driving home after several consecutive 80-hour work weeks. Exhausted, he fell asleep at the wheel, resulting in a crash that ejected him from his vehicle.
The next thing Daniel remembered was waking up in the hospital and discovering that he was paralyzed from the waist down. Doctors told him that he would never walk again.
Nine years later, Daniel would walk through the streets of Zurich, Switzerland, during the Cybathlon — an international competition for people with disabilities to demonstrate state-of-the-art assistive technology (AT) — while wearing an innovative device known as the Quix Exoskeleton. Created by the Florida Institute for Human and Machine Cognition (IHMC), a nonprofit research institute of the State University System of Florida, Quix is a powered exoskeleton that developers believe could one day replace the wheelchair.
Daniel has served as a research assistant helping IHMC engineers improve the device since 2010. Through teamwork, Quix has come "leaps and bounds" since its original prototype, he says. "Through the progression we're at now, on the fourth iteration, I can don the device completely on my own, turn it on, stand up, walk around, go upstairs, and go up and down inclines and declines," Daniel explains.
Daniel's story is just one example of how AT is changing the lives of people with disabilities as well as attracting more of them to study and work in the field of engineering. AT incorporates multiple specialties in this field including biomechanical, biomedical, electrical, and software engineering. AT encompasses everything from low-tech tools, such as pencil grips, to groundbreaking robotic devices such as powered prosthetic limbs.
Universities and research centers are essential for the development of new AT because private companies often find that such work is unprofitable, according to Rod Roscoe, PhD, an associate professor at the Arizona State University Ira A. Fulton Schools of Engineering (ASU FSE). These technologies are often tailored to individuals who have unique needs, thus making them costly to produce and unaffordable for many people with disabilities to purchase.
"I think it is an important equity issue to train future engineers to be able to create such technologies, while also nurturing a moral perspective that this work is important regardless of profit," Roscoe says. At ASU FSE, he and fellow engineering faculty member Jennifer Blain Christen secured a seed grant to support engineering students in developing and modifying AT for their community. The project, known as the Arizona Center for Comprehensive Education and Life Skills (ASU-ACCEL), launched in fall 2020 and has thus far provided various types of AT for people with autism, cerebral palsy, hearing and speech impairments, and more. Recently, students created an adjustable camera stand for a community member with limited vision; the device connects to a tablet and gives the person the ability to enlarge and manipulate images in front of them.
Roscoe and Christen are currently exploring additional funding opportunities to expand the ASU-ACCEL program to graduate students and to design a course on AT. Such offerings attract a diverse range of students who want to use their STEM talents to positively contribute to society, Roscoe says.
"We are training future engineers to do their work in ways that are human-centered and respectful of diverse people," he says. "Those public cultural expectations let diverse prospective students know that they will be welcomed here regardless of who they are or what kind of engineering career they will choose."
Rory Cooper, PhD, an Army veteran and renowned pioneer of modern AT, was inspired to pursue this work after a bicycle accident left him paralyzed from the waist down. In 1994, he founded the Human Engineering Research Laboratories (HERL) at the University of Pittsburgh (Pitt), which operates in partnership with the U.S. Department of Veterans Affairs (VA).
"I started HERL because I saw a need for an organization that would incorporate people with disabilities, people without disabilities, veterans, students, and people from various professions — engineers, physicians, therapists, counselors, business people, and policy experts," Cooper says. "My vision was that we'd all work together in collaboration, support each other, and then hopefully develop the resources where we could try new ideas, implement them, and make things that weren't otherwise possible."
HERL takes a unique approach to developing AT by using information from medical providers — such as the VA and patient focus groups — to determine barriers faced by people with disabilities and ways technology might help them overcome those barriers. The center is responsible for developing the first joystick to be used on electric wheelchairs, as well as the SmartWheel, which allows for better, more individualized wheelchair adjustments.
In addition to these large-scale inventions, HERL creates customized AT for individual users.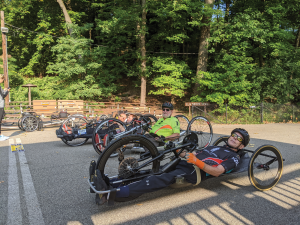 HERL also introduces military and veteran students to the field of AT through the ELeVATE program, which provides academic and financial support for veterans pursuing STEM degrees. Members work with HERL faculty on team projects and participate in workshops to hone their professional skills even if they are not pursuing a career in engineering.
Cooper was inspired to create ELeVATE after experiencing his own difficulties as a veteran with disabilities and noticing the influx of military members returning from the wars in Iraq and Afghanistan who also faced physical challenges. These types of programs are beginning to draw more diverse student populations to STEM and AT-related fields such as biomedical engineering and human engineering, he says.
The field of AT has grown considerably over the last 25 years, according to Cooper, and he hopes to see interest in and funding for this discipline continue to increase. Raising awareness of this unique component of the technology sector will increase diversity in STEM and empower developers to improve more lives through technology, he says.
"For me, one of the most exciting things is to be out in the community, traveling somewhere in the U.S., or for that matter, anywhere in the world, and seeing somebody use a device that we created," Cooper says. "I tell my team and students all the time, 'The goal is to have a positive impact on people's lives, whether that's big or small.'"●
Erik Cliburn is a senior staff writer for INSIGHT Into Diversity.
This article was published in our September 2021 issue.