Esports, once considered a niche form of entertainment for video game enthusiasts, has quickly become one of the most popular sports in the world. In the U.S., it is second only to the NFL in terms of viewership. The industry is expected to surpass $1 billion in revenue this year and to reach nearly $1.8 billion in 2022, according to analytics company Activate. 
This massive rise in popularity is evident on college campuses, where the number of competitive gaming programs has skyrocketed in recent years. The first varsity esports program at a U.S. college was created in 2014 at Robert Morris University. Now, less than a decade later, the National Association of Collegiate Esports has 192 member institutions. 
The sport has become especially popular at historically Black colleges and universities (HBCUs); as of June 2021, 67 of the nation's 107 HBCUs had some form of esports programming, according to the Wilson Center, a nonpartisan think tank.  
The center recently hosted a virtual symposium that brought together HBCU leaders, politicians, and policy experts to discuss the future of competitive gaming and the key role that these institutions can play in diversifying this field. Speakers noted that robust esports programs serve as a way for HBCUs to attract more students and promote inclusivity in an industry that has been criticized for its lack of racial and gender diversity. A 2019 survey by the International Game Developers Association, for example, found that only 24 percent of game developers are women and just two percent are Black. 
"In order to produce high-quality games in a sustainable and consistent manner, we as an industry need to foster and cultivate talent available to us," the report states. "No one should ever avoid or leave our industry because they feel unsupported or unwelcome….. Together, we can create a welcoming and supportive environment in which game developers will be able to thrive in both their careers and their lives."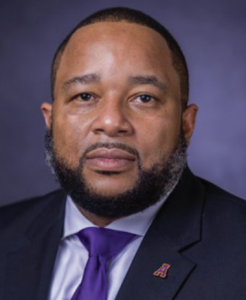 At Alcorn State University (Alcorn), an HBCU in Mississippi, the opportunity to play esports has attracted students from many different walks of life, says Cyrus Russ, senior associate athletic director and assistant vice president for athletic compliance and academic services.
"Gamers are from all different backgrounds and places," he says. "When you look at our [team], we have students from athletics, students from band, and students who are not a part of any other organization on campus. We're bringing together a group of people who may not ever be in the same space if they didn't have that common interest in gaming."
Russ, a lifelong gamer, spearheaded the creation of the university's esports program in 2019. Players are able to develop leadership, problem-solving, and team-building skills, he says. These types of programs also teach in-demand skills such as event planning, broadcasting, coding and programming, cybersecurity, team management, and information technology, according to proponents. Tech companies and education experts have lauded esports programs as gateways for HBCU students to enter into science and technology careers. 
Russ says administrators at Alcorn were quick to see the benefits of a competitive gaming program, but he recognizes that there are still people in higher education who are unaware of the positive impact this sport can have on students and institutions.
"Some people still see it as a group of people just getting together and playing video games, and they don't necessarily see the benefits," he says. "It exposes our students to opportunities [in] a multibillion-dollar industry. I think when everyone starts to realize that, they'll jump on board."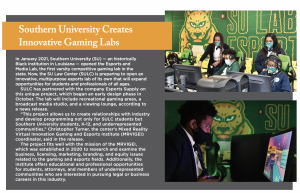 Recognizing these positives, an increasing number of organizations and tech companies have begun working together to promote esports at HBCUs. Cxmmunity, a nonprofit dedicated to diversity in esports, and Twitch, a live streaming platform for gamers, partnered in 2020 to create the HBCU Esports League. Cxmmunity also partnered with Microsoft to launch an online training program that teaches women students and students of color about the gaming business. The Black Collegiate Gaming Association (BCGA) works with Alcorn and other HBCUs to connect students to careers in the industry through scholarships, internships, workshops, career fairs, and more.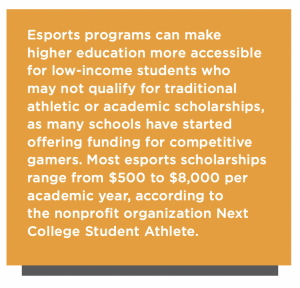 HBCUs can also serve as role models for other institutions in promoting gender equality in professional gaming. Currently, nine in 10 college esports players are men, despite the fact that 40 percent of U.S. gamers are women, according to a recent study by the Associated Press. Many of the same organizations working to promote racial diversity in this area also have initiatives to promote gender inclusivity. The BCGA recently partnered with PlayStation, GameStop, and Intel to host the first Women Got Game virtual summit to provide women of color with opportunities to connect with industry professionals and compete for esports scholarships. In June, Verizon announced plans to award $1 million in competitive gaming scholarships for women at HBCUs. 
Experts agree that initiatives like these, combined with the efforts of historically Black institutions, will ultimately lead to a more diverse and inclusive gaming industry.
"I think of gaming as the great equalizer," Kevin James, president of the HBCU Morris Brown College, said at the Wilson Center symposium. "Esports doesn't have to be separated out by gender or anything [else]. Everyone is on the same playing field. It's primed for diversity, for anyone to play together."●
Erik Cliburn is a senior staff writer for INSIGHT Into Diversity.
This article was published in our November 2021 issue.