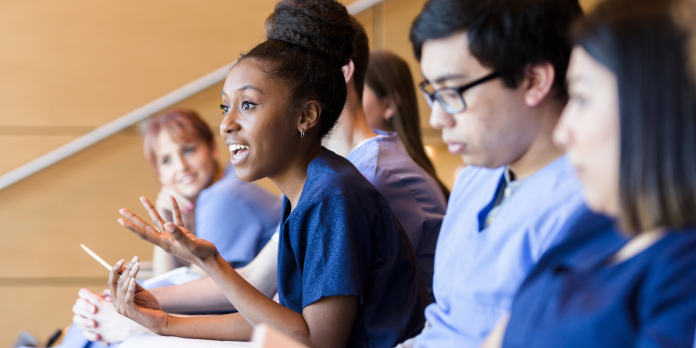 As medical school applications return to pre-pandemic levels, greater numbers of women, Black, and Hispanic applicants continue to matriculate into these institutions, according to the Association of American Medical Colleges (AAMC). More efforts are needed, however, to address the historically low representation of Indigenous and veteran students.
In the current academic year, women account for 57 percent of medical school applicants, 56 percent of matriculants, and 54 percent of total enrollees, marking the fourth consecutive year that women lead in all three categories. With a 9 percent increase in applicants from the prior year, Black students now make up 10 percent of the total, while Hispanic and Latino students increased by 4 percent and comprise 12 percent.
Military veterans, of which there were only 168 enrollees in the 2021-2022 academic year, dropped to 154 in the AAMC's most recent report. The number of students identifying as Native American and Alaska Native decreased by 9 percent. Through workforce development and recruitment initiatives, the AAMC is working to address education barriers that Indigenous students face when applying to and entering medical school. 
"We know that more diversity in the physician workforce builds trust and enhances the physician-patient relationship, translating into better health outcomes," David J. Skorton, MD, AAMC president and CEO, has said. "The AAMC and our member medical schools are committed to increasing the number of both applicants and matriculants from historically underrepresented groups."