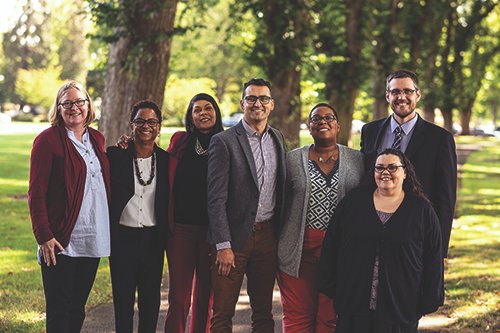 Award-winning educator and anti-racist activist Jane Elliott is known for her "brown eyes, blue eyes" lesson.
When she gave the lesson more than 50 years ago, the day after Martin Luther King, Jr. was assassinated, Elliott told her students to divide into groups according to their eye color. She then told them the brown-eyed students were smarter. They started acting accordingly, as did the students with blue or green eyes. Her point was clear: Discrimination can be learned. If it can be learned, it can be unlearned, Elliott argued.
Elliott's experiment turned into a forum that she continues to offer to teach the grit necessary to have difficult dialogues. Today, two universities have increased their dialogue facilitation efforts to improve empathy and understanding on campus, just as Elliott fought for more compassion among her students.
Through dialogue forums, universities can help employees and students each have difficult conversations and develop a better understanding for students who come from different walks of life. Dialogue labs and events can offer a brave space for emotionally charged conversations to take place on campus.
Oregon State University (OSU) and Virginia Commonwealth University (VCU) are two institutions that lead the way in inclusivity through these dialogue programs. Both universities have made strides through their diversity offices and continue to exemplify the hard work that goes into providing a comfortable campus climate for students, faculty, and staff.
Oregon State University
To address a wave of college activism in 2015, OSU hosted a "speakout," allowing students to express their experiences on campus to faculty and administrators, including President Edward Ray, PhD. OSU also created their Office of Institutional Diversity (OID).
"The student activists are really the reason why this office exists," says Brandi Douglas, OID's assistant director of outreach. "We make sure to keep that in mind when we think about the work that we do."
Most recently, OID has worked with campus libraries to curate articles and books that are aligned with its curriculum, which was designed with OSU's five institutional contexts in mind: instruction, research, management, service, and community.
The university's Dialogue Facilitation Lab (DFL) was established in part out of this effort, says Jeff Kenney, PhD, OSU director of institutional education for diversity, equity, and inclusion.
The DFL is a 30-hour program that takes place over 10 weeks and begins with a two-day orientation. The program serves as a professional development seminar for faculty, staff, and graduate assistants looking to integrate critical dialogue facilitation skills into their daily practices.
Douglas says her colleagues at OID noticed faculty and staff on campus felt like they lacked the confidence or the skillset needed to have difficult conversations within their classrooms.
"The lab really came from a hope of wanting to help build capacity and confidence," Douglas says. "We call it the lab because we want our participants to feel like they can experiment without feeling that they're risking their reputation or risking feeling stupid."
According to DFL's website, the goal of the program is for participants to learn the following skills:
● Guiding difficult dialogue among diverse constituents
● Empowering participation in ways that challenge traditional educational norms
● Attending to dialogue content and process
● Attending to procedures that enable full and equitable participation
● Engaging in critical self-examination, specifically the pedagogical implications of one's world view
● Thoughtfully integrating newly acquired concepts and skills in their institutional roles
● Articulating a uniquely authored dialogue facilitation philosophy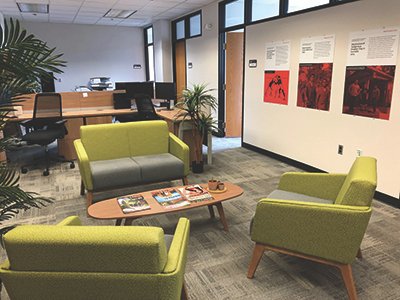 The DFL serves as a space for participants to be brave and to take a leap into a different skill. Currently in its second year, Douglas says the DFL is still in its infancy. "It started out as a way to give more theory and has now turned into where we still get the theory, but are really leaning more towards practice."
Douglas says she and Kenney have noticed that the participants want to keep learning about and sharing dialogue facilitation efforts even after they've completed the program.
Janette Byrd is one of those people. She is project manager for the Oregon State Advance Grant and an alumna of the DFL. After graduating from OSU, Byrd began work at the Social Justice Education Initiative, which allowed her to collaborate with facilitators.
"When I saw information regarding the dialogue facilitation lab, I was really excited because it was a rare opportunity for someone at my rank. At the time, I was just a classified staff member," Byrd says, adding that those opportunities for staff or even professional faculty can be rare.
OID also offers the Community Dialogue program through a collaboration with the student affairs office. The program allows all OSU community members to come together and cultivate connection and deep learning on contentious issues through student-led dialogue facilitation.
"I've been really pleased, not only with how ambitious the [Community Dialogue] program has been in the intensity of topics that it takes on, but with the number of people it has been able to reach," Kenney says.
Community Dialogue events have attracted between 80 and 120 participants, including people outside of the OSU campus.
"It's really in-depth," Kenney says, "and it's an investment from the Office of Institutional Diversity to grow a culture of dialogue within our institution, especially when the growing propensity of the nation is to polarize around contentious issues. Instead, we practice talking with one another in ways that actually produce greater connection and more relationships and more complexity of thought."
Virginia Commonwealth University
VCU does not hesitate when addressing its past. In February, a VCU yearbook photo from 1989 emerged showing a student in blackface. The school quickly released a statement condemning the photo and acknowledging the wrongdoings of the school and its students in the past.
"There is no excuse for callous indifference toward one another, whether evidenced in a yearbook from decades ago or today in a social media post," the statement said.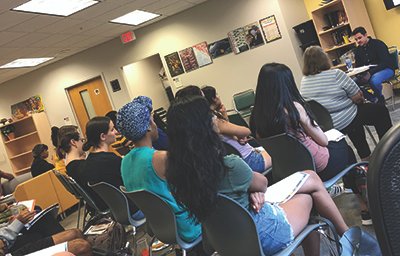 VCU continues to stand by its message of honoring all individuals with dignity and respect with its efforts in dialogue facilitation through its Office of Multicultural Affairs (OMSA), established in 1988 as the Office of Minority Student Affairs.
"We're a pretty comprehensive office in that we serve many different student populations and we serve the whole campus and university community," says Greta Franklin, director of OMSA.
To support its message of inclusivity, the office provides a student-led dialogue forum hosted by "diversity ambassadors" to oversee difficult conversations on campus. The ambassadors earn a small stipend, but the position is largely considered volunteer.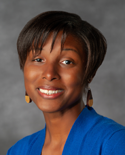 "We essentially train them on how to facilitate dialogues about diversity and inclusion and social justice topics," Franklin says.
The program requires ambassadors to go through training, usually one per semester, that covers foundational diversity and inclusion topics such as power and privilege, racism, allyship, intent-versus-impact microaggressions, conscious and unconscious bias, and LGBTQ identities and terminology.
Diversity ambassadors also serve as representatives for OMSA. Through their training, they enhance their interpersonal skills, gain leadership abilities, find opportunities to network, and improve their public speaking skills. Ambassadors usually devote four to five hours on weekends for training.
Social work major and campus resident assistant Caden Haney transferred to VCU in fall 2018. Haney discovered the diversity ambassador program, interviewed, and was approved for training.
"The training was really fun. They gave us a mock dialogue and we just went through it during the training session," Haney says.  "You get all of that nervousness out of you, and you're presenting in front of other diversity ambassadors. It was a good way to get to know people and still get that training in facilitating conversations as well."
After a month of training, ambassadors present their discussions, typically in a residence hall. Haney, whose first dialogue facilitation was about police brutality and statistics on incarceration of Black and Hispanic individuals, says the preparation period gave him and other ambassadors enough time to immerse themselves in research on their topic.
The facilitations were tense at moments because of the subject matter, but Haney says he now feels more confident and well-versed in his role as an ambassador. The experience has also helped him address his anxiety about public speaking and difficult conversations.
"I thought it was a great way to educate people on things that I'm passionate about while also helping to cope with anxiety," he continued.
Dialogue presentations typically last under an hour and discussions up to 30 minutes.
"We don't want to keep the presentation too long because the goal is to have people have a dialogue and process the information and how it impacts whatever group they are in and the setting they're in," Franklin says.
Students can also participate twice a month from February through April in another dialogue forum called the "Dispelling Myths" series.
Through the series, students can give presentations to dispel myths about different cultural identities or social justice topics.
Topics covered have included misconceptions about Muslim women and about how Latinx individuals are portrayed in film and media, among other issues.
Mariah Stewart is a staff writer for INSIGHT Into Diversity. Oregon State University is a 2018 and 2019 HEED Award recipient. Virginia Commonwealth University is a 2012, 2018, and 2019 HEED Award recipient. This article ran in the October 2019 issue.