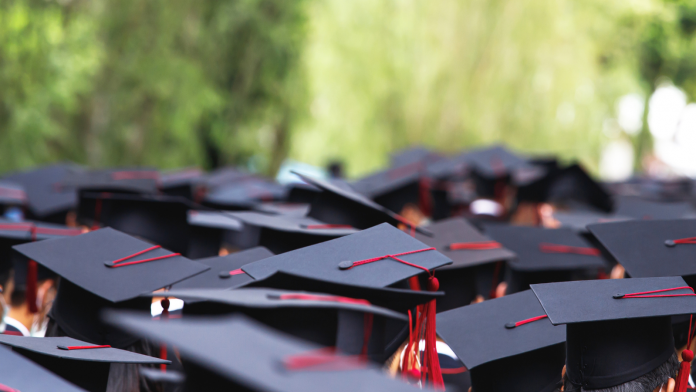 The national six-year college completion rate reached 62.2 percent in 2021, according to a recent report from the National Student Clearinghouse Research Center (NSCRC). The new rate is 1.2 percentage points higher than the previous year and 1.5 points higher than two years ago.
The data includes "all students who enter postsecondary education for the first time each year, enrolling full time or part time at two-year or four-year institutions, and completing a degree at any U.S. degree-granting institution," according to the NSCRC. 
Among racial groups, Black students made the greatest advancement. Nearly 45 percent of African Americans starting college in fall 2015 graduated by June 2021, an increase of 1.9 percentage points from the previous year. Just over half of Latinx students graduated within six years, at 50.5 percent — a 1.2 percentage point increase. College completion rates for White students grew by 1.1 percentage points, to 69 percent. Asian American graduates saw the least growth, from 73.4 percent in 2020 to 73.7 percent in 2021. 
Nontraditional students made the greatest gains in their six-year completion rates. Those aged 24 and older who began college in fall 2015 graduated at a rate of 50.5 percent, a 2.5 percentage point increase from those starting in fall 2014. For traditional college-age students, the overall graduation rate was 64.1 percent. 
Rhode Island and Vermont each had the highest six-year completion rates in the nation, at 74.4 percent. Alaska had the lowest, at 35.2 percent. Nevada had the second lowest completion rate, at 44.5 percent — still a significant increase of 4.6 percentage points from the previous year. 
Factors such as gender and enrollment type affected the likelihood of a student's graduating within six years. Nearly 65 percent of women earned their degrees, compared with 58.6 percent of men; the data did not track nonbinary or other genders. Full-time students graduated at a rate of 83 percent, compared with only 20.8 percent of those attending part time. 
"Shifting student demographics and enrollment patterns may have contributed to the [completion] rate increases," the report states.●
This article was published in our April 2022 issue.