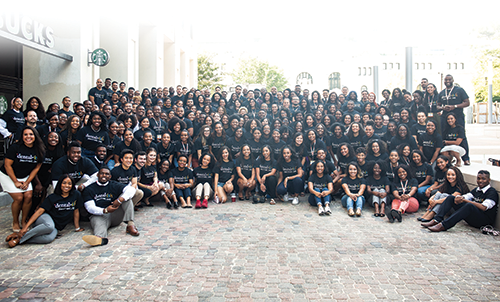 Dentistry is a healthcare field that lags behind in diversity, with less than 15 percent of dental students coming from underrepresented backgrounds, according to a January 2019 study in the Journal of Dental Education. Experts point to factors such as a lack of awareness of oral health careers, disadvantages in K-12 and undergraduate preparation, and the steep cost of dental school as deterrents for diverse students.
[Above: The Student National Dental Association (SNDA) is a national support network for African American students in dentistry. More than 400 members attended the 2019 SNDA Annual Convention in Washington D.C. in July.]
Marita Inglehart, PhD, is a professor in the University of Michigan – School of Dentistry (UMSD) who has spent much of her career researching how to improve diversity in dental education. Combatting this disparity begins early, she says.
"The [disadvantage] starts very early on, in high school and middle school or even before, because we don't require many kids to take more advanced math courses," Inglehart says. "Without having some minimal level math in middle school, it's very hard to catch up and build the progression of classes needed [for dental school]."
Furthermore, Inglehart's research has found that even when underrepresented high school students are prepared to pursue healthcare careers, they are rarely steered toward the field of oral health. In a study of Detroit charter schools, Inglehart and fellow researchers found that high-achieving students were often encouraged to pursue nursing and medicine, but dentistry and dental hygiene careers were rarely discussed, she says.
Dental hygiene degree programs are one area that Inglehart identifies as useful for attracting highly qualified applicants to DMD and DDS programs. While the vast majority of the dental hygienist workforce are White women, boosting diversity in this sector would mean more underrepresented students could be introduced to the possibilities of dentistry. Becoming a certified hygienist requires a two-year degree, meaning the field is much more accessible financially, and the 330 entry-level hygienist programs in the U.S. would provide a wide swath of students to draw from.
"You could look at dental hygiene as kind of a first step for some of our best students to build upon their [education] to become dentists," says Inglehart.
At UMSD, certified hygienists who have an associate degree can complete a bachelor's and master's degree in dental hygiene online, allowing them to continue working while furthering their education. These options create an accessible pathway to doctoral studies for those who decide to become dentists, Inglehart says.   
"Every year we get exceptionally well-prepared dental hygiene students who are far ahead regarding what they are able to do in clinics compared to other students," she says. "I have not seen one [dental hygienist] not graduate from the dentistry program because they are so specifically well-prepared for success."
Another way to increase socioeconomic diversity in dental education is to help students understand that there are multiple options for affording the high price tag of a degree. New dentists graduate with an average debt of approximately $300,000, according to Inglehart. For students in the armed forces, however, the military offers free tuition, a stipend, and course credit for clinical services, she says. For those who do take out loans, federally funded healthcare centers and other service programs can provide loan forgiveness or repayment. One recent UMSD graduate now works for a healthcare center in California that offers this benefit in addition to a $150,000 salary, Inglehart adds.
"It's definitely an uphill battle," she says of dental school affordability, but colleges can help by organizing and distributing information to show low-income students that becoming a dentist is feasible.
UMSD educates individuals on this issue and prepares them for other challenges in dental education during a summer enrichment program for low-income teenagers as well as a program to prepare undergraduates for the process of applying to dentistry degree programs. Incoming students from underrepresented backgrounds participate in a special orientation that discusses these challenges and also includes activities such as visiting an African American history museum to promote racial identity and peer support systems.
The Student National Dental Association (SNDA) is centered around this same mission to boost the matriculation of Black dental students and provide a nationwide network of support. The group was founded in 1972 and has nearly 1,000 members across the U.S.
"We work very hard to create programs that will not only help our students through their progression [in dental school], but help prevent the great injustice of the school systems" that prevent more K-12 underrepresented students from pursuing this field, says Akeadra Bell, SNDA president and a student at East Carolina University – School of Dental Medicine.
SNDA conducts multiple outreach efforts with the Black community to promote dental health, which helps to raise visibility of this career field among K-12 students, Bell says. The group provides oral health education and services for underserved schools as well as partners with groups like the Boys and Girls Club to teach young students about the possibilities of dental education.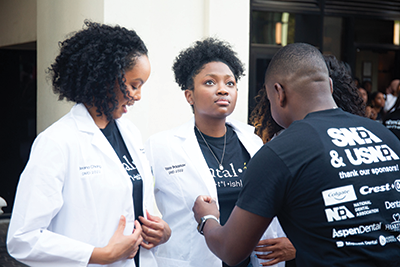 Individual SNDA chapters also encourage undergraduates on their own or nearby campuses to consider careers in oral health and prepare for the rigorous application process to dental school. One of the SNDA's signature programs, Impressions Day, consists of every chapter hosting daylong awareness fairs and information sessions on undergraduate campuses across the U.S.
This year, the association plans to launch a new program called HBCU Connect that will "essentially be a mentorship program with resource guide," for SNDA members to partner with local historically Black colleges and universities (HBCUs). Bell, who is an HBCU graduate, says budget deficits, faculty shortages, and other disadvantages mean students from these institutions are less likely to receive the tutoring, pre-health enrichment programs, and other academic supports that can prepare them to get accepted into dental school.
SNDA also helps inform undergraduates of how to pay for the high cost of dental school and provides financial literacy lessons for students preparing to start their careers as dentists. The association's annual conference features informational sessions on topics such as paying off student debt and features corporate sponsors who provide scholarships, grants, and informational sessions on paying for a degree. Among SNDA's plans for the near future is a financial literacy webinar, Bell says.
Bell's own interest in oral healthcare was sparked when she had major dental work as a child. It made her want to understand the science behind dentistry and to help others as her dentist helped her, which is why giving back through SNDA is so important, she says.
Mariah Bohanon is the senior editor of INSIGHT Into Diversity. This article ran in the January/February 2020 issue.