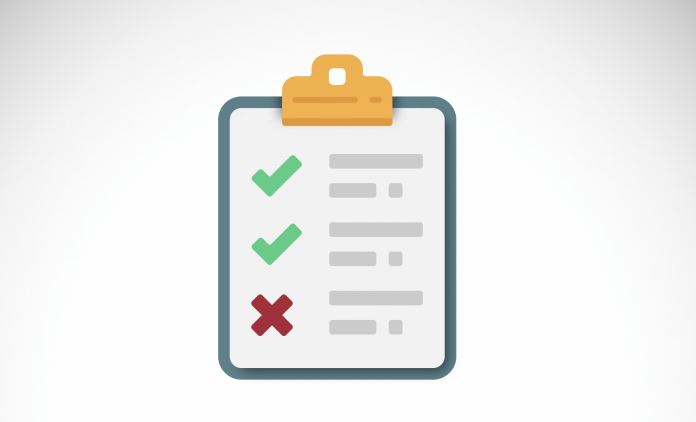 Are higher education accrediting agencies adding diversity,

 

equity, and inclusion requirements to ensure colleges

 

are advancing educational access and workforce balance?

Moving the needle on diversity, equity, and inclusion (DEI) at institutions of higher education has long been a challenge for senior diversity officers. Financial and human resources can be thin, and at times DEI is just a checkbox for many colleges and universities.
One way to truly give support for the difficult work being done every day by DEI professionals is to add DEI requirements to accreditation standards.
INSIGHT recently researched the standards for the largest accreditation organizations in higher education and found that most included very little language related to these principles in their current standards. 
On January 1, 2022, the Council for Higher Education Accreditation's (CHEA) first requirement in support of DEI took effect. 
CHEA, which represents more than 6,000 U.S. colleges and universities and recognizes six major U.S. regional accreditors, recently realized that many of these organizations "have always had a strong interest in promoting diversity, equity, and inclusion, but they were not bound by a standard or requirement," says President Cynthia Jackson-Hammond, EdD. 
"There were sort of individualistic expectations, but without standards to prescribe a course of action, it was left up the accreditors as to how they would manifest DEI, not only in their own organizations, but with their institutions," she explains. "Now, when you are recognized by CHEA, the expectation is that you manifest aspects of DEI and that you have evidence to that effect." 
CHEA added a new substandard under its major standard for Accreditation Structure and Organization. It states that every recognized accrediting organization must demonstrate that it "manifests a commitment to diversity, equity, and inclusion." The association offers several examples for evidence of this commitment, including:
The make-up of organization staff, board, committees, and site review teams fosters reflecting membership diversity
The organization's accreditation standards foster diversity of theories, points of view, and experiences in academic programs
The organization has a value statement regarding DEI in its official statement
The organization has evidence of integration of DEI in policies and procedures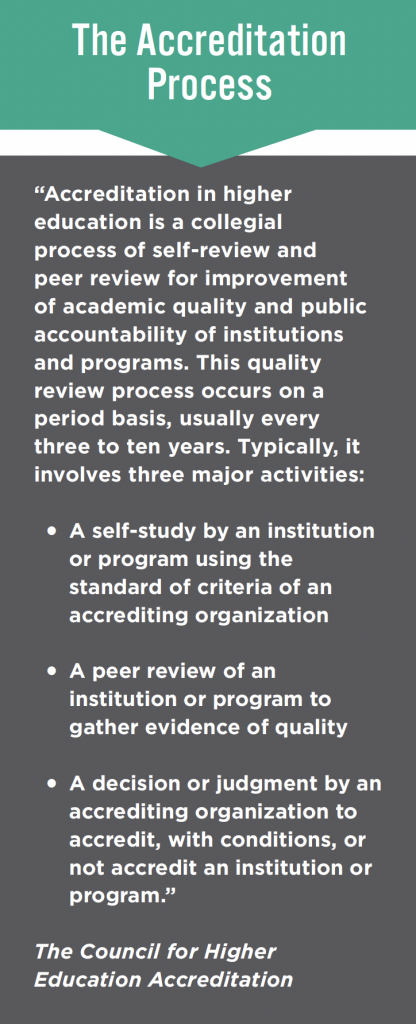 CHEA, which oversees dozens of programmatic accreditors in addition to regional agencies, also adopted its first statement on DEI in May 2021, noting that the very words "diversity, equity, and inclusion" had become "aggressively polarizing" despite being "inextricably linked to quality assurance in higher education." 
Hammond says that affirming CHEA's commitment to these principles was a priority for her when taking office in August 2020, after serving as the longtime president of the historically Black Central State University. The cultural and educational turmoil of that year brought the importance of these issues to the forefront for CHEA and its member schools, she explains. 
The association's decision to add DEI substandards for their members represents a major step in advancing accreditation standards across the country. 
U.S. medical schools have long been subject to DEI criteria for accreditation, and groups such as the American Bar Association and American Veterinary Medical Association have recently added additional requirements or strengthened existing measures in this area, yet such principles have been largely absent from the broader world of higher education. Many regional agencies address these topics through generalized and lackluster language in their standards and have few if any defined requirements, while others omit them altogether. 
"Many of the accrediting organizations that we recognize had already begun to have this kind of conversation. … There were many who were on the cusp of creating some new standards to reflect that and who applauded the work that CHEA was doing to move that needle, and some are in the process of looking at where they are and making modifications," explains Jackson-Hammond. 
Gretchel Hathaway, PhD, vice president for DEI at Franklin and Marshall College, has served on multiple accreditation committees and says that accreditors should realize they are doing a disservice to students, faculty, and campus employees if they have not added these types of standards. 
"If an accreditation office hasn't embraced [DEI] as a priority, they're not helping institutions to advance," she explains. "These offices or agencies should really pay attention to the fact that they actually have the power to make a difference for higher education institutions." 
Many colleges and universities will not give due attention or support to DEI efforts until they are required by an accreditor, she says. Hathaway also believes that most academic DEI officers agree that these principles must be included in accreditation standards because they are inherent to providing a quality education and workplace. 
She encourages agencies to consider unique aspects of DEI when deciding how to assess campuses. Concepts such as interfaith inclusion or the diversity of accreditation committees — including ensuring there are DEI experts involved — should not be overlooked, she says. 
Some organizations have already started addressing this need. The Higher Learning Commission (HLC), which serves as the regional accreditor for Midwestern states, launched the Peer Corps Diversity Initiative in 2015 for its reviewers "to be representative of the backgrounds of students, faculty, and staff at its member institutions," according to the HLC website. The group achieved 18 percent diversity in 2020, and advancing this goal "continues to be front and center to [their] recruitment efforts," a spokesperson told INSIGHT in an email. 
Other regional agencies have also made some progress in recent years. While many still lack explicit DEI standards, some — such as the Northwest Commission on Colleges and Universities (NWCCU) — have integrated these principles into their standards and are supporting institutions in meeting their heightened expectations. 
NWCCU has some of the most robust DEI requirements among the nation's major accreditors. Its 2020 Standards state that colleges and universities must "articulate (their) commitment to student success, primarily measured through student learning and achievement, for all students, with a focus on equity and closure of achievement gaps, and establish a mission statement, acceptable thresholds, and benchmarks for effectiveness with meaningful indicators." Several substandards focus explicitly on equity gaps and inclusion.  
"We're the first [regional accreditor] and one of the only major ones that actually have this very clearly delineated," says NWCCU President Sonny Ramaswamy, PhD. 
After Ramaswamy took office in 2018, the commission went through an 18-month review process for its standards that included listening sessions and surveys with its colleges and universities, NWCCU volunteers, DEI experts, and other stakeholders across the U.S. Much of the conversation focused on how the commission could help educators improve their efforts to support student success across all demographics. "They said to us that we need to stand up for all in issues of diversity, equity, and inclusion," Ramaswamy explains. 
When NWCCU sent its new requirements focused on DEI to its member institutions for approval, the response was overwhelmingly positive, he says.
The new standards prioritize the use of aggregated data for tracking DEI efforts and student success and implementing data-informed approaches for improving educational equity. To support NWCCU schools in fulfilling these responsibilities, the commission began working with the Bill and Melinda Gates Foundation to develop tools and resources that make such approaches feasible for its members. It now offers workshops, webinars, and an online Data Equity Academy open to any college that shares these goals. While the new accreditation standards officially went into effect just over two years ago, many members have participated in these opportunities, and the NWCCU is "beginning to see the needle move" on DEI in areas where it was once lacking, Ramaswamy says.
"It is best to engage the community of people that you work with, listen to what it is they want to achieve, and go from there. Don't come in from the top down and say, 'We're going to do things this way.' It's got to be from the bottom up," he states. 
Ramaswamy recommends that accreditors ask their institutions about their DEI goals and how they, as the accrediting body, can best support them in achieving these aspirations. Being a collaborative partner and offering assistance for institutions to meet high DEI standards are necessary steps if accreditors want to truly help member institutions succeed, he explains. The NWCCU has more than 160 diverse campuses, ranging from small tribal colleges to large state universities — each beholden to its own stakeholders, regional demographics, and state and local regulations — so being flexible and supportive is essential in ensuring each school meets its goals.
Medical school accreditation standards have long focused on DEI. Past research on the effectiveness of incorporating DEI into accreditation has largely centered on academic medicine, as the Liaison Committee on Medical Education (LCME), the accrediting arm of the American Medical Association and Association of American Medical Colleges, has included DEI requirements in its standards since 1997. 
Though the committee cannot legally mandate specific diversity requirements, its standards "are framed to address decision points that directly or indirectly promote diversity" by compelling schools to develop policies and pipeline programs for recruiting and supporting underrepresented students and employees, according to a December 2021 article in the AMA Journal of Ethics. It emphasizes flexibility in adhering to these criteria so that each college's diversity policies can "reflect local differences, including those imposed by their legal and regulatory environments." 
A recent LCME analysis concluded that "[d]iversity standards in medical education accreditation do not guarantee diversity but do stimulate schools' activities to recruit and retain diverse students and faculty." The commission stated that "[a]mong the many groups that could contribute to a diverse physician workforce, accreditors should and do have a role."
Lisa McBride, PhD, associate dean for diversity and inclusion and professor of medical education at Texas Christian University School of Medicine (TCU SOM), says the LCME has been successful in implementing DEI standards because it provides a roadmap for institutions to achieve their goals in this area. Unlike most other accreditors, the commission has a framework and specific expectations, such as requiring each medical school to craft their own diversity policies and identify which underrepresented groups it will target when it comes to student, faculty, and administrator recruitment and retention. TCU SOM's diversity approach, for example, includes racially underrepresented groups as well as a focus on low-income students and women in senior leadership positions. 
As it stands now, however, most accreditors would be forced to place many of their schools on probation because they would fail to meet such strict requirements, according to McBride. Still, she encourages any agency or college that wants to advance DEI to look at the LCME's framework and consider which aspects would help them propel their work in this area. 
Furthermore, the LCME requires each school to prove its commitment to underserved populations by providing evidence of "ongoing, systematic, and focused recruitment and retention activities," says McBride, who has worked in DEI for undergraduate campuses as well as academic medicine. "And you have to explain how these help you achieve your mission and appropriate diversity outcomes, so you can't just cheat the [system]."
Medical schools know that the commission is serious about these requirements because they can meet all other standards for accreditation and still be placed on probation if they fail to meet DEI expectations, she adds. 
"You have to demonstrate [these efforts] from an assessment standpoint, and everything is measured," McBride explains.  "Other [accreditors] are just now getting into the diversity element in the last six years or so, but still don't require you to demonstrate at the assessment level."
The LCME is motivated to enforce these standards to help fulfill its goal of achieving health equity, which requires recruiting a more diverse medical workforce, she says. If other accrediting agencies would adopt similar standards, it would motivate regular colleges and universities to take real action in support of DEI. 
As it stands now, however, most accreditors would be forced to place many of their schools on probation because they would fail to meet such strict requirements, according to McBride. Still, she encourages any agency or college that wants to advance DEI to look at the LCME's framework and consider which aspects would help them propel their work in this area. 
"I don't think DEI will ever get taken as seriously [with other accreditors] as it is in medicine," she says, "but even a little bit of movement would be awesome."●
Editor's Note: INSIGHT Into Diversity contacted additional higher education accrediting organizations for this story. The Southern Association of Colleges and Schools Commission on Colleges declined to comment. The Middle States Commission on Higher Education, New England Commission on Higher Education, and WASC Senior College and University Commission did not respond to requests for comment.
Mariah Bohanon is the senior editor of INSIGHT Into Diversity.
Gretchel Hathaway, PhD, and Lisa McBride, PhD, are members of the INSIGHT Into Diversity Editorial Board.
For more information about NWCCU's Data Equity Academy, visit nwccu.org/academy. 
This article was published in our April 2022 issue.