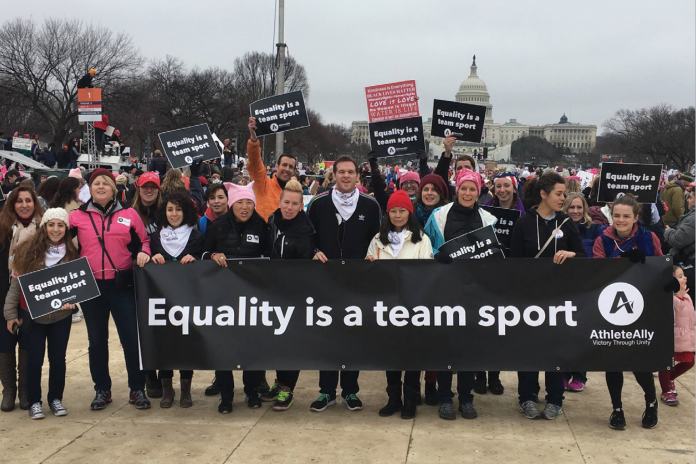 As the world of college athletics grows ever more diverse, underrepresented players and employees have banded together to form organizations focused on supporting their sociocultural identities. National groups dedicated to student-athletes, coaches, and staff from unique backgrounds help these individuals connect, raise awareness, develop leadership skills, and more. 
Here, INSIGHT highlights just a few of the innovative, identity-based organizations working to promote diversity, equity, and inclusion in college sports and higher education at large.
Asian Coaches Association (ACA)
The ACA was launched in 2012 by the University of California, Riverside's Mike Magpayo, the first Asian American to coach a NCAA Division I men's basketball team. The association hosts annual meetings for men and women coaches of Asian American and Pacific Islander (AAPI) heritage during the NCAA Final Four conferences. It also offers ongoing virtual events for coaching staff at all levels to connect, share their experiences, and participate in professional development. The ACA accepts members and attendees who are supporters of AAPI coaches, regardless of race and ethnicity, as part of its mission to network and grow. asiancoachesassociation.com 
Athlete Ally
Athlete Ally was founded in 2011 by Hudson Taylor, a former NCAA All-American wrestler at the University of Maryland, to end anti-LGBTQ prejudice in sports through advocacy, education, and more. Past achievements include successfully lobbying the International Olympic Committee to adopt a policy prohibiting discrimination based on sexual orientation and working with the NCAA to move championship games out of North Carolina after the state passed a law in 2016 making it easier to discriminate against LGBTQ individuals. Athlete Ally co-authored the NCAA's first policy and resource guide on LGBTQ issues and has created its own metric for ranking athletic department inclusiveness, the Athletic Equality Index. athleteally.org
Black AD Alliance 
Several NCAA Division I athletic directors (ADs) established the Black AD Alliance in 2020 in response to racial injustice and profiling within the college sports community. Today, the group includes more than 50 members who are dedicated to "promoting the growth, development, and elevation" of African American ADs at the Division I level. 
The alliance's strategic plan includes providing a forum for Black ADs to communicate and partner with leaders from other sports organizations, such as the NCAA and National Association of Collegiate Directors of Athletics, to combat social and racial inequity. twitter.com/blckadalliance 
The Latinx Association for Collegiate Athletics Administrators and Student-Athletes (LA CAASA)
LA CAASA was launched in summer 2021 to address the need for better Latinx representation in college sports. Its goals include improving college awareness and outreach with Latinx high school student-athletes as well as providing opportunities for college players from Latinx backgrounds to share their experiences. Founder Ben Rodriguez, associate director of major gifts in the athletic foundation at Georgia Southern University, was inspired to create LA CAASA after attending the Black Student-Athlete Summit — which promotes professional development and career preparation — and told the NCAA he hopes to provide a similar event for Latinx college players as early as summer 2022. twitter.com/LA_CAASA 
Women's Sports Foundation (WSF)
WSF was established two years after the passing of Title IX in 1974. The foundation provides funding to support research, aspiring athletes, and more. It also offers initiatives such as the Athlete Ambassador Program, which connects professional, Olympic, amateur, and collegiate women athletes who want to serve as mentors with organizations throughout the country. Additionally, the foundation helps college players transition to careers by connecting them with professionals through networking opportunities, such as its annual Athlete Leadership Connection event. womenssportsfoundation.org●
Mariah Stewart is a senior staff writer for INSIGHT Into Diversity.
This article was published in our March 2022 issue.